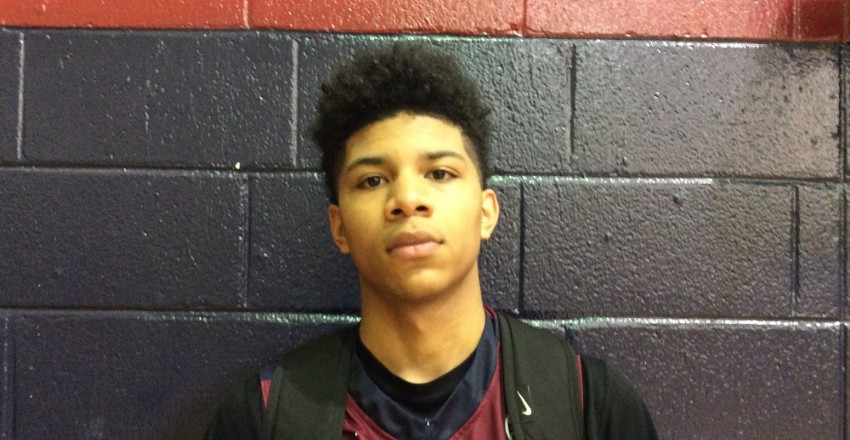 While the recruiting process is just getting started for many rising juniors, college programs have had roughly a week to reach out to 2018 prospects and make an early mark in their recruitments. That has been the case for 2018 Anniston (AL) Sacred Heart wing Diante Wood over the past few days.
Wood, a 6-foot-5 wing playing with the Georgia Stars 16U team, already has several scholarship offers under his belt. Auburn, UAB, New Mexico State, and Samford have made early offers and more are soon to come. Many different schools reached out to him on June 15th, the first official day college coaches could contact 2018 prospects.
"UNC-Greensboro, Middle Tennessee State, Georgia, Alabama, Auburn, UAB, New Mexico State, and Wichita State have all reached out," Wood told HoopSeen.com. "Auburn is standing out right now for me."
The Tigers offered Wood a few weeks ago while he was on campus for an unofficial visit. They are the early leader for Wood, and there are many things he likes about the SEC program.
"Auburn is a great school. They have a nice campus and great coaches. I like the way Bruce Pearl lets his teams play. It's like my style of play."
Wood has made several trips to Auburn over the past two years. Over that time, he and Pearl have developed a firm relationship that he sees getting stronger and stronger in the future.
"Coach Pearl and I have a good relationship, but I know it will get stronger. He tells me he likes the way I play and get my team involved. He likes how I have developed from two years ago, too," Wood explained.
While Wood plans to get back to Auburn soon, he has nothing set in stone for visits. With several different programs reaching out to him over the past week, he will be a popular prospect to see during the July evaluation period.