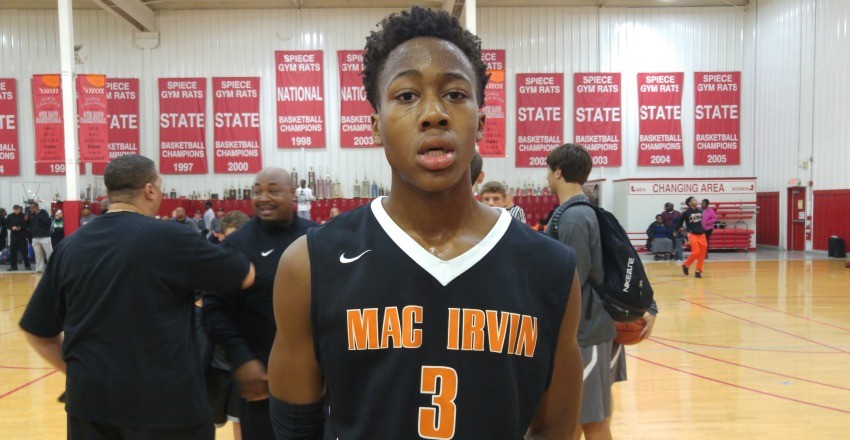 The infiltration of talent is headed back into Chicago after going through a few down years for a city known for its premier level of high school basketball. In Fort Wayne over the weekend, Ayo Dosunmu gave great hope about the future of the Windy City as he was the catalyst for his Mac Irvin Fire 16-under crew advancing deep into bracket play on Sunday. The 6-foot-3 lead guard showed off major value and gave insight on his recent developments and where he can be in the coming years.
Playing alongside Charlie Moore, a former Memphis commit and top lead guard currently available within the 2016 class, on the high school scene this past winter at Morgan Park High School, the time has come for Dosunmu to be 'the guy'. The sophomore guard showed the willingness to be that guy this past weekend as he led his team on the scoreboard but also displayed toughness and a competitive flair to his game that exuded over onto the rest of his team.
Entering the month of April, not one college coach felt Dosunmu had deserved a scholarship offer at that point in time. While things still remain a bit lackluster, schools are beginning to become accustomed to who the Mac Irvin star guard is. Having grown three inches since last summer and enveloping great play making skills within his repertoire along with a polished mid-range floater game, Dosunmu should have the pick off the litter before things come to an end.
After receiving an offer from UIC two weeks back, on Saturday night, Southern Methodist felt it was time to throw their own hat into the mix for the Chicago native. "I knew all along that I had the talent and I just waited for my time to come," the sophomore guard stated about the recent uptick in his college recruitment. "Coach Nick (Irvin) put the ball in my hands and put a lot of trust in me."
Expect for many more schools to get involved with the prospering and talented lead guard out of Chicago who has the capabilities of putting his team on his back and scoring in heavy volumes, but also in defending both guard spots and facilitating his team's half-court offense.