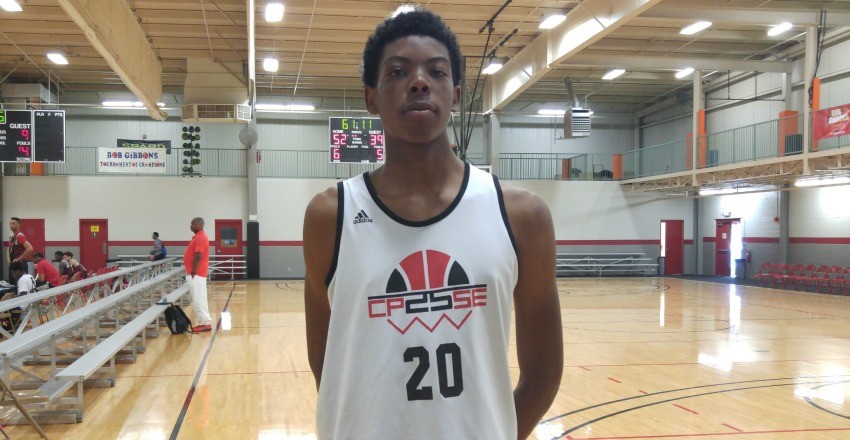 The Bob Gibbons Tournament of Champions is always the perfect platform for a prospect to begin his story as a well-followed recruit in the coming years. Omar Payne, a 6-foot-8 forward with the CP25 SE Elite 15-under bunch, did just that this past weekend in Suwanee.
Helping lead his team to the final four at Gibbons, Payne jumped out immediately in lay-up lines as the agile and long bodied forward passed the immediate looks test. During his outing on Sunday morning, the freshman forward showed off tremendous instincts as a helpside shot blocker and is someone that allows for his guards to take more chances out on the perimeter due to his rim altering abilities. While the Sunshine State native didn't show off a ton of ball skills as he was whistled for a few quick calls that didn't allow for him to get into the flow of his game, the upside is tremendous with him.
Having grown over four inches within the past calendar year and with the possibility of tapping out at 7-foot tall, Payne already sports a 7-foot-3 wingspan. He has a great motor in getting up and down the floor, tracks down loose balls quite frequently, and displays great touch at the foul line.
Attending Osceola High School in Kissimmee, Florida, there is very minimal college interest coming in for Payne at the moment. That should and will all change and in a very quick manner. Payne brings all of the physical tangibles to the floor that any high-major coach wishes from its big man.
The fact that he has the versatility in guarding the ball screen but also his opponent on the block, while the CP25 product can also race up and down the floor and produce whenever the game speeds up, the upside is there for Payne to be a big time recruit from within the 2019 class.