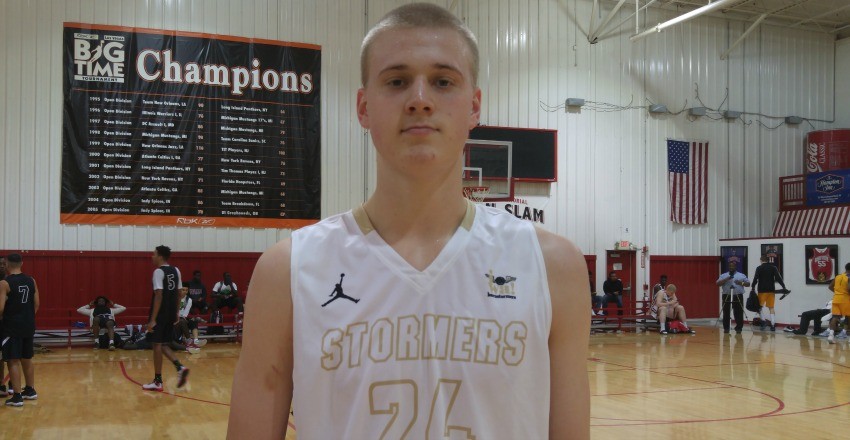 Already seen as a top-50 recruit nationally within the 2018 class, Joey Hauser has continued to make strides as a complete ballplayer. The 6-foot-8 forward brings great size to the frontcourt along with a super polished skillset that was on full display over the weekend at the Spiece Run 'N Slam in Fort Wayne, Indiana.
Hauser was the most impressive prospect seen all weekend long in Indiana as the Stevens Point High product scored in a variety of ways and in a super-efficient manner. Whether it was on upfake and step-through moves out of the high post, off-handed sweeping hooks in the lane, two-handed dunks in traffic, or balanced catch and shoot 3-point jumpers, the ammo that the sophomore can spew out onto his opponents is quite impressive.
The younger brother of incoming Marquette wing and top-100 senior Sam Hauser, the star of the Iowa Barnstormers 16-under team is beginning to see his recruitment hit the next level. "I have five offers right now from Iowa, Wisconsin, Marquette, Bradley, and Iowa State," he told HoopSeen. "I am also getting interest from Arizona, Baylor, Nebraska, Ohio State and Virginia."
While it is still a bit of time before things are narrowed down, a potential visit could occur to Wisconsin in the coming weeks. In the meantime, Hauser gave insight on his connection to Marquette. "I have a good relationship with the coaching staff. I love coach Wojo (Wojciechowski)," the in-state recruit said of the Big East bunch. "I liked the way that they used Henry (Ellenson) and his versatility in putting the ball on the floor."
Versatility and play making is the name of the game with Hauser and while Marquette does have an in-road with the Barnstormers star, expect for the nation's best to thoroughly pursue the mobile, active, and highly-skilled sophomore forward out of Stevens Point, Wisconsin.