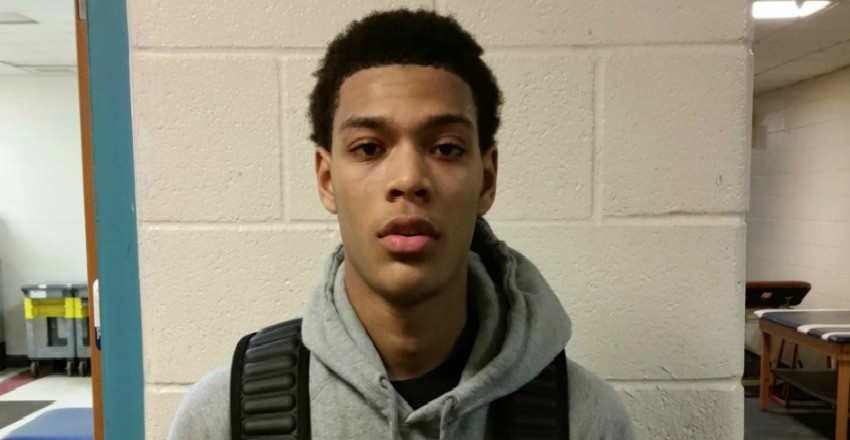 When you think about Philadelphia toughness, Quade Green immediately comes to mind. He took over the reins of the always successfully potent Neumann-Goretti bunch two years ago and has turned himself into a top-50 recruit and one of the best lead guards in all of America. Entering his final year of travel ball, Green caught us up on his past few months of high school ball and what the future might entail.
While his high school season didn't end the way that he would have liked, the 6-foot guard still took some positives from it. "It went well. I can't complain," Green said about his junior campaign. "I wanted to be a leader for my team. Be that person who always has their back," the Goretti guard stated about his expanding role for his bunch.
Now entering his final year on the circuit in the coming weeks, Green will run with the PSA Cardinals 17-under squad, a team that boasts such other top-50 prospects as Mo Bamba, Deng Gak, and Brandon Randolph. While in past viewings, Green had displayed that he can score the ball but also create for others with high assist numbers but sometimes shaky efficiency, it seems that this past winter, the Philly native's game hit the next level as a floor general who makes the right play with the ball and more importantly, makes others better. "I just want to show what they do in the gym," Green said about being the leader for his new team. "I want to get them the ball and make everyone better and continue to lead."
As he continues to round out his game and add further to it, programs will only intensify their interest in him. "Syracuse, Arizona, Arizona State, Missouri, Louisville, Villanova, Temple, USC, UCLA, Xavier and Central Florida," Green noted of the programs that have offered and are in the greatest pursuit of him at the current moment. Maryland, Rutgers, Villanova, Temple, and Syracuse are among those who were also able to host the Goretti guard this past winter for an unofficial visit.  
While things will heat up further in the recruitment of the top-50 guard this summer, Green does have a decent feel for what he is looking for in a college. "Somewhere I can call my second home and the coaches get on me when I do something wrong," the tough junior said. "I want a good staff and a good education so I can have something to fall back on."
The number-37 ranked prospect within the HoopSeen 2017 Rankings, it would seem that Green will become a priority recruit for those throughout the east coast and with more solid showings this spring, enter into a priority recruitment by some of the best programs nationwide.