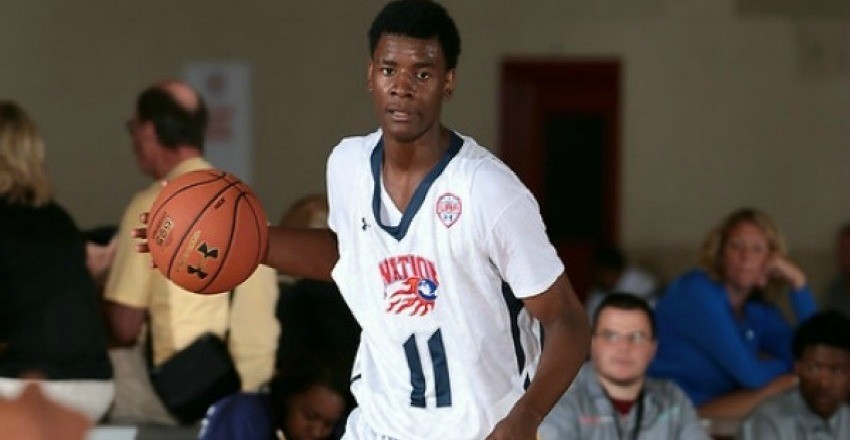 Decision day has come for Josh Jackson, the third ranked prospect within our 2016 rankings. An alpha-male type at the small forward position on the floor, Jackson is one of the very best defenders that the amateur ranks have seen for some time now. Down to a final three of Kansas, Michigan State, and Arizona, we preview how he could settle in at either of the trio of destinations that he could entangle his talents at in the fall.
KANSAS
Back in November, there were a lot of questions pertaining to if Bill Self could add another Big 12 title to his string of twelve consecutive regular season championships, along with the somewhat lacking 2016 recruiting class. Looking back on it, it seems quite foolish to question the head man in Lawrence. After securing another league title, KU has put together a top-25 recruiting class led by Udoka Azubuike.
Heading into next season, Kansas will retain its one-two punch in the backcourt in Devonte Graham and Frank Mason. Wayne Selden could opt to keep his name in the NBA Draft, along with such others as Cheick Diallo and Brannen Greene. Other definite losses will be due to graduation in Jamari Traylor, Perry Ellis, and Hunter Mickelson. Dwight Coleby, a transfer from Ole Miss, will help out down low but there is definitely a major void for a presence on the wing.
Sure, Svi Mykhailiuk could round into form as a perimeter scoring threat from off the ball but the opportunity is clearly evident for Jackson to step in and be a dominant presence on the 2016-2017 Jayhawks.
About Bill Self though, rarely do we see a freshman step in from day one and dominate straight out of the gates. It is all about development and remaining patient with the process. Even first year guys like Andrew Wiggins, Kelly Oubre, and Joel Embiid took time to develop at first before breaking out during conference play. With that being said and with two sturdy ballhandlers in the backcourt and a few 15-feet and in scorers in the frontcourt along the lines of Carlton Bragg, Landen Lucas, and Udoka Azubuike, the roster would allow for Jackson to do what he does best…absolutely hound the ball on the defensive end, create havoc within the passing lanes, and flourish in the open floor.
Of the three finalists, Kansas may be the best landing spot for Jackson as it would allow for him to further his still inconsistent perimeter jumper and handles but at the same time, leave a giant fingerprint on the defensive side of the basketball.
BILL SELF COACHED COMPARISON: ANDREW WIGGINS
MICHIGAN STATE
The fab five, Michigan State style, could be completed this evening, which is if the Detroit native would say yes to the Spartans. He would join already the most talented class that Tom Izzo has put together in Cassius Winston, Josh Langford, Miles Bridges, and Nick Ward.
This past season was a year of many highs, and one dramatic low, that being the crushing first round loss to Middle Tennessee State a few weeks back. With the departures of Denzel Valentine, Brynn Forbes, and Matt Costello, and the out transfers of Javon Bess and Marvin Clark, it would seem that it could be a rebuilding year for the Big 10 bunch. Think again. Tom Izzo is always one of the best at putting together various pieces in creating a championship contender.
The backcourt should be a sturdy one with the returns of Eron Harris, Tum Tum Nairn, and Matt McQuaid, along with incoming freshman lead guard Cassius Winston. In the frontcourt, Gavin Schilling will be relied upon pretty heavily, especially if freshman big man Dayonta Davis decides to keep his name in the NBA Draft. Hence, Izzo could opt to go with a small ball offense in using Miles Bridges at the power forward spot as the Flint native is an elite athlete with ambidextrous abilities and sports an NBA-type of frame.
While the backcourt looks fairly solid at Michigan State next year, there is a desperate need for a go-to presence at the small forward spot. Sure, if the Spartans go small, that could change things up a bit and with Langford and Bridges both capable of playing the 3-spot on the floor where Jackson isn't need as much as it might seem. However, scoring and play making is still needed for the Michigan State roster, something that Jackson could bring to the table.
Unlike at Kansas, Michigan State would ask Jackson to score the ball a little more frequently. He could still be the lock down defender that he is and will be but the ball might be placed into his hands more often in attacking the basket. The losses of Forbes and Valentine may hurt the MSU offense some as both were consistent deep threats and now with the majority of its perimeter scoring gone, driving lanes, gap that Jackson would love to attack, will be filled more often by sagging defenders.
In all, Jackson would be a tremendous get for the Big 10 squad primarily because of just how talented the in-state recruit is. While he may be asked to fill some holes left by Denzel Valentine as a distributor, a role that Jackson excels greatly within the open floor, it would seem there might be a bigger need for his scoring compared to the other two homes that he could choose fit.
TOM IZZO COACHED COMPARISON: MORRIS PETERSON
ARIZONA
The past few years have been a revolving door for the Arizona Wildcats as the staff has done its best in bringing in some of the very best talent in various ways, that being through the high school realm, junior college route, and the transfer wire. Next year should be nothing out of the norm as the Pac 12 squad loses Gabe York in the backcourt along with Justin Simon due to transfer, and in the frontcourt, will be hit by the graduations of Mark Tollefsen, Kaleb Tarczewski, and Ryan Anderson.
With four of its primary contributors from last season's NCAA Tournament team now gone, Sean Miller received good news a few days ago with the return of star freshman guard Allonzo Trier. They will also welcome in top-50 recruits Kobi Simmons and Rawle Alkins, two guys that can play various spots in the backcourt, along with a super skilled big man in Lauri Markkanen, a face-up forward out of Finland.
The Wildcats remain deep in the hunt for 6-foot-6 small forward Terrance Ferguson and also will throw Ray Smith into the lineup, a 6-foot-7 3-man who can play either forward spot and was lost for his freshman year last fall due to a torn ACL.
Talent won't be much of an issue again for the Pac 12 juggernaut and because of the numbers game off of the ball, the need for Josh Jackson might not be as felt as much compared to at MSU and KU. Sure, Jackson would be tremendous out in the desert as he would exude the same fire and intensity on the hardwood that Sean Miller does on the sidelines. The head coach in Tucson has been lauded for his development of its star freshman including the likes of Stanley Johnson, Allonzo Trier, and Aaron Gordon, and the same could be done with the 6-foot-7 3-man out of Detroit.
Where Jackson could fit at Arizona is as a defensive maverick who would flourish in the higher tempo affairs that Sean Miller and his program have likened itself to over the past few years. The 2016 class is very talented and score-first heavy where Jackson would add a curveball to the mix with his elite defense, allowing for others such as Trier, Simmons, Alkins, and Kadeem Allen to do what they do best…putting the basketball through the goal.
SEAN MILLER COACHED COMPARISON: RONDAE HOLLIS-JEFFERSON
PREDICTION
Jackson can't go wrong with wherever he might choose to suit up for next season. Kansas offers the chance to develop slowly on the offensive end while he could dominate on the other end of the floor and in doing so, help Bill Self win his fourteenth straight Big 12 title. At Michigan State, Jackson would go back home and solidify the best recruiting class that Tom Izzo has ever put together. Lastly, the 6-foot-7 senior would be the perfect marriage for Sean Miller in Tucson due to the fiery playing style and coaching style of each respectively. However, the Prolfiic Prep star can only pick one destination, of which he will announce for the Kansas Jayhawks this evening.