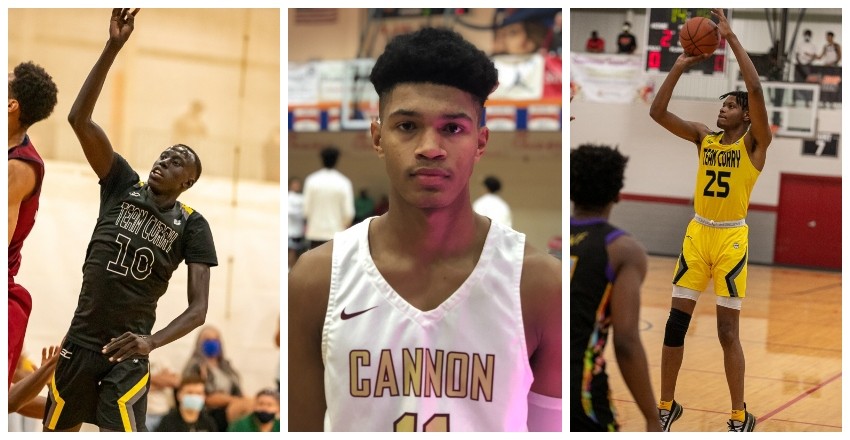 The month of November means the early signing period is right around the corner. Who are the top three players on the board from the class of 2021 in the Tar Heel State? Our Justin Byerly dives into the hot trio in November's Heat Map. 
Jonas Aidoo, PF,  Liberty Heights Athletic Institute (Ranked 5th in HoopSeenNC Rankings) - The nearly 7-footer has picked up high-major offer after high-major offer recently and has announced a top-10 to focus on before his upcoming season under Head Coach Michael Wright at Liberty Heights Athletic Institute. Aidoo has shown college coaches that he is a guy with tremendous size coupled with an ability to knock down shots from the outside on a consistent basis. He is long, athletic and runs the floor in transition. He has good timing on rebounds and blocking shots. His final consists of Wake Forest, NC State, Marquette, Kansas, Tennessee, Miami, Georgia, Houston, South Carolina and Providence. Aidoo's recruitment has been nothing short of amazing. Back in January, he had two offers from two mid-major programs before he decided to re-classify. Fast forward to today and he is one of the most sought after recruits in the country. 

Kuluel Mading, SF, The Burlington School (Ranked #13 in HoopSeenNC Rankings) -The 6-foot-10 forward out of The Burlington School will make his decision on November 14th, his birthday. Mading spent this past travel season with Team Curry and is one of North Carolina's top unsigned prospects. The long and lanky forward has elite shot blocking ability and alters shots with his length. He can score in the post and can step out and knock down shots from outside. Mading uses his length to get easy baskets and contest shots. He uses the rim to shield defenders and score and gets a lot of easy tip-ins because of his timing and size. Another impressive aspect of Mading's game is his ability to run the floor. He can get up and down the floor as quick as some of the guards on the court. He holds offers from Clemson, Howard, UNC-Greensboro, East Carolina, VCU, Providence and North Carolina Central. 
Jarvis Moss, SG, Cannon School (Ranked 24th in HoopSeeNC Rankings) - Moss has been one of the most consistent shooters that I have seen over the past two seasons. He has really nice size at 6-foot-3 and can make shots from all over the floor. Moss moves well without the ball and can knock down shots coming off of screens or off the dribble. The Cannon School product was a big part of their state championship run last season and will have even more on his shoulders this upcoming season with the departure of five-star guard Jaden Bradley. Moss holds offers currently from Northeastern, UNC-Wilmington, Furman, Bucknell, College of Charleston, UNC-Greensboro, Penn, Rider, Alcorn State, Samford, Buffalo and Houston Baptist. Moss is a player that with his scholastic work would fit in really well at a mid-major academic school and could have a very productive career. His latest offer coming back in September was from New Mexico.