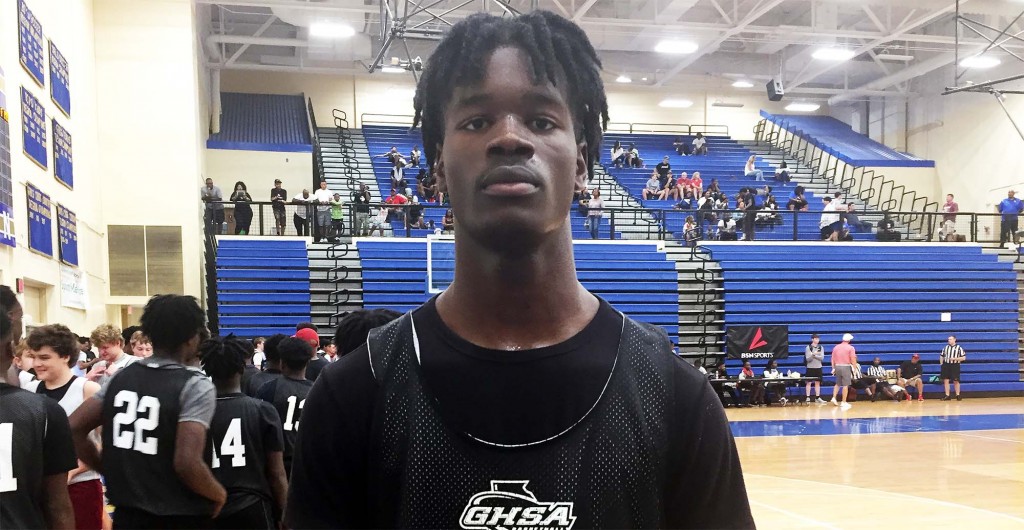 With the spring NCAA Live Period shelved, recruiting has shifted gears. There are more phone calls from college coaches to recruiting services. And let me tell ya, my phone hasn't stopped ringing for the last two months. Who are college coaches calling me about this spring? These three class of 2021 prospects lead the way from the state of Georgia. 
No other name has come across my phone from college coaches more during the anti-Live Period than Ryan Mutombo. The son of Hall of Famer Dikembe Mutombo is trending in the right direction this spring. Everyone is curious about him. He's drawing national appeal. Mutombo is an excellent student at an excellent school. That's number one. Further, his skill set continues to grow and impress as an all-around prospect. The speed of development is rapid. Mutombo holds high-major offers from Clemson, Tennessee, Vanderbilt, Stanford, Florida State, Florida, Texas A&M, Georgetown and Georgia Tech. The list of other programs that have reached out is equally long and impressive. College coaches want to see him in action. They want to see him now. The demand to see him against better competition is quite high, too. 
College coaches love a great shooter and Galloway fits that criteria. He's been high on our board of available shooters from the Peach's 2021 class. Galloway has great size for positions and his film has attracted the attention of schools from all different levels and styles of play. A potential three and D college prototype, Galloway is a player climbing up the behind the scenes lists of players college coaches want to see in person. VCU just offered him a scholarship and we recently moved him up to No. 13 overall in our HoopSeen rankings, thus triggering more calls. 
The South Georgia forward is a player who can really intrigue a college coach on film. He's long, can shoot, has good bounce and there aren't a lot of people outside of Albany that have seen him in person during the high school season. All of those ingredients make for one of the most curiosity-engaging players there is in Georgia's 2021 class. The home state schools have made some in-roads with the athletic face-up four man. Abidde has been on the campus of Georgia Tech quite a bit for unofficial visits and has worked out with the Yellow Jackets. The in-bound calls range from power conference programs to non-regional mid-majors.