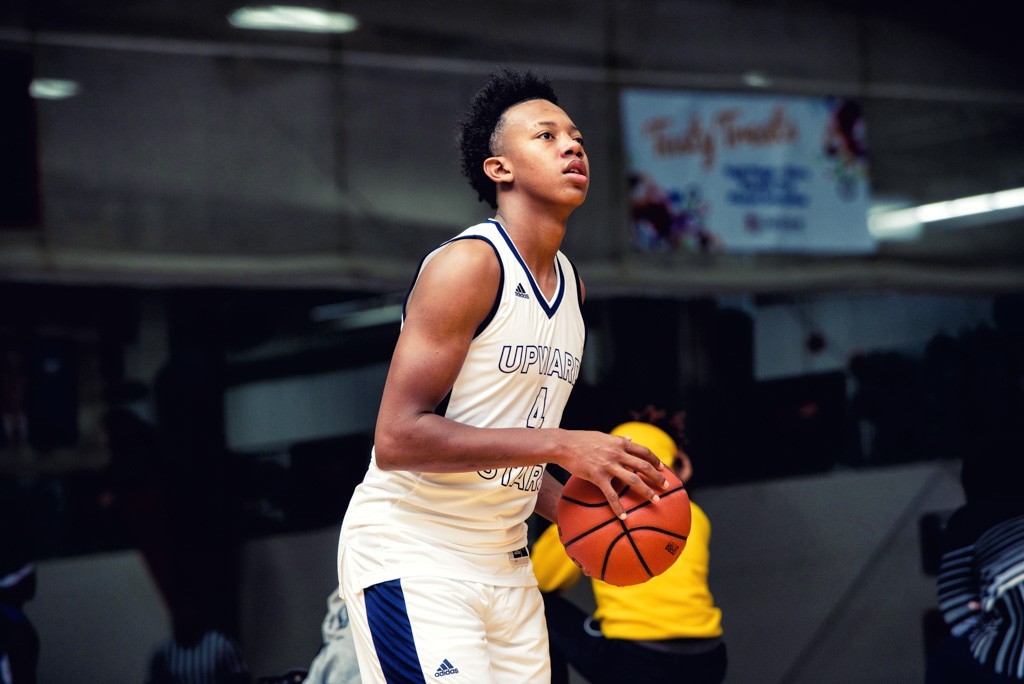 In this week's Carolina Corner we take a look at the Elon recruiting class for 2020, we dive into the best available in the Carolina's, take a look at our growing college-bound player list, and more.
Best Mid-Major Class?
What a class at the mid-major level that Mike Schrage and Elon have put together for the upcoming season. Five signees including Darius Burford, a 6-foot point guard from Illinois, 6-foot-6 small forward Brandon Harris from Savannah, Georgia, 6-foot-8 power forward Michael Graham from Brooklyn, New York, Bryant University transfer guard Ikenna Ndugba, and the one that sent the recruiting world into a frenzy JaDun Michael from Burlington. Michael is ranked as the 6th best recruit in the state for 2020 and had committed to Wichita State prior to COVID-19.
Schrage has assembled a class that is ranked #1 in the CAA and he did it by recruiting all over the country. Getting kids to by in to what he is doing at Elon and still recruiting North Carolina hard.
Elon finished 13-21 on the season and 7-11 in conference before the season was shut down. The Phoenix are returning everyone from their roster with their only loss being grad-transfer Marcus Sheffield. The future looks bright in Burlington.
Best Available in Carolinas'
Mason is one of the top available players in the state and has offers from UNC-Wilmington, Sienna, Central Connecticut State, UAB, Wichita State, Elon and Appalachian State. The all-state selection led the Piedmont Triad conference in scoring this past season. The versatile wing can score from the perimeter and has the size to get buckets in the paint.
Thomas makes the list with his versatility and ability to guard so many positions on the floor. Thomas helped lead Village Christian to the finals of the NCISAA 2-A championship this past season and he was a standout on our HoopSeen stage with Garner Road. The 6-foot-7 wing does a lot of things similar to Mason with his ability to score from all spots on the floor and his defensive ability to guard multiple positions. Georgia Tech and East Carolina are involved.
Hampton is one of the most athletic players in the country and his dunks have made ESPN. The quick-twitch athlete from Northwest Guilford has offers from Catawba and Mount Olive. Blessed with high-major athleticism, Hampton should be being recruited by low-to-mid major schools.
The Columbia, South Carolina native is one of the top scoring guards in the state and holds offers from College of Charleston, Old Dominion, East Tennessee, North Florida, UNC-Wilmington, Charleston Southern, Charlotte, Towson, Coastal Carolina and more. Horton helped lead Keenan to another SCHSL 3-A state title this past season.
Updated College-Bound NC List
| | | |
| --- | --- | --- |
| Player  | High School  | College  |
| Ambaka Le Gregam | Concord First Assembly  | Presbyterian  |
| Ahmil Flowers  | Grimsley | High Point |
| Alex Holt  | Lexington | High Point |
| Anthony Allen  | Independence  | Lees-McRae |
| Armon Muldrew | Panther Creek | Lenoir-Rhyne |
| AJ Thompson | Athens Drive | Brunswick CC  |
| Axel Holm | Lincoln Charter | Piedmont  |
| Ben Bryson | West Henderson  | UVA-Wise |
| Brady O'Connell  | Ravenscroft  | Old Dominion  |
| Cam Hayes  | Greensboro Day  | NC State  |
| Carson McCorkle | Greensboro Day  | Virginia  |
| Cheick Traore  | Concord First Assembly  | Youngstown State  |
| CJ Huntley  | Davidson Day  | App State  |
| Daniel Ransom  | Vance  | Western Carolina  |
| Dean Reiber  | NW Guilford  | Rutgers  |
| Demarcus McLaurin  | Laney  | UNC-Pembroke |
| Djimon Bailey  | Greenfield School  | Wake Forest  |
| Evan Joyner  | Piedmont Classical | North Carolina A&T |
| Garrett Hein | Concord First Assembly  | Furman  |
| Georges Lefbevre | Cape Fear Academy  | Vermont  |
| Issac Parson | Kinston | Winston-Salem State |
| Isaiah Todd | Word of God  | Michigan  |
| Jackson Threadgill  | Davidson Day  | Charlotte  |
| Jaden Seymour | Northside Christian  | Wichita State  |
| Ja'von Anderson | Moravian Prep | Francis Marion |
| Jadyn Parker  | West Brucswick  | North Florida  |
| Jaden Scriven | Fayetteville Christian | Lees-McRae |
| Jadun Michael  | The Burlington School  | Elon |
| Jamarhi Harvey | Moravian Prep  | UNC-Wilmington |
| JaJuan Carr | Pender | UNC-Wilmington |
| Jason Sellers  | Page  | Averett University  |
| Jaylon Gibson  | Grace Chrisitan | Wake Forest  |
| Javarzia Belton | Moravian Prep  | Southern Mississippi  |
| Jalen King-Joiner | Piedmont Classical  | Lees-McRae |
| Jay Hickman | Northwood Temple | Mars Hill  |
| Jaquan Mosley | Kinston | Pitt CC  |
| Jeremiah Dickerson | Dudley | Paine College |
| Josh Banks  | Olympic  | VCU  |
| Josh Massey  | United Faith  | Western Carolina  |
| Josh Rubio | Combine Academy  | Erskine  |
| Ja'Dun Michael  | The Burlington School  | Wichita State  |
| Ji'Lil Michael  | The Burlington School  | Mars Hill  |
| Josh Hall | Moravian Prep  | NC State  |
| Josh Hall | Ravenscroft  | Navy |
| Josiah Shackleford | Word of God  | Brunswick CC  |
| Justice Ajogbor  | Christ School  | Harvard  |
| Justin Wright  | Farmville Central  | NCCU  |
| Justus Shelton | Mountain Heritage  | Mars Hill  |
| Kaleb Scott  | Holly Springs  | Georgia State  |
| Kalib Matthewa | Henderson Collegiate | Queens |
| Keishon Porter  | SW Edgecombe  | Radford  |
| Kennedy Miles  | Williams  | Western Carolina  |
| Kurtus Taylor | Neuse Christian  | Wingate |
| Lane Harrill  | Cherryville  | Mars Hill  |
| Logan Botts | Forestview  | Newberry  |
| Marcus Elliott  | Holly Springs  | UNC-Wilmington |
| Marquis Eskew | Pine Forest  | NC Wesleyan |
| Myles Hunter  | Carmel Christian  | Youngstown State  |
| Myljael Poteat  | Burlington School  | Rice  |
| Nic McMullen  | Smith  | Murray State  |
| Nick Farrar  | Apex Friendship | NC State  |
| Nolan Dorsey  | Millbrook  | New Mexico  |
| Randy Johnson | Charlotte Latin | Holy Cross |
| Reggie Raynor | Northwood Temple | UNC-G  |
| Reggie Walton | New Life Christian  | Mars Hill  |
| Ricky Council IV | Southern Durham  | Wichita State  |
| Saiquone Harris | Word of God  | Hutchinson CC  |
| Samage Teel  | Farmville Central  | Winston-Salem State |
| Shakeel Moore  | Moravian Prep  | NC State  |
| Slate Hinton | SW Edgecombe  | Wake Tech |
| Soloman Tucker  | Northside Christian  | Army |
| Stephen Minor | Winston-Salem Prep | Queens |
| Todd Burt Jr.  | Trinity Christian  | Catawba  |
| Trayden Williams  | North Meck  | Robert Morris  |
| Trent McIntyre | Piedmont Classical | UNC-Pembroke |
| Tristan Maxwell  | North Meck  | Georgia Tech  |
| Tyre Boykin | West Bladen  | UMKC |
| Tyler McKinney | Asheville Christian | Lincoln Memorial |
| Tyler Parton | AC Reynolds | William Peace  |
| Tyler Young  | Fork Union via Greensboro | Virginia State |
| Tyrece McNeal | Hunter Huss | Fayetteville State |
| Zacc Sledge | SW Edgecombe | Sandhills CC  |
| Zavian McLean  | Village Christian  | Columbia  |
| Zach Shumate  | Salem Baptist  | Newberry  |
| Zack Austin | Moravian Prep  | High Point  |