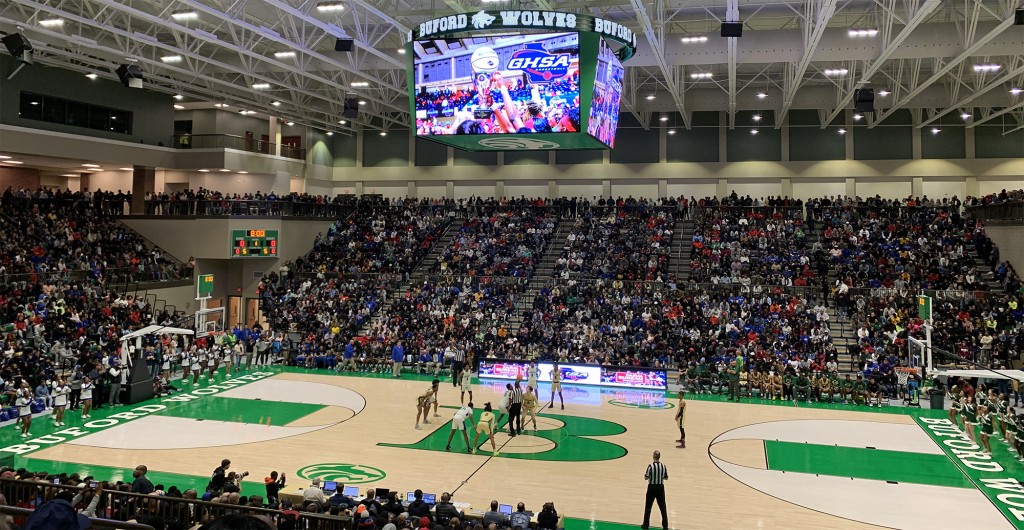 BUFORD, GA - The Class 7A semifinals paired four of the best teams in Georgia's biggest and baddest classification against each other. The hoops community knew it, too. The gorgeous Buford City Arena was packed to the brim with hoop heads. Everyone was treated to a great day of hoops. 
WHEELER 59, MILTON 47
Back in November at the Georgia Elite 8 Tip-Off event, Wheeler head coach Larry Thompson set the expectation for his club after their first game of the year. 
In his third year at the helm of the hoops heaven on Holt Road, Thompson knee this Wildcat team didn't have a nationally ranked player or a viral level prospect. What he had was a team full of do-your-job kind of players. 
Sam Hines is a grit and grind senior, the kind of guy that high school coaches love to work with. 
Paired against a very good and young Milton team in the 7A semifinal, Wheeler went right to work and leaned on its differential value. They pounded the rock inside. That was the plan right from the get go. 
Wheeler opened the game 8-2 and never looked back. 
Jaheim Hudson was able to get loose early. The junior pumped in the points and rebounds early. 
Hines was clutch down the stretch, converting on the free throw line time and time again. He finished with a team-high 19 points. And with that, you see the beauty of this Wheeler club. 
The Wildcats rim a balanced rotation of players in senior Prince Davies, senior Nash Kelly,  junior Max Harris and junior Javon Gamory all played key roles. That's how this Wheeler squad operates. They do it collectively. 
That's what Thompson was talking about back in November. It would take a buy in. Everyone would have to accept their roles. That's a process. It takes time. 
There was a moment when Milton rallied back within six in the third thanks to the super sophomore Bruce Thornton. He is a different level of a player than his peers and tapped into the talent that will certainly take him places in life. 
His effort capped off a stellar postseason run. Thornton was outstanding in defeat. he finished with 
GRAYSON 82, MCEACHERN 76
Grayson and McEachern were paired up in a rematch that warranted the long lines, the spill-over crowd into the stairwells and the energy that permeated the gorgeous Buford City Arena. 
For the first half of action, the game was exactly what we thought it was going to be. It was a pound-for-pound slugfest. 
McEachern was up 29-27 at the break. Then the Grayson rush came on in the third. The Rams were tough, outscoring the opposition 30-13 in that eight-minute stretch. 
There was a flurry of action from Caleb Murphy, Deivon Smith and Ian Schieffelin. The trio combined for 19 points in the third. 
"All season we've been able to make adjustments and really challenge them at half time and they respond," Grayson coach Geoffrey Pierce said about their adjustment after the break. "We had to do a better job sprinting back on D to handle their transition offense, and we had to do a better job moving the ball and moving without the ball on offense."
The beauty of the Grayson attack is their balance of wealth. One game it can be Smith who is the go-to guy. The other game it can be Murphy. Or Lane. Or Schieffelin. Or senior Josh Smith. And so on… 
"The best part about this group is that even though they're talented, they listen and allow themselves to be coached. They don't get in their feelings when I challenge them because they know I'm just asking them to be the best versions of themselves when I challenge them to do something."
Smith finished with 22 points, seven rebounds, five assists and a pair of steals. Murphy scored 19 points, grabbed five rebounds and had four assists. Lane pumped in 15 points. Schieffelin scored 11, snatched 14 rebounds and had five blocks. Smith scored 11.  
For McEachern, Sharife Cooper capped off his brilliant career with 21 points, five assists, four rebounds and three steals. Cam McDowell scored 17 points.