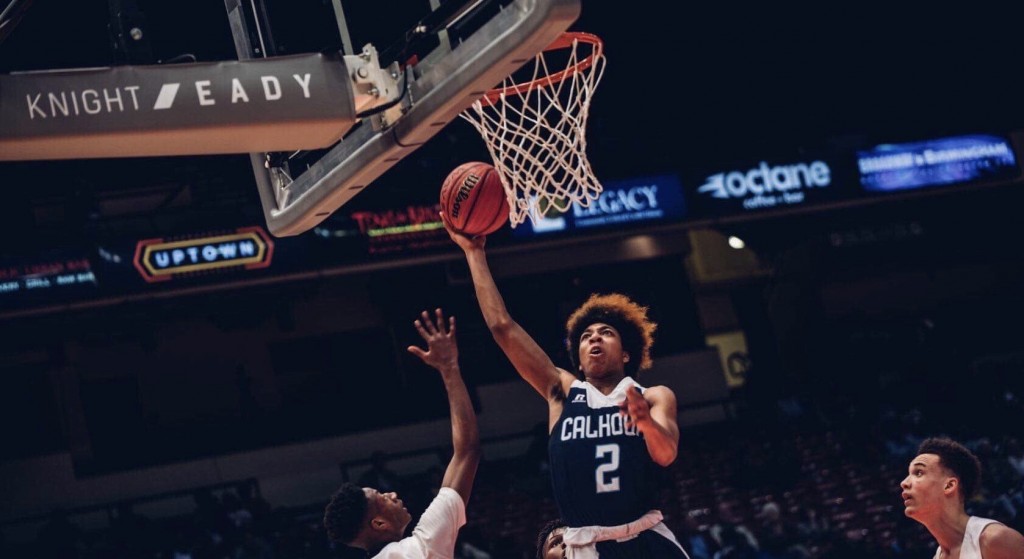 As we head down the stretch of the high school season in the state of Alabama, we take a look at three 2021 prospects who are popular amongst college coaches right now. These guys are just a few of the state's hottest prospects as the high school season concludes and the spring travel season gets underway.
J.D. Davison, 2021 CG, Calhoun: Aside from Bronny James and the rolling Sierra Canyon show, is there a more viral and popular player in the country than Davison? The 6-foot-2 guard has become a social media sensation with his effortless bounce and play above the rim as it is captured on a nightly basis by the mixtape mafia. Letohatchee (AL) Calhoun squad have shut down gyms all across the state this season because of Davison's eye-popping highlights. I don't know if there has ever been an in-state player Alabamians have made it a priority to see quite like Davison -- I know there hasn't been a must-watch guy during my tenure covering the state. As expected, Alabama and Auburn are doing their due diligence to keep him within state borders for his college career. Both staffs are going to have their luck cut out for them come the spring, as some of the best programs in the country are expected to prioritize him during the travel season. 
Brody Peebles, 2021 SG, Hartselle: Peebles has been on a scoring tear all season and he continued that on Tuesday night with 35 points in a sub-region win over Columbia. Liberty head coach Ritchie McKay has been one of his biggest fans since last spring, and that ultimately paid off for the Flames, as the 6-foot-2 scorer made an early commitment to the Atlantic Sun program in December. Despite his pledge, Peebles has still been one of the hottest prospects in the state. His prolific scoring ability has been impressive all season. 
P.J. Eason, 2021 PF, Dadeville: Heading into the spring, if there's on guy I think that could come out of nowhere and blow, I keep coming back to Eason. The long, slender big man oozes with potential and it sounds like the production is starting to come to fruition, too. At 6-foot-9, Eason can be an elite shot-blocker and rim runner. His offensive skill-set is starting to come around and he is becoming one of the most intriguing players in the class. I'm excited to see him with the Alabama Fusion this spring.