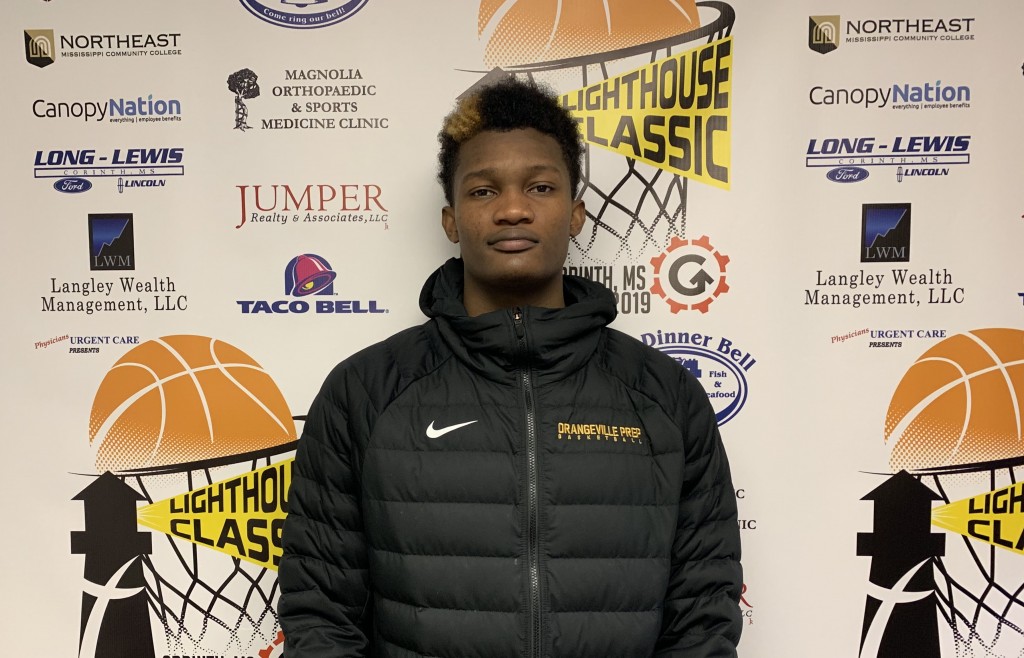 Canadian forward Matthew Alexander-Moncrieffe has had a strong winter on the high school basketball circuit with his Orangeville Prep squad. The 6-foot-7 available senior was a top performer at the Lighthouse Classic in Corinth, Mississippi and at the Bojangles Bash in Columbia, South Carolina. 
As expected, things are beginning to heat up on the recruiting front for the versatile forward. He has locked in official visits to Georgetown and Oklahoma State in the coming weeks.
OFFICIAL 🏀 VISITS:

Jan. 27: Oklahoma State University
Feb. 4: Georgetown University

🤫🤫🤫

— Matthew-Alexander Moncrieffe (@MA_Moncrieffe) January 15, 2020
Both coaching staffs have been frequent visitors for Orangeville Prep games. Oklahoma State had an assistant coach in Mississippi to see the four-star prospect at the Lighthouse Classic. They are two of the schools prioritizing Alexander-Moncrieffe to this point.
"Seton Hall and Georgetown are probably recruiting me the hardest. I visited Seton Hall recently and really enjoyed it. Patrick Ewing stays in contact with me every day. Oklahoma State is starting to come hard, too," Alexander-Moncrieffe told HoopSeen.com at the Lighthouse Classic.
All three schools present different opportunities for Alexander-Moncrieffe, who is one of the best available seniors. He broke down Seton Hall, Georgetown, and Oklahoma State with us:
Seton Hall: Seton Hall was a great visit. They rolled out the red carpet for me. I love Coach [Kevin] Willard. I have a great relationship with him and the assistant coaches. I loved the atmosphere there when I went to the game. The environment was awesome and the the coaching staff and fans really let me they wanted me."
Georgetown: Coach Ewing is a no-nonsense guy. I like that about him. His track-record as a player speaks for itself. Like I said, he contacts me every day and I stay in touch with Georgetown consistently. They have let me know they want me."
Oklahoma State: Oklahoma State is new but they have really started coming hard. It's an intriguing option because of Cade Cunningham and some of the other guys they have coming in. I've played with Cade in the past at camps. He can really score it, but he's also a really unselfish guy and can pass the ball. That's intriguing to me. Oklahoma State has a great fanbase and the coaches call me all the time."
Several other schools are following Alexander-Moncrieffe closely, but the three aforementioned schools have done the most legwork to this point and have to feel good about their chances going forward. While a decision has not been set in stone, one could come following his visits.
"I'm not rushing anything as far as a decision goes. I plan on having a decision in the spring, but it could come as early as February or March. As soon as the right situation pops up and I like it, I'll talk it over with my family and my coach and make my decision."
Alexander-Moncrieffe was impressive in both viewings our staff saw him in over the past few weeks. At 6-foot-7, the Canadian is a versatile athlete that excels in the mid-range. His length, skill-set, and upside are all obvious at first glance, but the most impressive aspect of his game is his versatility. Alexander-Moncrieffe will be able to guard and play multiple positions at the next level and that is a luxury in the era of position-less basketball.
With visits on tap, Alexander-Moncrieffe is on the clock with his college decision. What will be some of the things that factor into his decision?
"I really want to play with good players, but I also want a coach that has a plan for me and knows what I need to do to get better. I'm looking for a great relationship with the head coach and the coaching staff and a group I can really gel with."