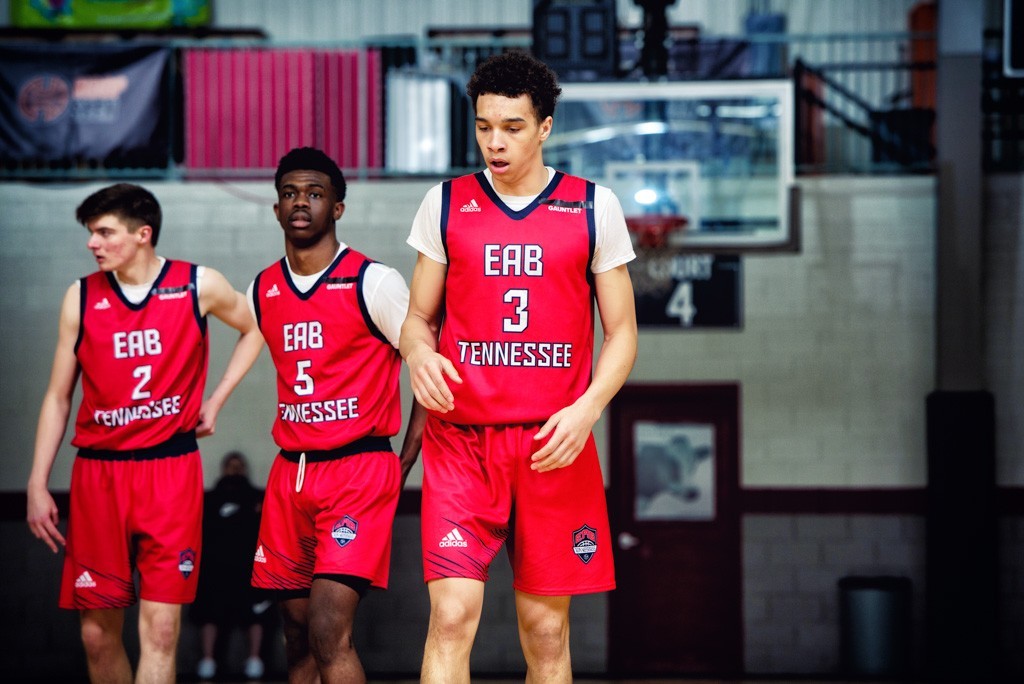 This has seemingly been a down year overall for the Class of 2020 in the state of Tennessee. With only 10 D1 signees to this point we are far under our average for a standard year. Fear not hoops fans as several prospects are still on the radar to help grow this number and judging from their prodigious senior campaigns here are some of the top unsigned prospects in the Class of 2020.
The proverbial light has seemingly come on for this rising senior prospect. Odusipe has always had the physical tools to be a high level prospect but his progress seemed stifled, especially one offense, for one reason or another. This season has been quite the opposite for the 6'9 post presence. Improved effort, better footwork and more aggression on the glass has produced gaudy numbers for Akeem who holds several D1 offers including Georgia Teach, Auburn, Kansas State, Maryland and Miami. He is among the state leaders in blocked shots and has made a concerted effort to avoid the silly early fouls that have plagued him throughout his prep career. He has his Fighting Irish squad ranked among the top programs in the state in their classification and was outstanding this past weekend as his squad welcomed the highly touted IMG Academy program to their gym in Knoxville.
"Bo" as he known in basketball crazy Memphis is the personification of the word potential. Athletic and long, Montgomery is coming into his own this season. His Lynx squad is among the top teams in their classification in Tennessee and the odds on favorite to capture the state title in March. Montgomery recently passed the 1,000 point mark for his career and is currently averaging 16.0 point per game this season. He drew attention with his effort at the recent Memphis Hoop Fest with huge efforts against some national powers drawing interest from a slew of mid-major programs who are still in the market for combo guard who can score in transition and off the bounce. His outside shooting will be the key to the level he ascends to once his senior season comes to a close.
Garcia parlayed an outstanding summer and a burgeoning start to this hoops campaign into becoming a sought after commodity in the recruiting landscape. The 6'7 senior is at his best when the game speeds up, his shooting form is improving, he attacks the basket and is one of the better help defenders in the state. He has a will to win and always plays with emotion and effort. He currently holds offers from South Alabama, Georgia Southern, Arkansas State, Pacific, Tennessee State and ETSU. He was outstanding in helping his Hamilton Heights squad take two wins at the prestigious Memphis Hoop Fest.
Accolades continue to pour in for this rising senior from the Music City. Hughes recently surpassed a huge scoring milestone when he joined the vaunted 2,000 point club for his high school career, he is on the verge of becoming the all-time leading scorer at his high school. Hughes has had a marvelous senior campaign to this point and is among the top students in his class as well sporting a 32 ACT score. He holds several offers including a recent pledge from ETSU.
He can play either guard spot and has improved his shooting touch this season to accommodate any request for his backcourt services.
Consistently one of the our favorite players these past four years. Page is the ultimate teammate, he has mad communication skills, something coveted by college coaches. He is a proverbial coach on the floor, he makes plays and takes guarding his position very seriously. He is all about winning and has led his team to the state tournament several times during his tenure. Blackman will again be among the top teams vying for a spot in the big dance come March at the Murphy Center on the campus of MTSU. Page has improved his shooting touch and has show an ability to make plays for others. He possesses intangibles galore and always draws the assignment of guarding the oppositions best player. He is a winner and had some D1 interest as the summer came to a close, no reason to believe anything has changed.