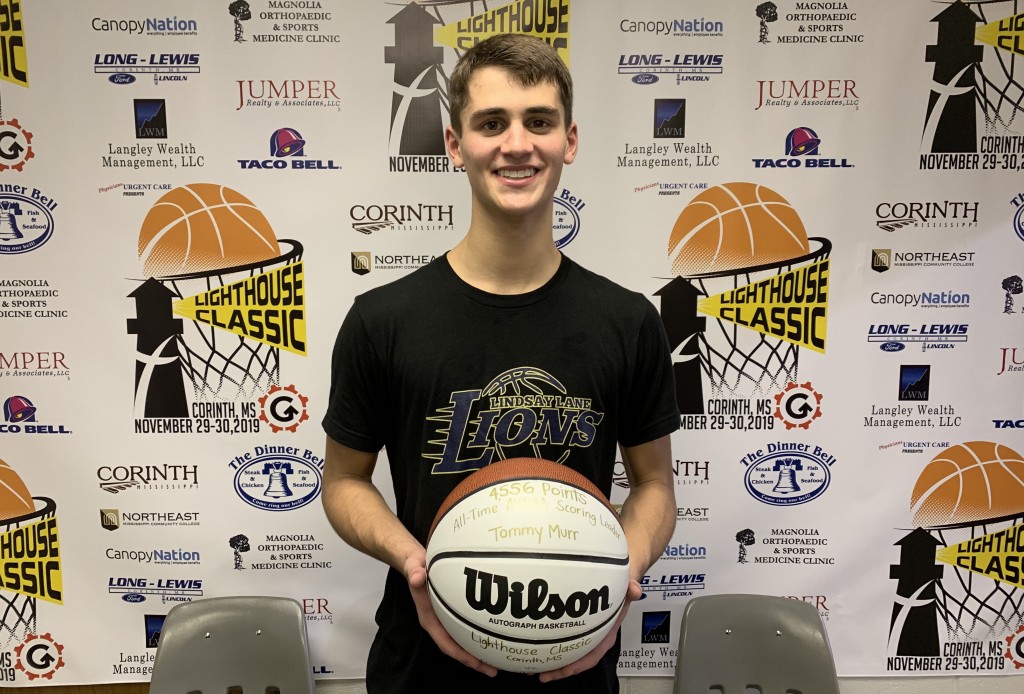 CORINTH, MS -- As of Saturday afternoon, the Alabama High School Athletic Association record books will have to be re-written. There's a new all-time career scoring champion in the state.
2020 Athens (AL) Lindsay Lane guard Tommy Murr scored 46 points in a narrow 81-79 loss to New Site (MS) and defensive mastermind head coach Rich Howell on Saturday at the Lighthouse Classic. The Lipscomb signee also scored 36 points on Friday against host-team Corinth (MS).
Murr, a 6-foot-1 senior, now has 4,564 points, making him Alabama's all-time leading scorer. He surpassed Parkway Christian's Jeremy Monceaux and his 4,555 points. Monceaux, who played from 1998-2002, went on to play collegiately at Liberty and Alabama. He is now the head boys basketball coach at Clay-Chalkville.
Here's a video of Tommy Murr's record-breaking shot. He finished with 46 points to also tie Issac McBride for the @L_HouseClassic scoring record pic.twitter.com/PsjzJjlBqH

— Garrett Tucker (@GTuckerHoops) November 30, 2019
Following the game and his record-breaking performance, Murr remained his humble, selfless self and wanted to deflect his achievement to his teammates and coaches, as well as the bigger goal that lies ahead, which is to compete for and win a state championship. 
"It's humbling and I'm honored to hold such a coveted record in the AHSAA, but we have bigger goals [as a team]," Murr said with a room full of media following his game on Saturday. "But to hold such a coveted record in a great association is very exciting and I'm proud of my teammates for helping me get there." 
Murr's father, Steven, has coached Tommy at Lindsay Lane during his high school career. While he didn't have a lot to say to the media about his son's latest accomplishment, the younger Murr let everyone in on a private moment the two had following the game.
"We don't talk a lot about personal achievements, but it's times like this where he looks at me after the game and says 'I'm proud of you, son.' It's the little things like that that go a long way," Tommy said as he pointed to his father.
Charlie Morrison, a fellow senior and one of Murr's best friends, spoke very highly of his teammates following the game. Morrison has also had a successful high school career, as he went over the 1,000-point plateau last season.
"Tommy is so selfless. He's played for the team his whole career. The scoring record isn't something we have even talked about. It wasn't in his mind. His No.1 goal is to win games and win a state championship. That's the kind of person he is."
Not to be lost in the shuffle, with his 46 points, Murr tied the Lighthouse Classic scoring record that was set by Issac McBride in 2017. He now finds himself sitting ahead of some of the most talented high school basketball players this region has ever seen, including Devin Booker, Malik Newman, Shai Gilgeous-Alexander, Wendell Carter, Mitchell Robinson, Nickeil Alexander-Walker, James Wiseman, John Petty, Trendon Watford, and Joshua Langford. 
"We are very thankful for the people from the Lighthouse Classic that allowed us to be a part of this. We lost both games but regardless we got better. You always hear stuff about competition and not playing great teams, but to come over here and play some quality teams, it means a lot," Murr explained.  
Lindsay Lane had a great showing in front of the Mississippi crowd and competed on one of the biggest stages in the South for high school basketball. Murr and the Lions will now look to get better heading into area play, in hopes of making a return trip to Jacksonville State for regional play come February. 
Despite the loss, the talk of the event in the following weeks will be about Murr eclipsing the AHSAA scoring record. 
"I know that my gifts are God given. I don't want to speak too much on myself. I would rather someone else do that, but it's exciting and I'm happy about it. This is a moment I will remember for a long time."
Murr's accolades speak for themselves. Now with 4,564 points and counting, there's a good chance the senior can get over the 5,000-point mark. He would become the fourth player to ever surpass that feat. Murr is also now among the top 15 career scorers nationally.