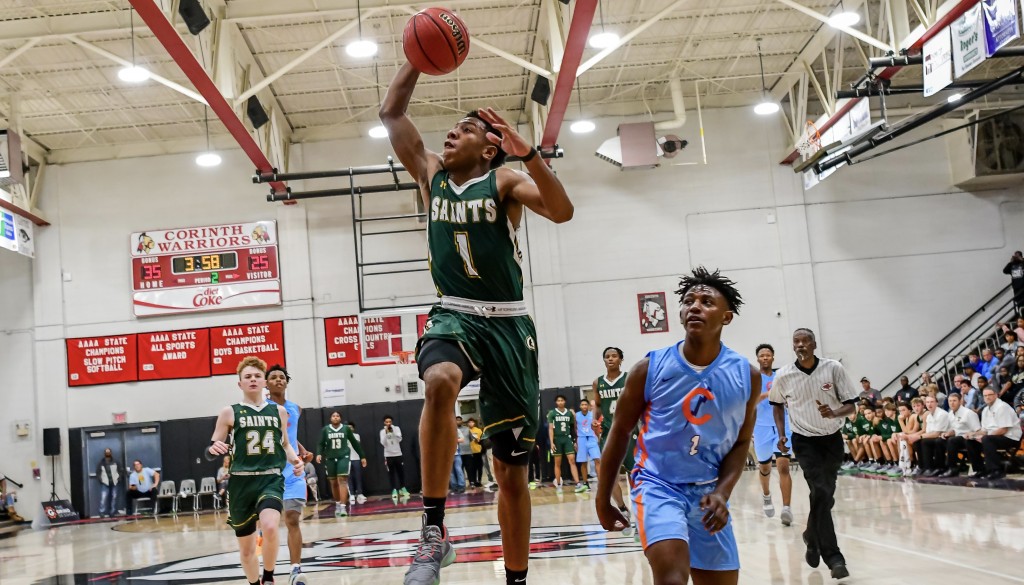 It has been a busy few weeks for 2021 Eads (TN) Briarcrest Christian point guard Kennedy Chandler. In the span of two weeks, the five-star floor general has hosted nearly a dozen college programs for a game. Much like early in the spring, the junior's recruitment has started to hit another gear.
"I have a bunch of offers, but some of them are North Carolina, Michigan, Florida State, Ole Miss, Syracuse, Tennessee, Memphis, and some others," Chandler told HoopSeen.com. 
North Carolina head coach Roy Williams watched Chandler prior to Thanksgiving. Shortly after seeing him in person, the Tar Heels head coach extended a scholarship offer. While it is still early and Chandler is wide open with his recruitment, the offer carries some weight in his recruitment. 
"The history that Coach [Roy] Williams has had with North Carolina speaks for itself. He has had good guard play, like Coby White, Cole Anthony this year, and then they have Caleb Love signed for 2020. I like the history with Coach Roy as a coach and how the team has always done going to the NCAA Tournament. They always have a good team and he's a good coach. I like North Carolina."
North Carolina was the first blue-blood program to extend an offer to Chandler. However, more could be on the way. Kentucky head coach John Calipari was in Memphis on Friday night to take in a game, while an assistant coach from Duke was also on-hand. 
Despite the recent interest from blue-blood programs, Chandler is adamant that he is wide open in the recruiting process. Memphis, Tennessee, Ole Miss, and Iowa State have been in to see him recently as well. The 6-foot-1 guard also has a trio of visits set up after the New Year.
"I'm taking an official visit to Florida State February 2nd-5th. They are playing North Carolina during that time. On February 8th, I'll be at North Carolina for an unofficial visit in their game against Duke. Right after that, I'm going to Michigan on February 15th-17th for an official visit," he explained.
Florida State and Michigan have pursued Chandler hard and made him a priority early in the process. The junior is extremely interested in what both schools bring to the table and he is excited to see them on his visits. 
"Coach Stan Jones and I have a really good relationship at Florida State. We stay in close contact. One of my former high school teammates, Cleveland Yates, is a walk-on at Florida State. He's told me about it down there. I'm excited to see everyhting on my visit. They are recruiting me really hard."
"Juwan Howard is off to a really good start in his first year. They're doing a great job so far. They won it all at the Battle for Atlantis and have been playing well since then. They have a good team and I'm excited to get up there for my visit."
While Chandler boasts a national recruitment with schools from all over the country hot on his trail, arguably no schools have pursued him harder than the local schools in Memphis and Ole Miss. Both programs have had coaches take in multiple games so far this young season, including Penny Hardaway and Kermit Davis. 
"Memphis is great. Coach Penny [Hardaway] is doing great with the team despite what happened with James Wiseman. I've known Penny for a long time since I was little during his days at Memphis East. He has done a great job with the No. 1 recruiting class last year and the team this year. There's a lot to like there."
"Ole Miss was one of my first scholarship offers. Ever since Coach [Kermit] Davis offered me, he's been recruiting me really hard. He's a really good coach and he's already done some big things at Ole Miss. That was my first SEC offer. I really enjoy talking to Coach Davis."
In addition to his upcoming visits to Florida State, Michigan, and North Carolina, Chandler also took official visits to Tennessee, Syracuse, and Ole Miss. He has been on several unofficial visits to Memphis, including their midnight madness festivities. 
With a couple of big games already under their belt early this season, Briarcrest Christian (TN) is preparing themselves for another run at a state championship. Last season, Chandler led the Saints to its first state title since 2008 en route to also winning the Mr. Basketball award. They will travel to the prestigious City of Palms this week.
Our HoopSeen stage is designed to provide the best exposure opportunities for top independent programs. Tons of coaches, social media exposure, and elite competition are some of what you'll find at our events. For more information on our 2020 events, visit our events page, or call our hotline at 470-266-8862.