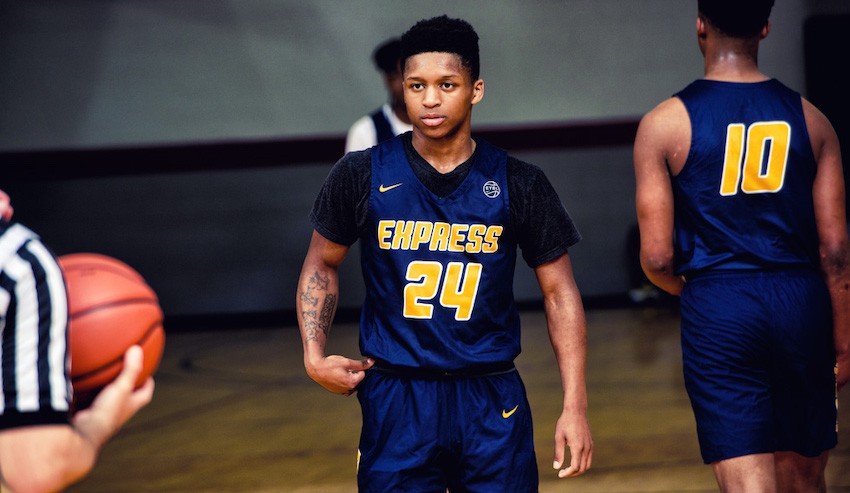 2021 Jackson (MS) Callaway point guard Daeshun Ruffin stole the show over the travel season with the Mississippi Express. In fact, Ruffin was so good that he was named our Shoe Underclassman of the Year following our travel schedule.
Standing at 5-foot-9, Ruffin made a statement as one of the premiere guards in the country with scoring and playmaking ability. His run started last fall at the 2018 Lighthouse Classic with a huge performance against the favorite to be the No.1 overall pick in the 2020 NBA Draft, James Wiseman and Memphis (TN) East. After displaying notable results against some of the top talent in the country, it's no surprise that high-major programs are in hot pursuit of the talented scorer.
"I have offers from Alabama, Ole Miss, Florida, Florida State, LSU, Mississippi State, Houston, Southern Miss, Auburn, and UAB," Ruffin told HoopSeen.com.
Ruffin has made the most of his opportunities this fall, as he has been able to take visits to a couple of college campuses following his quick pledge and de-commitment from Auburn. Most recently, he was at Alabama and Ole Miss.
"Ole Miss and Alabama [are recruiting me the hardest right now]. Those are the main two schools I have visited."
Ole Miss head coach Kermit Davis and the Rebels are trying their hardest to keep the state's top player in the 2021 class at home for his college career. The Rebels hosted Ruffin for an official visit a few weeks back.
"Ole Miss was my first official visit. It was a big weekend on campus, so I got to attend the events they had going and watch the team practice. I really like the program's fanbase. They're very supportive of their Rebels and you can feel it from the moment you step on campus," he explained. 
Alabama has been following Ruffin closely since his de-commitment from arch-rival Auburn. Nate Oats and the Crimson Tide have hosted him for multiple unofficial visits in the last month. He was on campus in Tuscaloosa for football games against Ole Miss, as well as LSU this past weekend.
"The unofficial visits at Alabama have been great. The atmosphere is crazy there and their fans are also supportive," Ruffin said. "The coaches have told me how much they like and how my game fits in to their system. They think I would excel there." 
Ruffin has shown how he thrives off of having the ball in his hands for extended periods of times. Whether it is scoring or slick ball-handling, the sub six-footer is one of the best playmakers in high school basketball. He's also one of the most dynamic scorers in the country, and some of the top programs in the South are investing time with him.
While there's still a long way to go in his recruitment, it looks like Alabama and Ole Miss have both made statements and are trying to distance themselves from the rest.