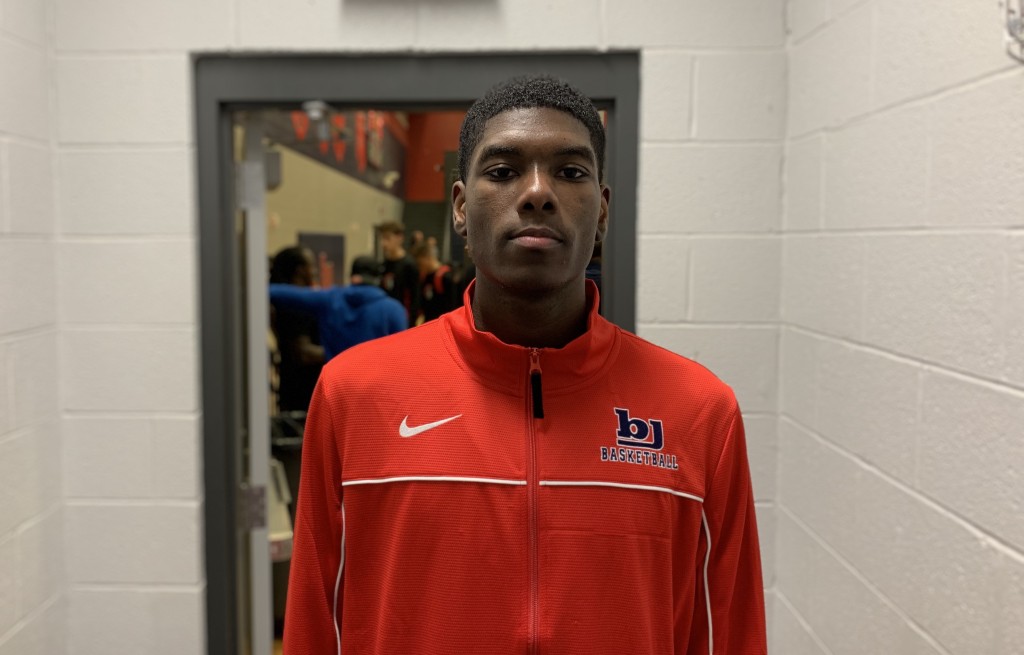 MADISON, AL -- The annual N2 Hoops Invitational tipped off on Monday at Bob Jones High School and some of the best teams and talent in Alabama and the surrounding areas were on-hand for pre-Thanksgiving action. A couple of well-known names had solid performances while some new names also made their early statement. 
TOP DOGS
Jalen Myers, 2020 SF/PF, Bob Jones: Myers, one of the best available senior prospects in Alabama, had an impressive game to kickoff the host-school's tournament. The 6-foot-7 forward posted an impressive stat-line with 27 points and 15 rebounds, along with a handful of assists. Myers excelled at pulling rebounds on the defensive end of the floor and connecting with teammates in transition for easy buckets. The senior has impressive vision and passing skills for his size and position. He has improved as a playmaker with the ball in his hands and he has always been a quality shooter from deep. It will be interesting to see where his recruitment goes during the high school season. Troy was in attendance to watch on Monday. Myers was also on campus at Auburn two weekends ago. 
Taye Fields, 2021 CG, Lee-Huntsville: Starting the 4th quarter against a quality Eufaula (AL) squad, the Lee-Huntsville Generals found themselves down by double-digits. Then, Taye Fields took over. Fields, who transferred into Lee this summer, introduced himself to the Huntsville area on Monday evening, as he willed the Generals to an impressive victory behind his 32-point performance. The 6-foot-2 guard is extremely versatile and can play multiple positions on the perimeter. It took him a few quarters to get into a rhythm on the offensive end, but he definitely found himself down the stretch. Fields made shots and also made plays at the rim. His athleticism and body control allowed him to be a tough finisher around the goal. North Alabama, Mercer, and UAB were in to see him this fall. He'll be an intriguing guard to track for low and mid-major programs going forward.
Keshawn Murphy, 2021 PF, Ramsay: It's hard to ignore the prospect that Murphy has become in the past calendar year. Now standing at 6-foot-10, the junior keeps growing and stretching out. The scariest part? His advanced skill-set for a 4 man is still there. Murphy has great ball skills and shooting range for a post prospect. Those attributes make him an ideal face-up 4 man at the next level. He's also become more competitive on the floor, as he showed he wasn't afraid to dunk over multiple players (his own teammates included). Murphy continues to look like one of the highest ceiling prospects in the state of Alabama and all of the South. Mississippi State dispatched an assistant to see him on Monday, while Alabama head coach Nate Oats watched him two weeks ago. 
RayQuan Taylor, 2021 PF, Carver-Montgomery: The staff at North Alabama raised some eyebrows a few months back when they picked up an early pledge from 2021 big man RayQuan Brown. If Monday's game was an indication, the Lions are way out in front with this one. Taylor, a 6-foot-8 big man, is an elite shot-blocker. He has great timing from his position in help-side defense and uses it to his advantage. The junior blocked four shots right off the bat in the first period while also altering the shots that he didn't block. Taylor is still a work in progress on offense but there's a lot to like at this stage. He has good hands and runs the floor like a deer. With more repetitions in the post, I think it's safe to say UNA made a good decision getting Taylor done early. He's a difference-maker on defense in the Atlantic Sun conference. 
Ti'Avian Scruggs, 2022 SF/PF, Hazel Green: Hazel Green pulled off the upset of the day when they took down Ramsay and Scruggs was a big reason why. The 6-foot-5 sophomore played like a senior on Monday evening, as he made several winning plays down the stretch to help keep the Trojans in the game. A skilled player in the post, Scruggs used his body to score through the defense while also fending off Keshawn Murphy's length and size. The lefty embraced contact and was able to keep the opposing defenders off balance with his change of speed and pace. Scruggs is the ideal post player in the modern game with his ability to do multiple things as a player. He's another talented player to watch for in Alabama's loaded 2022 class. 
GUARD PLAY DOMINATES
Ashton Elliott, 2020 CG, Hazel Green: Elliott has been somewhat overlooked heading into his senior campaign at Hazel Green, but the 6-foot-2 guard had a nice showing on Monday evening to go along with the strong start to his senior campaign. Pound for pound one of the toughest guards in north Alabama, Elliott was able to compete with everything Ramsay threw at him. The senior is athletic and an explosive driver. With a strong few days, it wouldn't surprise me if he popped on some local college coaches' radars. 
Quandre Burroughs, 2021 CG, Clarke County: Burroughs, a sub 6-footer, put up 31 points on Bob Jones to open the event. The feisty 5-foot-9 guard scored the ball from all 3 levels and proved to be a high volume scorer. With a strong, stout body and quickness, Burroughs was able to get past defenders and get to his spots on the floor. He had a quality showing to open the tournament.
Damarcus Thompson, 2021 PG, Mae Jemison: Thompson has been on Mae Jemison's varsity squad for a few years now, but it's finally his turn to run the show for the Jaguars. The 6-foot guard has came off the bench in recent years and been a quality player, and now his experience at the highest level is paying off. Thompson controlled the game and set the tempo against Carver-Montgomery on Monday evening. He has a high basketball IQ and makes the correct play each time down the floor while making his teammates better. The junior may also be one of the best perimeter defenders in Huntsville. He's a pest on defense and made things difficult for the Wolverines on Monday.
SCOREBOARD
Bob Jones 86, Clarke County 75
Hazel Green 60, Ramsay 58
Lee-Huntsville 73, Eufaula 70
James Clemens 75, Sumter Central 68
East Limestone 78, Sparkman 63
Mae Jemison 69, Carver-Montgomery 49
Florence 68, Mitchell (TN) 46
Blackman (TN) 59, Austin 28