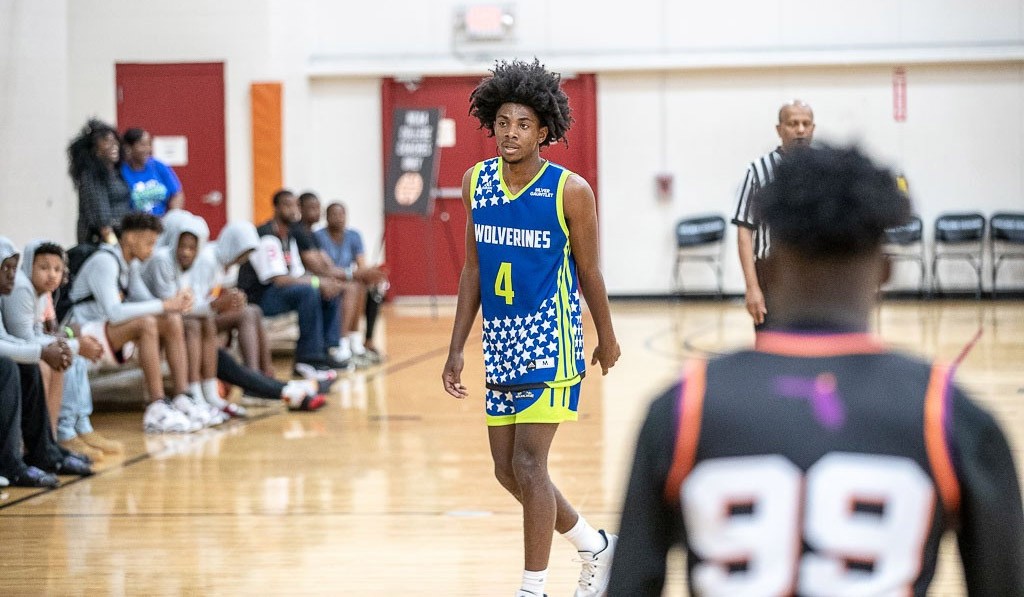 With the high school season now in full swing, there are a number of juniors that we can see taking off. These five guys are players you should watch closely. We explain why.
Tykevious Curry, Calhoun County (pictured above): It's funny thing, hype. You can win 32 games and not be a name that's mentioned in the best players in the class on a regular basis. That's what happened with Curry. And we're guilty of such a crime. We have no problem admitting that. Curry was a key factor in his team's historic - and perfect - state championship run. On the travel circuit, he shined on our HoopSeen stage with the Wolverine Basketball club. Curry was an all-state selection for Calhoun last year, too. Sure, small school ball doesn't get a lot of burn in Georgia. But Curry should. We'll see to that.
Jaylin Galloway, The Skill Factory: As I mentioned in my 64 things preview story, I think he's the biggest breakout guy in Georgia's 2021 class. He's already off to a hot start for TSF, showing that he's a big time perimeter sniper. His recruitment is already starting to pick up steam because of his production and value as a big perimeter scorer. Don't be surprised to hear about high-major schools coming in to take a peek at him. The ceiling is quite high for him. 

Isaiah Nelson-Ododa, Winder-Barrow: Sure, he's a top 10 player in our 2021 rankings for the state of Georgia. So, it is hard to justify calling someone a "break out" candidate when they are rated so high. But Nelson-Odada wasn't a big factor at Winder-Barrow last year. After showing what he is capable of during the June NCAA live period and team camps, you better believe his role will change. As college coaches come through Atlanta and Athens this year for the ACC and SEC season, don't be surprised to see a number of them, particularly the head coaches, come through and see Nelson-Ododa in action. The big man could make the biggest jump of any 2021 player in terms of sophomore year to junior year production. 
Myles Rice, Eastside: The 6-foot-2 guard from ended the summer as hot as any guard that I saw from Georgia. He was outstanding for the 16U Atlanta Celtics team that won the adidas Summer Championships and was Eastside's most consistent player last season. Now the Covington school is a nice sleeper squad to watch this year and one of the reasons why is Rice. He's a terrific all-around guard with a knack for scoring and gifted as an attacking ball-handler. Eastside will have a lot of eyes on it this season and Rice has the opportunity to play himself into the conversation. Don't be surprised to hear a lot about him this season.
Brendan Rigsbee, North Gwinnett: The Bulldogs are trending upward after two seasons that combined for 14 wins. The optimism is high for this season. Rigsbee has something to do with it. We caught a glimpse of why at our Fall Preview camp. He's a quality shooter with some bounce. Rigsbee started the season off strong, posting 24 points against Norcross in a scrimmage. He can play at and above the rim. Don't be surprised to see him rack up several 20-point games this year.