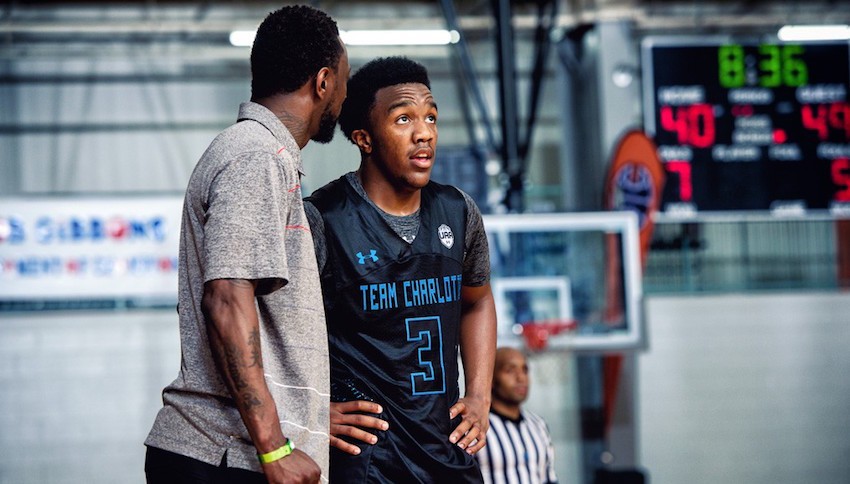 The month of September continues to progress and with another weekend comes another important recruiting weekend for college programs across the country. Auburn made a splash last weekend, as they landed a commitment from 2019 forward Jaylin Williams following his official visit to campus.
In this week's Visitors of the Weekend, all eyes will be on Tobacco Road as two of college basketball's most competitive rivals host top priorities. Duke and North Carolina are both in for important weekends, while Georgia Tech will look to keep an in-state prospect home, and Murray State will try to land its point guard of the future.
WENDELL MOORE TO DUKE
Duke fans have been a little on edge over the past few weeks after dealing with something they haven't done a lot of in recent years: missing out on high-level prospects. Many experts expected the Blue Devils to be the eventual landing spots for Bryan Antoine and/or Josiah James, who committed to Villanova and Tennessee respectively in recent weeks. With the loss of Jeff Capel to Pittsburgh, some are even asking if Duke has lost its mojo on the recruiting trail.
I'm not going to rush to that conclusion yet because there is still plenty of time for Mike Krzyzewski and crew to make a couple of splashes with the 2019 class. This is a perfect weekend for Duke to prove they are one of the best programs in the business as they play host to in-state star Wendell Moore.
Moore, a talented wing man, has been in the national spotlight since he was a middle schooler and now has transformed into a player many top programs are tracking, most notably Duke and rival North Carolina. Putting together a successful weekend with Moore could ease the pains of losing Antoine and James.   
MARCUS WATSON TO GEORGIA TECH
Since taking over at Georgia Tech, head coach Josh Pastner and his staff have made it a priority to recruit the state and convince Georgia prospects to stay home. Josh Okogie is a prime example, as has been documented on HoopSeen.com in the past. Next up for Pastner and crew is 2019 Buford (GA) wing Marcus Watson, who may be the toughest battle they've encountered to this point.
Watson, an athletic and powerful 6-foot-5 wing, recently released his final four schools: Georgia Tech, Oregon, Oklahoma State, and Texas Tech. He has already visited Oklahoma State and Texas Tech, while Oregon has a date set for the middle of October. Watson's recruitment could go many ways, but Georgia Tech has prioritized him for the past year.
Will Pastner's persistence pay off? An immediate decision isn't expected, but this could be a pivotal weekend in the four-star wing's recruitment.  
CHICO CARTER TO MURRAY STATE
Team Charlotte was one of the most impressive teams we saw at HoopSeen event this season, as they ran the table and came away with a championship at the Bob Gibbons Tournament of Champions. Much of that success was in part to guard play, and, particularly, Chico Carter.
Carter, a tough, battle-tested guard, made play after play for Team Charlotte this season. He served as a playmaker and sparkplug for the Under Armour program and is the epitome of how Team Charlotte plays. With that being said, Carter emerged as one of the most highly recruited guards in the Southeast with some of the top mid-major programs in the area hot on his trail.
Carter will make his way to Murray State this weekend for his third official visit. With the expected departure of Ja Morant to the NBA Draft as a potential lottery pick, Racers head coach Matt McMahon is in search of the next great guard to suit up for the Ohio Valley program. Carter could be an ideal guy to slide into the lineup and be a difference-maker for Murray State. Don't be surprised if McMahon and his staff push for a commitment this weekend.
JEREMIAH ROBINSON-EARL TO NORTH CAROLINA
Much of the buzz surrounding 2019 Bradenton (FL) IMG Academy power forward Jeremiah Robinson-Earl's recruitment has centered around two blueblood programs in Kansas and North Carolina. After taking official visits to Notre Dame and Villanova the past two weekends, the five-star prospect will now head to Chapel Hill to see what the Tarheels have to offer.
Roy Williams and his staff already have a commitment from Robinson-Earl's high school teammate, Armando Bacot, and they would love nothing more than to have the duo both in powder blue next season. Robinson-Earl's visit this weekend is important because his skill-set and talent fit perfectly with what Bacot brings to the table. Both players complement each other very well and could give the Tarheels a formidable front-line for the future.
There is still a long way to go in Robinson-Earl's recruitment, though. He is scheduled to make the trip to Kansas next weekend in what is shaping up to be a big weekend for the Jayhawks. Either way, North Carolina has the opportunity to set the tone this weekend and make a positive case as to why the big man should make his way to the ACC.