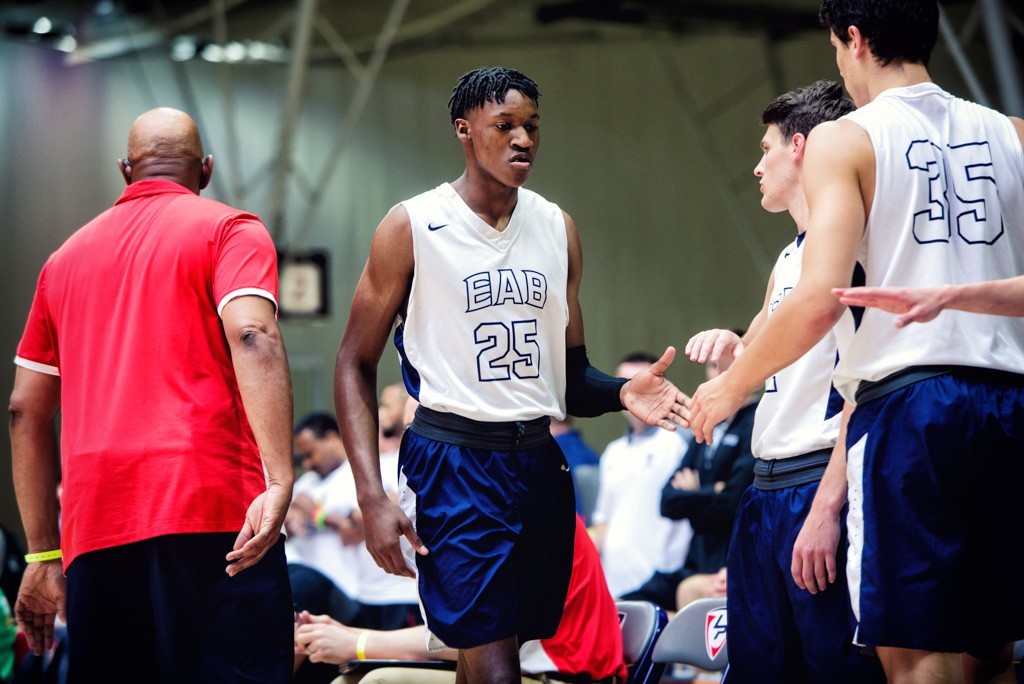 It is shaping up to be another big recruiting weekend for a variety of programs across the country. Louisville took advantage last weekend as they landed a pledge from Jaelyn Withers, as we potentially highlighted in last week's Visitors of the Weekend.
While Hurricane Florence will hinder some programs on the east coast from hosting visitors, it should be another busy weekend in other parts of the country. The Southeastern Conference could be in for an interesting weekend, as Auburn and Ole Miss lead the way in this week's edition of Visitors of the Weekend. 
TYRELL JONES TO AUBURN
Auburn is hosting one of the biggest recruiting weekends since Bruce Pearl has been on the Plains, and we will look at it more in-depth tomorrow, but the Tigers' most intriguing visitor may be Orlando (FL) West Oaks point guard Tyrell Jones.
The tough, battle-tested point guard emerged during July and Auburn was one of the first high-major schools to extend an offer. Since then, rumors have been swirling about the Tigers being the potential favorite to land the top-100 guard. With Jones' speed, motor, and style of play, he looks like a perfect Bruce Pearl-type prospect in the backcourt. 
Auburn has prioritized Jones to this point, as they visited him at West Oaks earlier this week. It's hard to say if he could potentially make a commitment this weekend, but the Tigers have to feel good about their chances. They will push to get things done before Jones heads to Ole Miss and Louisville later this month for visits.
JULIUS DIXON TO MOREHEAD STATE
2019 Fayetteville (TN) forward Julius Dixon quietly put together a strong spring and summer with EAB on the travel circuit. While he didn't receive the notoriety that teammates K.J. Johnson and Keon Johnson received, the versatile, 6-foot-7 forward made his mark each game and had several x-factor moments.
One of the first schools to pursue Dixon was Morehead State. Head coach Preston Spradlin and assistant Jonathan Mattox were constantly present for EAB games throughout the summer, especially at Best of the South. The Eagles have made it known they want Dixon and he has repaid it by giving them his first official visit.
Dixon has a couple of other visits scheduled, as other schools such as Belmont, Lipscomb, Samford, and Campbell are involved, but there's no doubt -- this is a huge weekend for Morehead State. Dixon is the type of player that helps win games in the competitive Ohio Valley Conference. 
ANTAVION COLLUM TO OLE MISS
Like Auburn, Ole Miss is expecting a huge weekend in Oxford. In fact, this is easily the biggest weekend of the young Kermit Davis era at Ole Miss. The Rebels are set to host some of their top targets from the area as the football team hosts Alabama. Davis' most pivotal recruit may be Antavion "Dude" Collum. 
Collum, a talented 6-foot-7 wing, took off during the high school season with Tennessee Prep. However, before making the short move to Memphis, the top-150 prospect called Mississippi home. Since taking the reigns at Ole Miss, Davis and his staff have been adamant about recruiting the state and keeping the talent home. 
An early pledge from Collum could start a domino effect for the Rebels. He is a guy players like to play with because of his versatility and talented makeup. With Ole Miss also in play for talented players such as D.J. Jeffries, Chandler Lawson, and Jaemyn Brakefield, Collum is an important prospect for Davis and Co. 
TA'LON COOPER TO UNC-ASHEVILLE
2019 Roebuck (SC) Dorman guard Ta'Lon Cooper burst onto the scene at Bob Gibbons during May and carried over his play into July. In fact, he became one of the most intriguing and highly recruited guards in the Southeast.
Despite the threat of Hurricane Florence, Cooper will make the short trip to UNC-Asheville this weekend to see what first-year head coach Mike Morrell has in the cards for him. The 6-foot-2 scoring guard has emerged as one of the top targets for Morrell and his staff and they will hope to make some headway in his recruitment. With his proximity to home, Cooper is virtually an in-state kid for the Bulldogs. As Morrell looks to rebuild a historically successful program at UNC-Asheville, Cooper is a potential cornerstone player for the program.