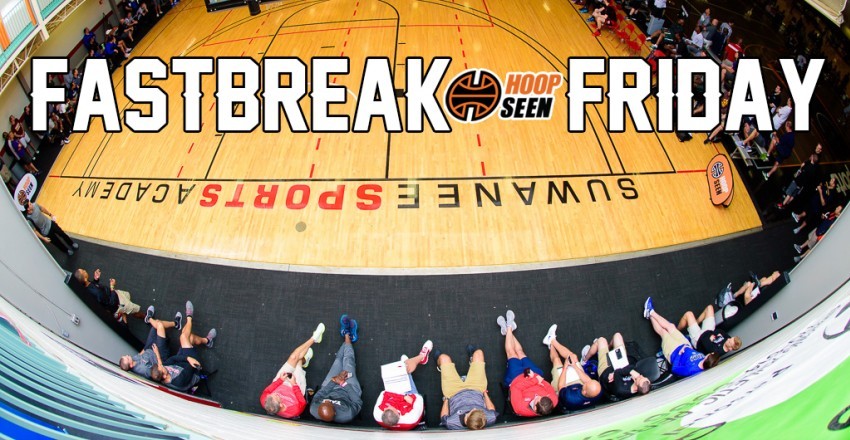 Official visit season is rolling again this weekend, as college coaches across the country are set to host some of their top priorities for visits this weekend. Each week at HoopSeen.com, we will provide you with a comprehensive list of which prospect is headed where for the weekend.
This weekend, the discussion centers around the state of Texas. As they say, everything is bigger in Texas, and this weekend is no different for several schools, specifically Texas A&M and Texas Tech.
Texas A&M has a full slate of important visitors as their football team is set to host Clemson for a prime Saturday matchup. Billy Kennedy and his staff will be working to impress top 100 prospects Samuell Williamson and Drew Timme. The Aggies will have their future backcourt in attendance to work the duo, as 2019 guards Sahvir Wheeler and Chris Harris, Jr. are expected to be on campus, too. Texas A&M has some big momentum following the commitment of 6-foot-8 power forward Tyreek Smith this week.  
Not far away, Chris Beard and Texas Tech also have a big weekend on their hands. The Red Raiders will play host to 2019 priorities Marcus Watson, Jahmius Ramsey, and Victor Iwuakor. Beard has also called on his talented 2019 commitment, 6-foot-4 shooting guard Kevin McCullar, to assist in recruiting efforts.
Shaka Smart and the Texas Longhorns also have another big weekend on campus. After hosting five-star big man Will Baker last weekend, in-state priority Donovan Williams will make the trip to Austin for his second official visit. Williams was one of the biggest risers from the summer, including a breakout performance at the NBPA Top 100 Camp in June. 
AAC
ECU
B.J. Mack, 2019, 6-foot-8 center, Oak Hill Academy (VA)
South Florida
Devin Butts, 2019, 6-foot-5 shooting guard, Stratford Academy (GA)
Temple
Damian Dunn, 2019, 6-foot-4 guard, Meadowcreek (GA) 
UConn
Isaiah Wong, 2019, 6-foot-2 guard, Monsignor Bonner (NJ)
Wichita State
Marquise Kennedy, 2019, 6-foot-1 point guard, Brother Rice (IL)
ACC
Louisville
Jaelyn Withers, 2019, 6-foot-8 forward, Garfield Heights (OH)
Miami
C.J. Walker, 2019, 6-foot-8 forward, Sanford (FL)
James Bouknight, 2019, 6-foot-4 shooting guard, MacDuffie School (MD)
Vernon Carey, 6-foot-10 center, University School (FL)
NC State
Jalen Lecque, 2019, 6-foot-4 guard, Brewster Academy (NH)
Patrick Williams, 2019, 6-foot-7 wing, West Charlotte (NC)
Notre Dame
Jeremiah Robinson-Earl, 2019, 6-foot-9 power forward, IMG Academy (FL)
Pittsburgh
Ethan Morton, 2020, 6-foot-1 guard, Butler Area (PA)
Henry Coleman, 2020, 6-foot-6 forward, Trinity Episcopal (VA)
Hunter Dickinson, 2020, 7-foot center, DeMatha Catholic (MD)
John Hugley, 2021, 6-foot-8 power forward, Brush (OH)
Will Jeffress, 2021, 6-foot-6 forward, McDowell (PA)
Virginia Tech
Anthony Harris, 2019, 6-foot-3 point guard, Paul VI Catholic (VA)
ATLANTIC 10
Saint Louis
Gibson Jimerson, 2019, 6-foot-5 shooting guard, Montverde Academy (FL)
UMass
Jalen Thomas, 2019, 6-foot-10 center, University of Detroit Jesuit (MI)
BIG EAST
Xavier
Dahmir Bishop, 2019, 6-foot-4 guard, Imhotep Institute (PA)
BIG 10
Illinois
Oscar Tshiebwe, 2019, 6-foot-8 power forward, Kennedy Catholic (PA)
Anthony Walker, 2019, 6-foot-8 power forward, Brewster academy (NH)
Iowa
Trayce Jackson-Davis, 2019, 6-foot-8 power forward, Center Grove (IN)
Joe Toussaint, 2019, 6-foot point guard, Cardinal Hayes (NY)
Pat McCaffery, 2019, 6-foot-5 wing, West Senior (IA)
Xavier Foster, 2020, 6-foot-9 power forward, Oskaloosa (IA)
Minnesota
Tray Jackson, 2019, 6-foot-9 power forward, Sunrise Christian (KS)
Jamari Sibley, 2020, 6-foot-9 power forward, Nicolet (WI)
Terrance Thompson, 2020, 6-foot-7 power forward, Central (WI)
BIG 12
Kansas State
Robbie Beran, 2019, 6-foot-9 power forward, Collegiate School (VA)
Toumani Camara, 2019, 6-foot-6 forward, Chaminade Madonna Prep (FL)
Oklahoma
Terry Armstrong, 2019, 6-foot-6 wing, Bella Vista Prep (AZ)
Jalen Graham, 2019, 6-foot-9 power forward, Mountain Pointe (AZ)
Texas
Donovan Williams, 2019, 6-foot-5 shooting guard, Elkins (TX) 
Texas Tech
Marcus Watson, 2019, 6-foot-5 wing, Buford (GA)
Jahmius Ramsey, 2019, 6-foot-5 wing, Oak Hill Academy (VA)
Victor Iwuakor, 2019, 6-foot-7 power forward, Sulphur Springs (TX)
Kevin McCullar, 2019, 6-foot-4 shooting guard, Wagner (TX)
BIG SOUTH
Charleston Southern
Terence Porter, Jr., 2019, 6-foot-7 forward, The Skill Factory (GA)
COLONIAL
College of Charleston
Brenden Tucker, 2019, 6-foot-3 guard, Dacula (GA) - Committed
UNC-Wilmington
Matt Smith, 2019, 6-foot-6 power forward, Independence (NC)
CONFERENCE USA
Charlotte
Isaiah Cozart, 2019, 6-foot-8 power forward, Madison Central (KY)
IVY
Cornell
Quincy Olivari, 2019, 6-foot-2 guard, Westlake (GA)
Harvard
Ismael Massoud, 2019, 6-foot-8 forward, MacDuffie School (MA)
Idan Tretout, 2019, 6-foot-4 shooting guard, Wilbraham & Monson (MA)
MISSOURI VALLEY
Illinois State
D.J. Horne, 2019, 6-foot point guard, Trinity Christian (NC)
OHIO VALLEY
Morehead State
Ta'Lon Cooper, 2019, 6-foot-2 guard, Dorman (SC)
Murray State
Trevon Reddish, 2019, 6-foot-3 guard, Eagle's Landing (GA)
PAC 12
Oregon
Quincy Guerrier, 2019, 6-foot-7 wing, Thetford Academy (VT)
SEC
Alabama
Jaylen Forbes, 2019, 6-foot-5 wing, Florence (MS) - Committed
Auburn
Isaac Okoro, 2019, 6-foot-5 wing, McEachern (GA) - Committed
Sharife Cooper, 2020, 6-foot point guard, McEachern (GA)
Ebenezer Dowuona, 2020, 6-foot-9 center, Heritage School (GA)
Ja'Queze Kirby, 2020, 6-foot-6 forward, Jeff Davis (GA)
Brody Peebles, 2021, 6-foot-2 shooting guard, Hartselle (AL)
Florida
Scottie Lewis, 2019, 6-foot-5 wing, Ranney School (NJ)
Alex Klatsky, 2019, 6-foot-4 shooting guard, Ranney School (NJ)
Omar Payne, 2019, 6-foot-9 center, Montverde Academy (FL)
Tre Mann, 2019, 6-foot-3 point guard, Villages School (FL) - Committed
Corey Walker, 2020, 6-foot-7 forward, Bishop Snyder (FL)
Kentucky
James Wiseman, 2019, 7-foot power forward, Memphis East (TN)
LSU
Christian Brown, 2019, 6-foot-6 wing, McEachern (GA)
Missouri
E.J. Liddell, 2019, 6-foot-7 power forward, Belleville West (IL)
Mario McKinney, 2019, 6-foot-1 combo guard, Vashon (MO)  
Tennessee
Josiah James, 2019, 6-foot-6 guard, Porter Gaud (SC)
Texas A&M
Samuell Williamson, 2019, 6-foot-6 wing, Rockwall (TX)
Drew Timme, 2019, 6-foot-9 power forward, Pearce (TX)
Chris Harris, Jr., 2019, 6-foot-3 guard, South Garland (TX)
Sahvir Wheeler, 2019, 5-foot-9 point guard, Houston Christian (TX)
L.J. Cryer, 2020, 6-foot point guard, Morton Ranch (TX)
SOUTHERN
The Citadel
Jarvis Harvey, 2019, 6-foot-3 shooting guard, Southern Durham (NC)
Mercer
Eric Coleman, 2019, 6-foot-6 forward, King's Ridge (GA)
SUN BELT
Georgia Southern
Trae Broadnax, 2019, 6-foot-2 point guard, Montverde Academy (FL)
Mackenzie McFatten, 2019, 6-foot-8 power forward, Coffee (GA)
Jalen Cincore, 2019, 6-foot-5 wing, Bartlett (TN)
South Alabama
Diante Smith, 2019, 6-foot-6 wing, Choctowatchee Senior (FL)