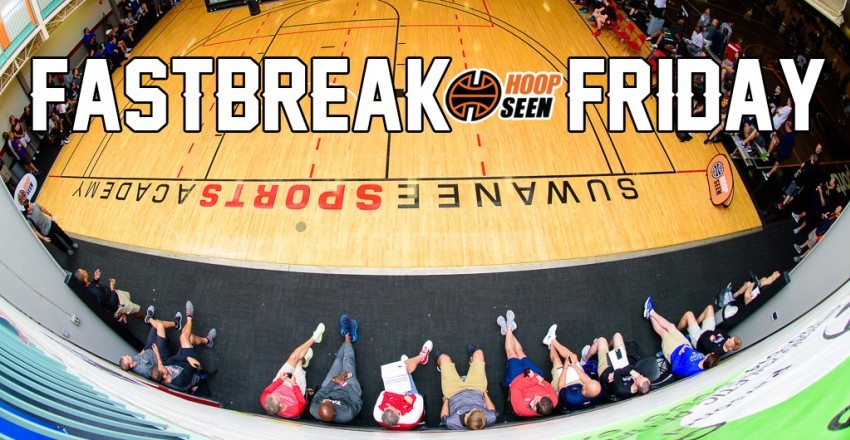 Another big weekend is on tap for college basketball programs across the country as they are set to host official visits. Each week at HoopSeen.com, we will provide you with a comprehensive list of which prospect is headed where for the weekend.
Hurricane Florence has postponed many prospects and schools' visits this weekend across the east coast, but make no mistake, this is a huge recruiting weekend for several programs, most notably Auburn, Louisville, Memphis, and Ole Miss. 
Auburn will host LSU on the gridiron on Saturday afternoon and Bruce Pearl and his staff will be working their magic throughout the weekend. The Tigers have their top 2019 targets on campus: Jaylin Williams, Ismael Massoud, and Tyrell Jones. The Tigers are in a good position for each of the three prospects and it wouldn't be a shock to see at least one of them pull the trigger this weekend.
Several talented underclassmen will also be on the Plains on Saturday for unofficial visits. Headlining the list is 2020 guard Anthony Edwards, along with 2021 prospects Jonathan Kuminga and Bretner Mutumbo.
Seemingly every weekend this fall has been a big weekend for Louisville and new head coach Chris Mack. This weekend is no different, as the Cardinals are set to host their top two perimeter targets, Jahmius Ramsey and Samuell Williamson. Mack and his staff received a pledge from Jaelyn Withers during his official visit last weekend and the Cards would love nothing more than to add to that momentum. 
Penny Hardway has the wheels rolling rapidly at Memphis. This weekend, he has three top-10 prospects on campus in 2019 power forward James Wiseman and 2020 guards Jalen Green and R.J. Hampton.
Not far down the road in Oxford, Ole Miss will host the most important weekend of the Kermit Davis era. The Rebels football team plays host to Alabama, and Davis and his staff are taking advantage of the huge atmosphere. 2019 prospects D.J. Jeffries, Antavion "Dude" Collum, and Chandler Lawson, along with 2020 forward Jaemyn Brakefield, are all on campus for official visits. They will be joined by 2019 pledge Rodney Howard and a flurry of unofficial visitors on Saturday, including K.D. Johnson, Matthew Murrell, and Daeshun Ruffin.
AAC
Houston
Reese Beekman, 2020, 6-foot point guard, Scotlandville Magnet (LA)
Memphis
James Wiseman, 2019, 6-foot-10 power forward, Memphis-East (TN)
Jalen Green, 2020, 6-foot-4 shooting guard, San Joaquin Memorial (CA)
R.J. Hampton, 2020, 6-foot-4 point guard, Little Elm (TX)
UConn
James Bouknight, 2019, 6-foot-4 shooting guard, MacDuffie School (MD)
ACC
Georgia Tech
Boogie Ellis, 2019, 6-foot-2 combo guard, Mission Bay (CA)
Louisville
Jahmius Ramsey, 2019, 6-foot-4 shooting guard, Oak Hill Academy (VA)
Samuell Williamson, 2019, 6-foot-6 wing, Rockwall (TX)
Maryland
Donta Scott, 2019, 6-foot-6 forward, Imhotep Institute (PA)
Makhi Mitchell, 2019, 6-foot-9 center, Woodrow Wilson (MD) - Committed
Makhel Mitchell, 2019, 6-foot-9 center, Woodrow Wilson (MD) - Committed
Miami
Isaiah Wong, 2019, 6-foot-2 shooting guard, Monsignor Bonner (NJ)
Notre Dame
Cole Anthony, 2019, 6-foot-2 point guard, Oak Hill Academy (VA)
Grant Huffman, 2019, 6-foot-3 shooting guard, St. Edward (OH)
Pittsburgh
Anthony Walker, 2019, 6-foot-9 power forward, Brewster Academy (NH)
Syracuse
Kai Jones, 2019, 6-foot-10 power forward, Brewster Academy (NH)
ATLANTIC 10
Dayton
Toumani Camara, 2019, 6-foot-6 forward, Chaminade-Madonna Prep (FL)
St. Bonaventure
Justin Winston, 2019, 6-foot-6 forward, Putnam Science Academy (NJ)
BIG EAST
Georgetown
Malcolm Wilson, 2019, 6-foot-11 center, Ridge View (SC)
St. John's
James Bishop, 2019, 6-foot-2 combo guard, Mount Saint Joseph (MD)
Villanova
Jeremiah Robinson-Earl, 2019, 6-foot-9 power forward, IMG Academy (FL)
BIG 10
Michigan
Zeb Jackson, 2020, 5-foot-10 point guard, Maumee (OH)
Northwestern
Jared Jones, 2019, 6-foot-8 center, McEachern (GA)
Purdue
Malik Hall, 2019, 6-foot-5 forward, Sunrise Christian Academy (KS)
Ethan Morton, 2020, 6-foot-1 point guard, Butler Area (PA)
BIG 12
Baylor
Oscar Tshiebwe, 2019, 6-foot-8 center, Kennedy Catholic (PA)
Kansas State
D.J. Thorpe, 2019, 6-foot-8 center, Lake Travis (TX)
Oklahoma
Tyson Etienne, 2019, 6-foot-1 point guard, Long Island Lutheran (NJ)
Oklahoma State
Marcus Watson, 2019, 6-foot-5 wing, Buford (GA)
Avery Anderson, 2019, 6-foot-2 guard, Northwest (TX)
Kalib Boone, 2019, 6-foot-8 power forward, Tulsa Memorial (OK) - Committed
Keylan Boone, 2019, 6-foot-7 forward, Tulsa Memorial (OK) - Committed
TCU
Damion Baugh, 2019, 6-foot-4 point guard, Tennessee Prep (TN)
Jalen Hill, 2019, 6-foot-7 forward, Ed W. Clark (NV)
BIG SOUTH
UNC-Asheville
Ta'Lon Cooper, 2019, 6-foot-3 guard, Dorman (SC)
MISSOURI VALLEY
Bradley
Antonio Thomas, 2019, 6-foot-1 point guard, Ridgeway (TN)
Drake
Jeremiah Hernandez, 2019, 6-foot-4 small forward, St. Viator (IL)
Loyola Chicago
Marquise Kennedy, 2019, 6-foot-1 point guard, Brother Rice (IL)
Youngstown State
Imajae Dodd, 2019, 6-foot-7 center, Greene Central (NC)
OHIO VALLEY
Morehead State
Julius Dixon, 2019, 6-foot-6 forward, Fayetteville (TN)
PAC 12
Colorado
Bryce Thompson, 2020, 6-foot-2 guard, Booker T. Washington (OK)
Oregon
Aidan Igiehon, 2019, 6-foot-10 center, Lawrence Woodmere Academy (NY)
SEC
Auburn
Tyrell Jones, 2019, 6-foot-1 point guard, West Oaks (FL)
Jaylin Williams, 2019, 6-foot-7 forward, Brantley County (GA)
Ismael Massoud, 2019, 6-foot-8 forward, MacDuffie School (MD)
Elias King, 2019, 6-foot-6 guard, Lincoln Prep Academy (GA)
Moulaye Sissoko, 2019, 6-foot-8 center, Lincoln Prep Academy (GA)
Anthony Edwards, 2020, 6-foot-4 guard, Holy Spirit Prep (GA)
Jonathan Kuminga, 2021, 6-foot-7 forward, Lincoln Prep Academy (GA)
Bretner Mutumbo, 2021, 6-foot-9 center, Lincoln Prep Academy (GA)
Frank Anselem, 2020, 6-foot-9 center, Westlake (GA)
Georgia
David Johnson, 2019, 6-foot-4 guard, Trinity (KY)
Kentucky
Scottie Lewis, 2019, 6-foot-5 wing, Ranney School (NJ)
Ole Miss
D.J. Jeffries, 2019, 6-foot-7 forward, Olive Branch (MS)
Antavion "Dude" Collum, 2019, 6-foot-7 wing, Tennessee Prep (TN)
Chandler Lawson, 2019, 6-foot-7 forward, Oak Hill Academy (VA)
Rodney Howard, 2019, 6-foot-10 center, Centennial (GA) - Committed
Jaemyn Brakefield, 2020, 6-foot-8 forward, Huntington Prep (WV)
Cameron Matthews, 2020, 6-foot-6 forward, Olive Branch (MS)
Matthew Murrell, 2020, 6-foot-2 guard, Whitehaven (TN)
K.D. Johnson, 2020, 6-foot-1 point guard, Southwest Dekalb (GA)
Jalen Cone, 2020, 6-foot-1 point guard, Walkertown (NC)
Daeshun Ruffin, 2021, 5-foot-11 point guard, Callaway (MS)
South Carolina
Wildens Leveque, 2019, 6-foot-9 power forward, Gould Academy (MA)
Tennessee
Jalen Lecque, 2019, 6-foot-3 guard, Brewster Academy (NH)
Jason Jitoboh, 2019, 6-foot-10 center, Hamilton Heights (TN)
SUMMIT LEAGUE
Oral Roberts
Mackenzie McFatten, 2019, 6-foot-8 power forward, Coffee (GA)