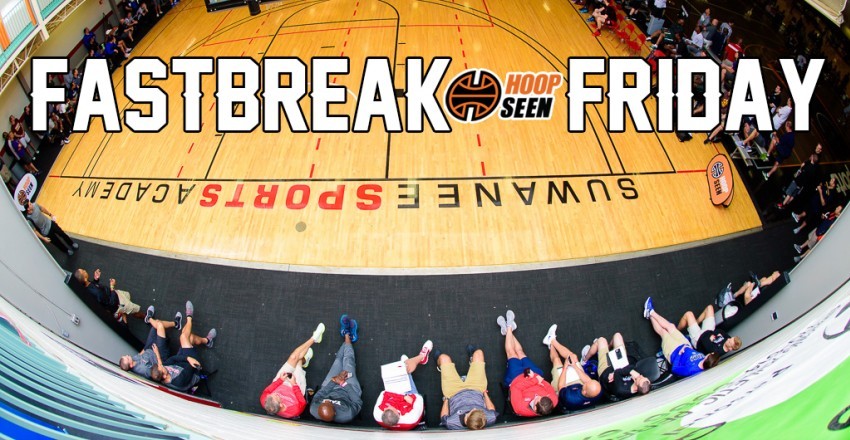 The Atlantic Coast Conference is the hub for basketball official visitors this weekend, as several of the east coast programs are set to bring in top priorities across the conference. Each week at HoopSeen.com, we will provide you with a comprehensive list of which prospect is headed where for the weekend. 
Duke and North Carolina, two of college basketball's most hated rivals, will duke it out on the recruiting trail this weekend. Both programs will have top prospects on campus, as in-state wing Wendell Moore will make the short trip to Durham, while five-star prospects Jeremiah Robinson-Earl and Josh Green of IMG Academy (FL) will head to Chapel Hill.
Duke has long been viewed as the perennial favorite for Moore and a positive weekend would go a long ways in comforting many fans around the Blue Devils program. As we documented yesterday in the Visitors of the Weekend feature, they have lost a couple of prospects over the past month that has surprised some in recruiting circles. 
Meanwhile, Roy Williams and North Carolina are trying to solidify a top class for the Tarheels. With Armando Bacot already in tow, this will be a vital weekend for North Carolina. Robinson-Earl's recruitment has centered around UNC and Kansas, as his father played for Williams in Lawrence. The Tarheels also have a good shot at landing Green, as Arizona and the Tarheels are out in front for the Aussie guard.
Wake Forest is also expecting a big weekend, as head coach Danny Manning has a trio of prospects on campus. Ismael Massoud and Jared Jones will be the next group of forwards and big men that Manning and his staff try to win over. They will be accompanied by Anthony Harris, one of the toughest guards in the country. 
The ACC will definitely be busy this weekend, but, make no mistake -- the biggest weekend of them all centers around Illinois. In fact, this may be the most important recruiting weekend of the Brad Underwood era. The Illini are set to host two in-state prospects in E.J. Liddell and Terrance Shannon, along with five-star big man Oscar Tshiebwe. 
Since taking over in Champaign, Underwood has been vocal about keeping Illinois' top prospects home and having them suit up for the home-state school. Liddell has also been one of his top targets since taking over, and it would be a huge win if they could win his commitment over Missouri and Ohio State. Shannon, who was a DePaul commit at one time, would give Illinois some inroads in Chicago, too.
AAC
South Florida
Trae Broadnax, 2019, 6-foot-1 point guard, Montverde Academy (FL)
Mattia Acunzo, 2019, 6-foot-8 forward, Kennedy Catholic (PA)
Wichita State
Devin Butts, 2019, 6-foot-5 shooting guard, Stratford Academy (GA)
ACC
Duke
Wendell Moore, 2019, 6-foot-5 wing, Cox Mill (NC)
Georgia Tech
Marcus Watson, 2019, 6-foot-5 wing, Buford (GA)
Jamir Chaplin, 2019, 6-foot-5 wing, Meadowcreek (GA)
Damian Dunn, 2019, 6-foot-3 guard, Meadowcreek (GA)
Christian Wright, 2019, 6-foot-2 guard, The Skill Factory (GA)
Jaden Walker, 2020, 6-foot-4 guard, Discovery (GA)
Jamaine Mann, 2020, 6-foot-5 wing, Eagles Landing (GA)
Cameron Sheffield, 2020, 6-foot-4 shooting guard, Chattahoochee (GA)
Sion James, 2020, 6-foot-4 guard, Lanier (GA)
North Carolina
Jeremiah Robinson-Earl, 2019, 6-foot-9 power forward, IMG Academy (FL)
Josh Green, 2019, 6-foot-5 guard, IMG Academy (FL)
Syracuse
Quincy Guerrier, 2019, 6-foot-7 wing, Thetford Academy (VT)
John Bol Ajak, 2019, 6-foot-10 center, Westtown (PA)
Virginia
Reese Beekman, 2020, 6-foot point guard, Scotlandville Magnet (LA)
Terrance Williams, 2020, 6-foot-7 power forward, Gonzaga (DC)
Wake Forest
Ismael Massoud, 2019, 6-foot-8 forward, MacDuffie School (MA)
Jared Jones, 2019, 6-foot-8 power forward, McEachern (GA)
Anthony Harris, 2019, 6-foot-3 guard, Paul VI Catholic (VA)
ATLANTIC 10
Rhode Island
Anthony Walker, 2019, 6-foot-9 forward, Brewster Academy (NH)
BIG EAST
Marquette
Justin Lewis, 2020, 6-foot-8 power forward, Baltimore Polytechnic Institute (MD)
Providence
Al-Amir Dawes, 2019, 6-foot-2 guard, St. Patrick's (NJ)
UConn
Jalen Gaffen, 2019, 6-foot guard, Westtown (PA)
BIG 10
Illinois
E.J. Liddell, 2019, 6-foot-7 power forward, Belleville West (IL)
Oscar Tshiebwe, 2019, 6-foot-9 center, Kennedy Catholic (PA)
Terrance Shannon, 2019, 6-foot-6 wing, Lincoln Park (IL) 
Indiana
Ethan Morton, 2020, 6-foot-1 point guard, Butler Area (PA)
Michigan 
Ben Carlson, 2020, 6-foot-8 power forward, East Ridge (MN)
Ohio State
Ben Carlson, 2020, 6-foot-8 power forward, East Ridge (MN)
Zeb Jackson, 2020, 5-foot-10 guard, Maumee (OH)
BIG 12
Iowa State
Tre Jackson, 2019, 6-foot-2 guard, Blythewood (SC)
Oklahoma
Malik Hall, 2019, 6-foot-6 forward, Sunrise Christian (KS)
Texas
Kai Jones, 2019, 6-foot-9 power forward, Brewster Academy (NH)
West Virginia
Isaiah Cottrell, 2020, 6-foot-8 power forward, Bishop Gorman (NV)
COLONIAL
James Madison
Jayvis Harvey, 2019, 6-foot-3 guard, Southern Durham (NC)
UNC-Wilmington
Leslie Nkeureuem, 2019, 6-foot-7 forward, Discovery (GA)
CONFERENCE USA
Charlotte
Ques Glover, 2019, 5-foot-11 point guard, Bearden (TN)
OHIO VALLEY
Murray State
Chico Carter, 2019, 6-foot-1 point guard, Cardinal Newman (SC)
Matt Smith, 2019, 6-foot-6 forward, Independence (NC)
PAC 12
Oregon
C.J. Walker, 2019, 6-foot-8 forward, Sanford (FL)
Washington
Isaiah Stewart, 2019, 6-foot-9 center, La Lumiere (IN)
SEC
Alabama
K.D. Johnson, 2020, 6-foot-1 guard, Southwest Dekalb (GA)
Jermontae Hill, 2020, 6-foot-6 wing, Tucker (GA)
Ole Miss
Tyrell Jones, 2019, 6-foot-2 guard, West Oaks (FL)
Austin Harvell, 2020, 6-foot-6 wing, East Limestone (AL)