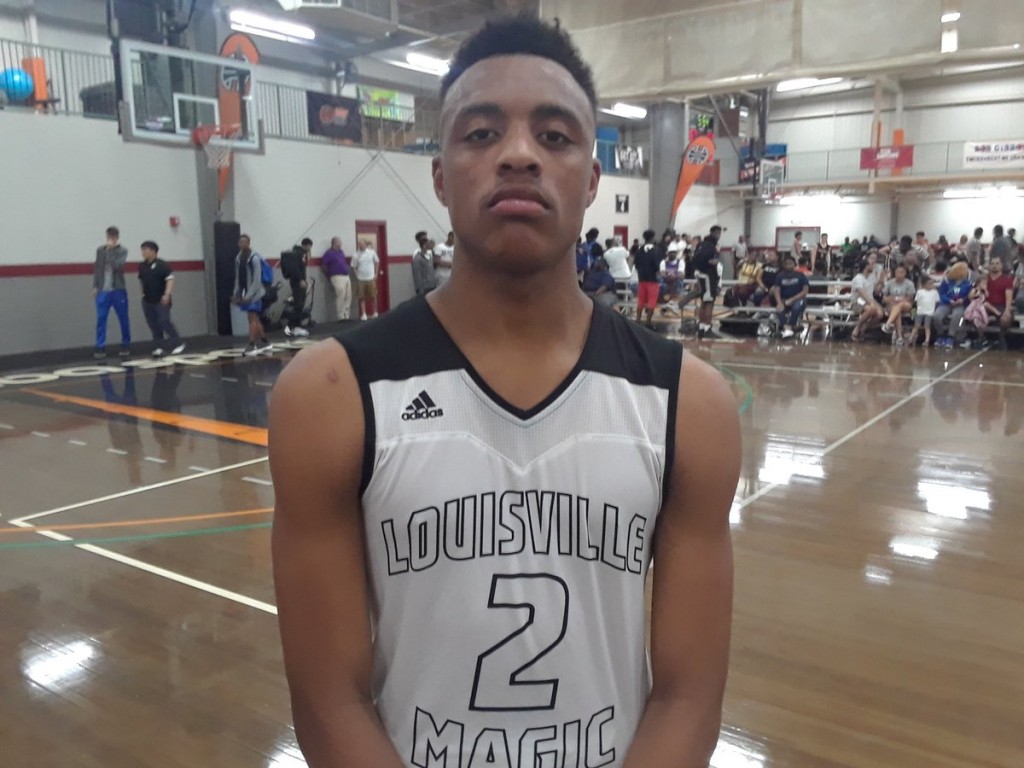 All is well in Kentucky
Matts Mustangs and Louisville Magic came away with impressive wins in their debut here at Bob Gibbons.
First up for the Mustangs were 2019 guards Mason Shifflett and TreVon Smith. Both guards have a good feel and skill level that coaches at the Division 1 level seek out regularly. Smith put on ball handline clinic as he walked the line carefully as a guard that pulled off a flashy moved that seemed necessary in the moment. Shifflett strikes me as a get stuff done type of player whos production sinks in at the end of the night. Nothing is forced and every move is calculated. 
Isaiah Cozart manned the middle as a 6'8 bruising forward. I love a big man that knows what he is and does it well. I routinely saw Cozart rip down rebounds in an aggressive fashion in traffic. Simply put, Cozart was one of the more physical players I saw in the first days slate of games.   
Eric Boone of the Louisville Magic wouldn't go unnoticed if I purposefully tried to look the other way. Any contact at the rim was absorbed by this strong bodied guard as he got a ton of quality looks at the rim. Watch closely and you'll see some high level passing from Boone's backcourt mate JaRon Thames. Great touch on a few one-handed dimes made me jot his name down before his first point was tallied. 6'5 with a feel for the game is going to take him a long way. 
Atlanta All-Stars 1-2 punch
Jaxon Etter and Eric Coleman have seemed to develop a nice little ball screen rhythm in their short time together so far. Etter made several high-level reads, showing his ability to make plays that oftentimes resulted in a positive outcome. The few times he did get cut off he had the awareness and ability to find the more than capable Coleman from the perimeter. This All-Star duo has a good blend of size, skill, and even aggressiveness that's as unique as any here at Gibbons
Forwards shine
A pair of big men that stood out early was Game Elite(Black) Jayln McCreary and Armani Harris of the Atlanta Celtics. Both fit the style of modern day big men that possess the ball skills to make them a tough guard in several matchups. McCreary has appeared to have flipped a switch as he's carrying himself in the manner of a player with several division 1 offers. Harris, on the other hand, has gotten noticeably better since the start of April, showing some polish in the mid-post while maintaining the usual rebounding spurts. Both forwards are on the upward tick and should continue to be from here on out. 
Quick notes:
The pick up of Tyrin Lawrence and Alec Woodard could take the Atlanta Celtics to a whole different level. Letting the guards fly around while Armani Harris and Rodney Howard lurked the back line of the press paid a whole lot of dividends. 
Ballin Blazers have pieces that continue to catch my eye. Add Jevon Tatum to the backcourt of Myles Todd and Rodney Smith and you may have a sleeping giant. 
Georgia South has a tandem to keep an eye on in 2019 guards AJ Watts and Jordan Brown. The two appear to have found their niche with Brown being the calm with Watts being the storm The two of them can both penetrate and knock it in from the perimeter, making them an interesting duo going forward.