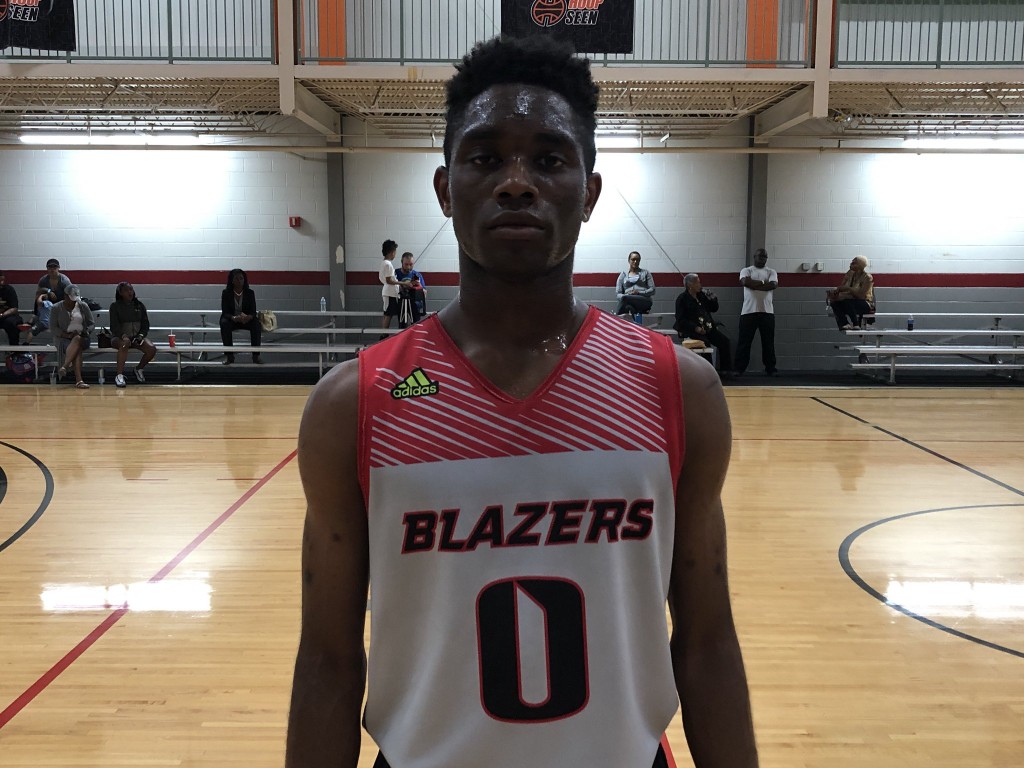 Sports Academy South has an intriguing frontcourt between Jaleel Roundtree and Jeremiah Smith. Both possess the size and enough skill to keep your attention. Jaleel has the game of a pressing 4, capable of altering a game off of his instincts and effort alone. It will be good to see his game progress with some added weight and experince. Jeremiah had some throw back post ability, showing the best left shoulder hook here at the Georgia Cup. His ability to string together a few high post passes also allowed him to show us his feel for a big man. Together they form a formidable duo defensively and used their length to rebound and score at the rim. 
The North Georgia Warriors had 4 players in double figures with Darius Cannon, Cole Gary, Jadon Yeh and Sam Gailey combined for 53 of their teams 70 points in a convincing win. 
Nason Simmons, 2021 Hoops 360 forward is starting to make a name for himself amongst our HoopSeen staff. Quarters of 8,4, 6, 9 landed him an impressive total of 27 points in a win. The 6'6 forward is a force in the paint while displaying a nice 15-foot jump shot. The cherry on top? He also produced playing up in the 17U division. 
Myles Todd gave us a preview of what he's capable of in a 20 point opener for the Balling Blazers. The 2019 point guard has a scorers mentality with a versatile skill set. One thing for sure is that he loves to attack the basket while showing flashes of a 1 or 2 dribble pull-up. Another name to watch could be 2019 guard Rodney Smith. He attacked seems with a great first step and had a magnet-like ability to draw in defenders when he penetrated. From there he was able to show off his IQ as he would routinely kick out to teammates for uncontested looks. In the game I watched, Smith put the cherry on top of his team's performance with 8 fourth-quarter points. 
Dylan Holbrook came out of the gates with some hot shooting for Inspire Atlanta. The 2023 guard had 22 points total for the game with 3 made threes in the first 2 quarters. 
London Williams 2023 NSE forward has good hands and feel for such a young prospect. Defenders bounced off of him in the paint as his 19 points led NSE in a convincing win in day two's action. 
2022 forward Cedric Seabough has dominated every Georgia cup he's participated in all season. It was much of the same as he is averaging 16 points through 2 games so far. Every time I see him he looks bigger and more polished than before. One of the vocal points for this Bostic Next Level team continues to stand out. 
Cameron Gwyn, 2019 Team Recruit guard raised eyebrows with 5 made 3's in the first half of his first game. Gwynn moves off the ball a TON making even the most aware defense maintain constant contact with his body. He runs off screens to get open and is a shooter who doesn't need much space to get his shot off.
Chandler Minton is a playmaking guard with a high basketball IQ. He runs the floor and finds the open guy almost effortlessly. When it comes to putting the ball in the basket, Minton can do it in multiple ways. He's got a quick release and a nice pull-up off the dribble. So far he is averaging 20 plus points including a 29 point outburst. 
Rex McCord of the Northeast GA Warriors was a force on the defensive end, seemingly getting a hand on every ball that came his way. His motor was non stop and he was aggressive getting to the paint. His mentality has paid dividends as he's had games of 23 and 22 points. Elijah Robinson caught our attention as well being a point guard who plays with both poise and patience. However, when he decides to attack, he's almost impossible to stop due to his speed/explosiveness. He's skilled at finishing around the rim, and embraces the contact from opposing defenders. Robinson also has range extending to three-point line, making him a multi-purpose threat on and off the ball.