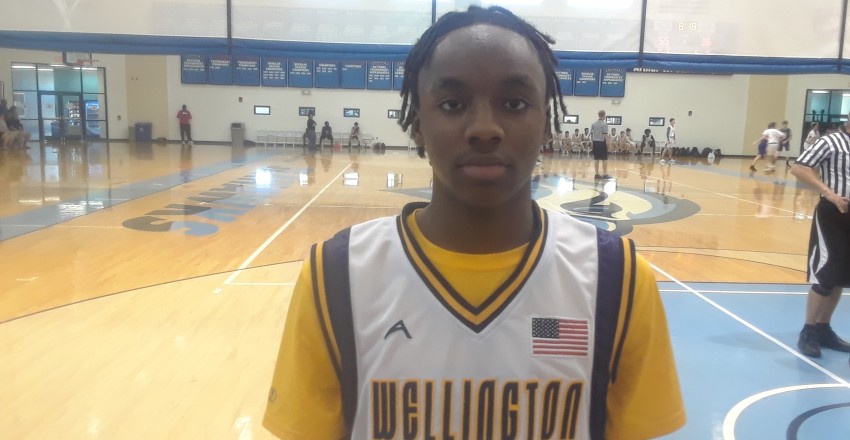 Jalil Spear (2019, Acreage) 
One of the fastest players at the event with the ball in his hands was 2019 guard Jalil Spear. Teams would throw multiple defenders at him in transition and it would not matter. He routinely scored at the basket after appearing to get down the floor in limited bounces. 
Samuel Rolle (2020, Wellington Wolves)
Big shot after big shot made Samuel Rolle(pictured above) a standout in the days slate of games. The sophomore guard made several 3s off the bounce, often with his man closing out on him. His impact did not stop there as he forced several players to turn the ball over with his relentless ball pressure. If there was a title for the most aggressive player at the event, Samuel would certainly be in the running. 
AJ Gilles (2021, Royals)
A name to mark down for future classes is freshman guard AJ Gilles. Rarely do I see a young guard with such an advanced handle that's able to break down defenders consistently. AJ has an advanced skill set for a young guard that should separate him from the pack as long as he develops.  
Jovan Debrito (2019, Miami City Ballers)
His stat line told the story as the junior guard had 22 points with 6 made threes. Although most of them were assisted shots, Jovan excelled at maneuvering around the arc for open gaps in the defense. 
Tylor Miller(2019 Warriors Elite)
Tylor Miller jumped off the page to me as a player that should garner some division 1 interest. Standing at 6'4, he has the size and athleticism needed to finish around the basket at a high level. Tylor had the dunk of the day in a possession in which he went full stride past a defender for a high light reel play. He has a good change of pace, using his dribble to rock a player to sleep before he changes into his second gear. Tylor should make some noise this spring as build some momentum headed into the live period.