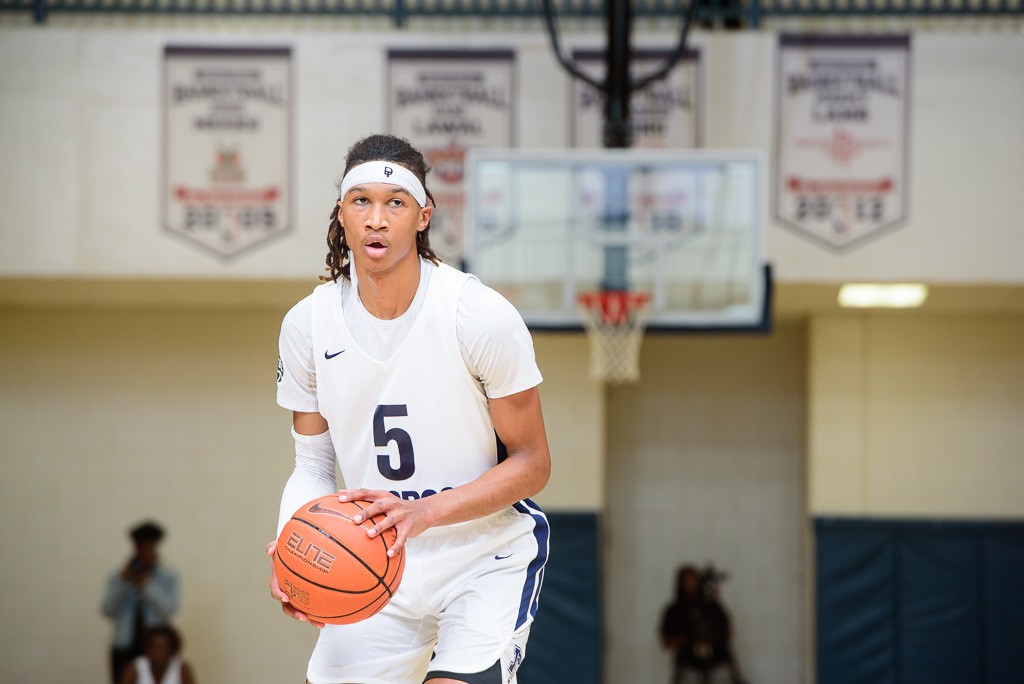 When the Norcross team came filing out of their locker room after their dominating 75-55 win over McEachern on Wednesday night, there was a look of satisfaction on their faces. You'd expect that. They earned that look. 
But they also looked ticked off, as if to say "How dare you to doubt us." The win wasn't just well-earned, it was telling. Norcross made sure the capacity crowd saw a team that didn't appreciate the narrative going into the game that the nationally-ranked Indians were going to leave their house victorious. 
That message was clearly sent. The Blue Devils punched the Indians right in the mouth from the get-go and never relented. Norcross moves on to the Final Four this weekend in the biggest classification in the state of Georgia, riding high on a win but also grounded in deep-rooted confidence. 
Norcross head coach Jesse McMillan said his team didn't shy away from listening to the chatter. So, they used it as fuel for their fire. 
"With high school kids, they're competitors in general. You can't sit around all week and hear people say that you're gonna lose. Or this kid is better than you or he's going to win this match-up," McMillan said. "One hundred people that you ask, one person may have given us a chance to win this game and you best believe that our kids heard that all week long. We have a group of competitors and talented kids. We used every bit of that." 
What he got from his squad was brilliant. Sophomore guard Brandon Boston led all scorers with 25 points on 8-14 shooting. There was a stretch in the second and third quarters where Boston opened up the lead with huge shots, big and-one plays and perimeter buckets. He was terrific in the victory. 
"We were on social media all day. We just read everybody. McEachern is No. 1. This kid is No. 1. So, we wanted to come out and be competitive and not play our last game," Boston said. 
Senior JoJo Toppin was brilliant on defense, locking up talented scorers Isaac Okoro and Charles Smith IV on several occasions. Toppin, a Georgia signee, finished with 12 points, seven rebounds and four blocks. 
The Blue Devils had outstanding efforts from senior Dalvin White and junior big man Issa Muhammad.   
White has been in these big moments before and he remained ever-present and delivered in simplicity. His passing is on point and he's locked in on defense. White finished with eight points and nine assists. 
Muhammad played his best game in a Norcross uniform. The 6-foot-10 center had the draw of playing Babatunde Akinbola, McEachern's Auburn-bound center. Muhammad finished with 14 points and 15 rebounds. 
"I wanted to go out there and play my hardest. We had that in our minds all week. When we knew we were going to play McEachern, we were focused and locked in all week…That was the best I've played here," Muhammad said. 
Kyle Sturdivant added 12 points and was clutch from the free throw line. 
McEachern was paced by Sharife Cooper's 13 points. Smith scored 11 and Okoro finished with 10. 
For Norcross, the victory was sweet. No doubt it was. But the key is remaining focused on the task at hand. The Blue Devils will play Newton on Saturday at Buford in the Final Four. White, the ever-present senior, says the focus isn't lost after the big win. 
"This wasn't the state championship game so we're going to keep pushing in practice," White said. "We have a big job ahead of us because that's not where we want to finish."