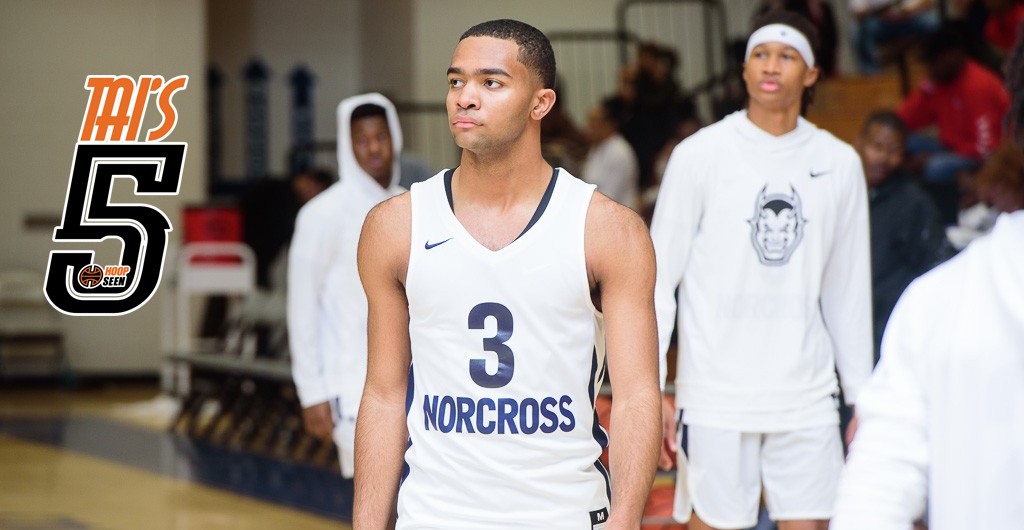 Up next
Sophomore guard Brandon Boston provided the crowd with some eye-opening plays showing many of us why his current offer list is as long as it is. We all fall victim of routinely talking about his size at 6'6 along with his shooting ability, but there's no one in the state that has that same combination.  Watch for the HM prospects development going forward as he will unlock a whole new dynamic with some added strength. 
Non-Stop
Of all the plays that could've been on a highlight tape in that game for some reason, I cannot shake the play that Jojo Toppin had at the end of the half. He went body to body with Duquesne commit Amari Kelly for a clean block that many people wouldn't of attempted. His ability to play hard when he's on the court is not something to be taken for granted, and look for that quality to fit nicely in the SEC. Plays similar to that one could spark runs for UGA even as a freshman. 
Skys the limit
When you walk into a Norcross game one of the first players that stands out is 2020 forward Issa Mohammed. He's already built like a college senior and if you've seen him you know that's not an exaggeration. The talent he has is evident and the future is bright if his work ethic matches the gifts given to him. It will be a scary day once his production matches up with the eye test that he routinely passes. Already with several offers, expect that list to grow over time. 
Once again....
The consensus remains the same regarding what most people seem to feel about Kyle Sturdivant(pictured above) as a college prospect. It's hard to go wrong with a guy whose floor is higher than others ceilings, while still showing room to grow.Simply put he's a guy that gets stuff done. Another game winner in the books for one of the best guards in the class of 2019 was not something we saw coming but I doubt anyone is surprised. 
X's and O's
A great call by coach Jesse McMillian and good execution by the 5 on the floor lead to a memorable moment for the Norcross Blue Devils. It's hard to recapture the moment that the shot went off the glass and through the nets but something tells me we may get another sooner than later.