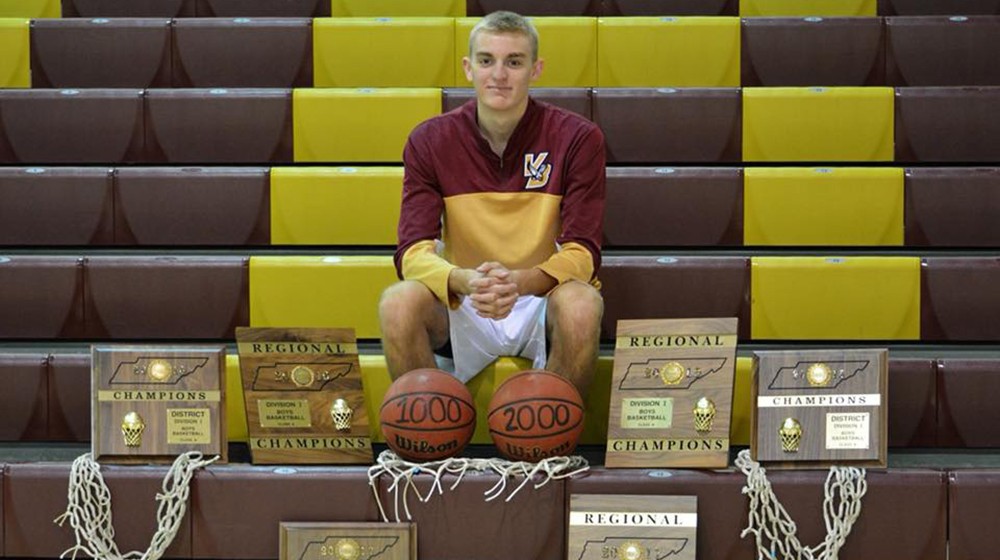 Here some of the most outstanding achievements and career accomplishments for a handful of Tennessee players who deserve our respect and admiration. 
Caden Mills (Van Buren County/pictured) 
Caden, who has signed to play at Tennessee Tech next season, is again a finalist for the coveted Mr. Basketball award and in my opinion the favorite to bring home the trophy. He has led his squad to the state tournament in his first three years and fell just short this season. He recently joined Tennessee high school regal territory by surpassing the 3,000 point mark for his career. Only 20 other players in the history of the state have accomplished such a feat. 
Tyler Harris (Cordova) 
If you have read our pieces before you know how much we love this shooting sensation from just outside of Memphis. Harris was accumulated several awards over his career including the Tennessee Gatorade Player of the Year last season, he is again a finalist for the coveted Mr. Basketball award and hopes to dethrone two-time defending champion and secret rival Alex Lomax for the award. Harris surpassed the 2,000 point barrier this season and is pushing to become the all-time leading scorer at his school. 
K.J. Johnson (Marshall County)
This has been a magical year for the rising junior guard from Lewisburg. His scoring exploits have become urban legend-like, such as his 53 point effort against Forrest, a 45 point outburst in the district finals against Central Magnet. He has surpassed the 1,500 point barrier and has another season left to go. This summer should yield outstanding results as D1 interest has picked up considerably including a couple offers. The best is yet to come for this outstanding young man. 
Malik Riddle (Rossville Christian)
His name might not be on every radar screen, but it should be. A two-time Mr. Basketball finalist who has surpassed the 2,000 point barrier for his career. Riddle has drawn some interest from D1 schools and will most likely be a late signee. Don't sleep on this kid, hear me now. 
Marvin Hughes (McGavock) 
Rising sophomore with some burgeoning skills has posted some solid numbers in his short career. he has already surpassed the 1,000 point barrier halfway through his second season on the hardwood. Marvin has also had to endure some serious family tragedy this season and I wanted to acknowledge him for his toughness and grit. He's a great kid with a bright future.