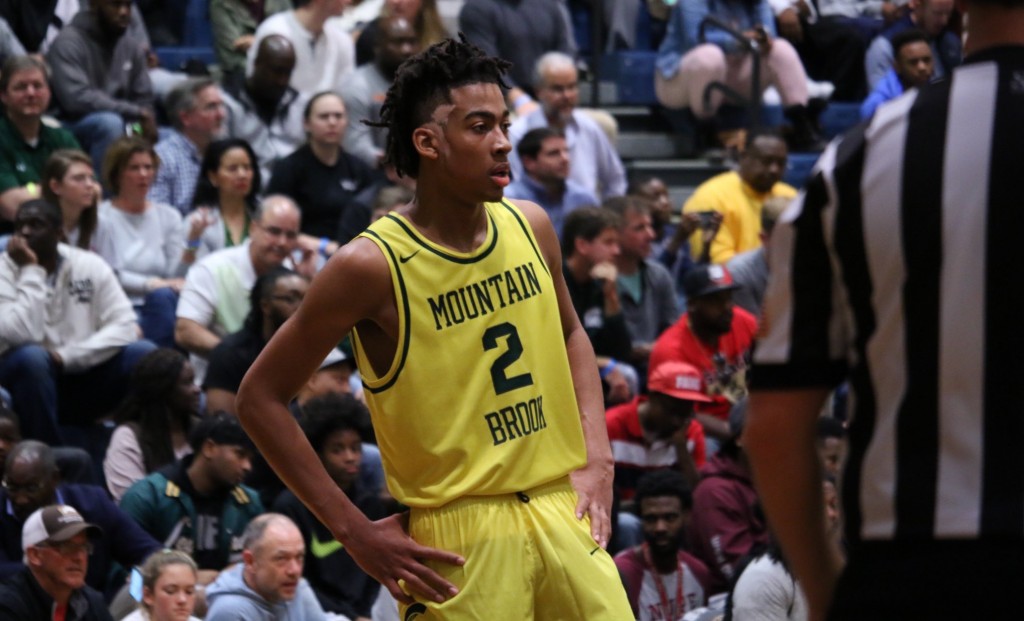 With the high school season almost concluded and the travel season right around the corner, it is time to update Alabama's 2019 class rankings.
The 2019 class has a variety of players that are being recruited at all respective levels. From high-major prospects to potential Division II and NAIA players, many different programs will sign players from Alabama when it's all said and done.
With that being said, we have updated and extended our 2019 rankings to 40 players.
TRENDON WATFORD STAKES CLAIM TO NO. 1
Mountain Brook star Trendon Watford has had a sensational junior campaign, showing out at several national events, including the Holiday Hoopsgiving and City of Palms. Those two events have Watford's name buzzing on a national level and the five-star prospect has only strengthened his odds as a potential McDonald's All-American in 2019.
At 6-foot-8, Watford brings versatility and mismatches all over the floor. His skill-set and ball skills have separated himself from many of his peers. Playing in an up-tempo, pressing system like Mountain Brook, Watford has been a favorite for many national scouts and coaches.
Closing in on the No. 1 overall spot is Hazel Green point guard Kira Lewis, Jr. The 6-foot-3 point guard has been phenomenal this year, as he has helped lead the Trojans to a top 10 ranking in 6A. Many college programs have been blown away by Lewis' explosiveness and change of speed, along with his ability to shoot the basketball.
Ultra-versatile forward Kobe Brown checks in at No. 3. The Lee-Huntsville standout acts as a point-forward on the floor and he has racked up several triple-doubles this season for the Generals. Brown is entertaining many high-major suitors, too.
Jaykwon Walton, a Carver-Montgomery standout, holds his spot at No. 4. The 6-foot-5 wing has always been able to shoot the ball from 3, but now his athleticism and body are improving. Walton has made it a priority to be in the weight-room and it is making a difference in his game.
Leflore forward DeAntoni Gordon rounds at the top 5. The 6-foot-7 forward is the only player committed in the 2019 class, as he made his pledge to Wichita State last year. Gordon continues to improve and could make a splash on the national scale soon.
WELCOME TO THE PARTY
Several newcomers find themselves in the latest rankings update and a couple of them made statements that vaulted them near the top of the list.
Tremere Brown, an athletic specimen from Central-Phenix City, makes his initial appearance at No. 9. The 6-foot-8 forward runs the floor well and has a high ceiling. He brings excitement and entertainment to a gym near you.
Paul Michael Hargrove and Jeremiah Littlepage emerged during Christmas tournaments and showed enough promise to make their appearances at No. 14 & 15 respectively.
Hargrove, who has grown three inches over the last year and is now 6-foot-8, showed flashes of being a quality big man at the Division I level during the Steel City Invitational. The junior has great feet and quality post moves. His ability to move and stretch the floor will bring many college coaches calling, but his academic status will keep them around – the Vestavia Hills product sports a 4.0 GPA and looks to be an Ivy League caliber guy.
Littlepage is a standout for McAdory High School, a Birmingham suburb. Oozing with upside and potential, the 6-foot-7 forward can play inside and outside. He still has a long ways to go in his development, but the talent is there. He's one to buy stock in over time.
Ahman Ellington, Chandler Leopard, Garrett Hicks, Auston Leslie, Eddie Smith, Charlie Gossett, and Kallen Sharpton also make their debuts in the 2019 rankings.
CLIMBING THE LADDER
The exodus of in-state players to prep schools have captured headlines recently, but the rise of other players have been notable, too.  
The Wenonah duo of Justin Minter and JaDerryus Eatmon make the biggest jumps in the updated rankings, as they now sit at 10 & 13.
Minter, a 6-foot-4 combo guard, is an elite passer with quality vision. He has had a strong season and will receive a lot of interest because of his size and versatility. Eatmon, a 6-foot-8 big man, is still rough around the edges, but the talent is evident. His offense may be a little behind, but Eatmon's defense and rebounding is a guarantee right now. Add in Cameron Tucker, who is ranked No. 11, and Wenonah has one of the top teams in the state.
Deshler point guard J.P. Robinson went on a tear right after Christmas break, putting up big numbers and leading his team to several big wins. Once known as a pass-first point guard, Robinson is proving that he can score the ball when needed, too. He checks in at No. 16, but don't be surprised to see him continue to climb the ladder.
Pinson Valley has a lot of talent this season, but no one is more consistent than hard-nosed wing Geordon Pollard. The 6-foot-4 wing plays harder than anyone on the floor and is very productive. Pollard's consistent production bumps him up to No. 21.
VERSATILITY AND DEPTH ACROSS THE BOARD
This set of rankings may have been the toughest I've ever had to compile. From top to bottom, there is an abundance of talent at all positions, and that's good for Alabama high school basketball.
With talent and depth across the board, the state is expected to host a number of college programs over the next year. Many programs have made their initial contact with prospects and scholarship opportunities will follow. When it's all said and done, I wouldn't be surprised if the 2019 class breaks a state record for basketball scholarships signed.