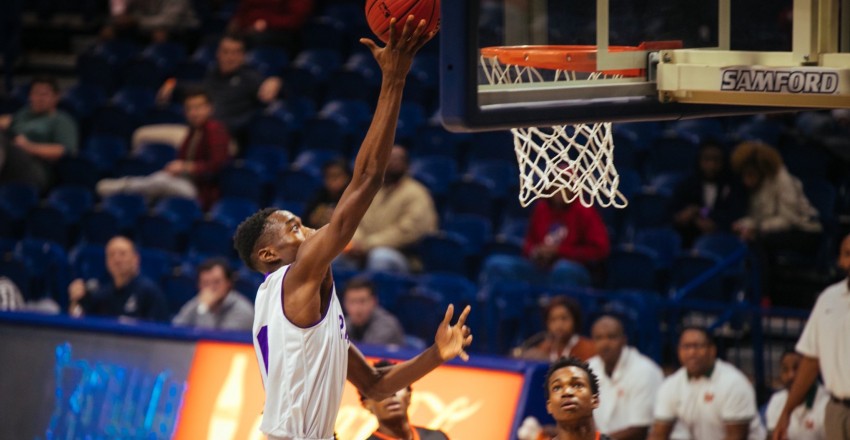 With the halfway point of the high school basketball season completed and area tournaments closely approaching, Alabama's class of 2018 prospects are wrapping up their senior seasons. It is time to update our player rankings to reflect the performances throughout the high school season thus far.
THINGS REMAIN THE SAME AT THE TOP
For the past year, Diante Wood, Trey Jemison, and Xavier Williams have been competing for the top overall spot in Alabama's 2018 class. As of right now, things hold steady at the top with Wood holding onto No. 1.
Wood, an Alabama signee, has led Sacred Heart as the one of the top teams in 1A basketball this season. He got off to a slow start due to a foot injury, but with the state playoffs on the horizon, Wood is ready to go and hopes to claim yet another state championship at Sacred Heart.
Jemison follows in at No. 2. The 6-foot-10 big man has also had to fight his fair share of injuries, but, despite the adversity, the Clemson signee has the Hoover Bucs in the mix for a 7A state title. Jemison's defense and rebounding is a difference-maker right now.
High upside big man Xavier Williams (pictured above) checks in at No. 3. The Parker standout had some quality performances at the Steel City Invitational in December, as he showcased his advanced skill-set and ability to stretch the floor. Troy reeled in a long-term steal here.
Haleyville big man Logan Dye and Paul Bryant guard Jared Sherfield round out the top five. Dye signed with Samford in November, while Sherfield is committed to Tennessee Tech.
RISERS & NEWCOMERS
Hoover point guard Jamari Blackmon continues to make a steady climb up the rankings since entering the fold in our last update. The high-scoring guard now sits at No. 16 overall, and, truth be told, that may not be high enough. Blackmon is garnering plenty of interest from a variety of different programs.
The biggest riser is Mountain Brook wing Sean Elmore. Over the course of this season, the senior has produced on a national level against some of the country's top teams. With Elmore's shooting and defensive ability, he is a perfect "3 & D" prospect that is headed to North Alabama. 
Mercer swooped in and snagged a commitment from Guntersville wing C.J. Williamson over the summer and it went a bit unnoticed. The 6-foot-5 wing has Guntersville firmly in the mix to be a contender in 5A.
Justin Allison and Jayce Willingham have increased scoring loads for their teams respectively this season and it is paying off. Allison has put up some big numbers, including 49 points in the Metro Challenge at Homewood over Christmas break. Willingham has also been a primary scoring threat for Cordova and has added college interest along the way. Both continue to move up in the rankings.
Oxford wing Markise Davis is the highest ranked newcomer to enter the rankings. Davis falls in at No. 6 as plenty of JUCO programs have been in to see him this season. Athletic point guard Jeric Packer joins the crew at 29, while Midfield's do-it-all wing Keenan Isaac enters at 38.   
WHERE THEY'RE HEADED
Division II programs have paid close attention to Alabama's 2018 class. Eight players are slated to suit up for D2 programs, including four prospects going to UA-Huntsville, three to Tusculum, and one to North Alabama, who will actually make the jump to Division I next season.
Two players are headed to the SoCon, while the ACC, SEC, Sun Belt, Conference USA, OVC, Big South, and SWAC each have one player signed/committed. Travarus Carroll is the only player in the rankings that is already committed to a Junior College.
Seventeen players have made their college decision and 23 players remain uncommitted.