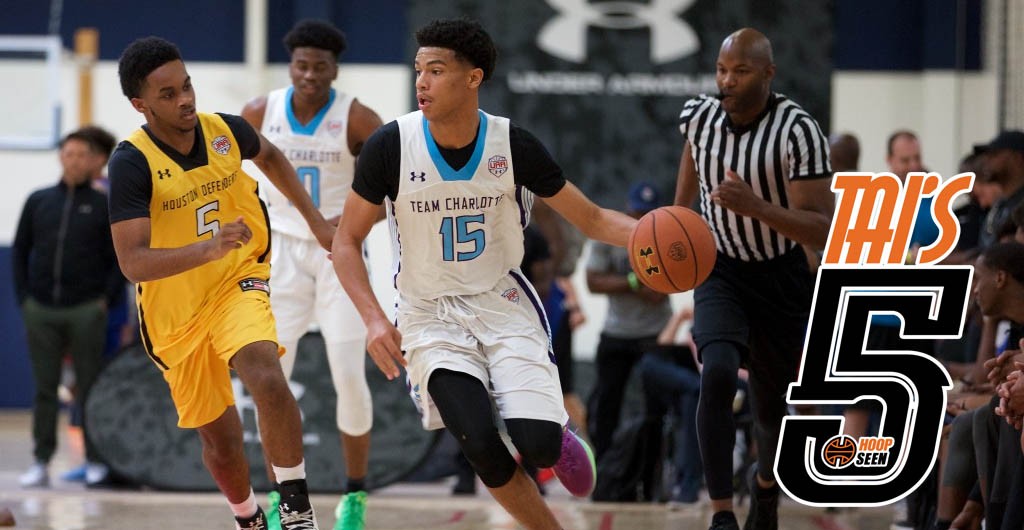 He is who I thought he was. 
There was a possession in the game in which  Jarred Godfrey broke someone down off the bounce, slowed down to see what was available, and hit a nice 17 footer that kissed right off of the square. It was a subtle but beautiful play, especially considering how few midrange shots are even attempted in today's game. He continues to score in a variety of ways but what I love about Jarred the most is that his demeanor never changes and he plays the game the right way. 
Tj Bickerstaff(pictured above) is one of the best in Georgias 2019
His talent is undeniable and his floor is higher than some other players ceilings but TJ is a better player when he's aggressive. Several times last night he caught the ball on the wing and instead of settling for a jumper that he is capable of making he instead decided to take a bounce or two and get in the paint. Having several mid to high major offers under his belt as a junior, he is bound to have several coaches tracking him to watch how he progresses over the summer. Being aggressive is an element of his game that I know the HM coaches will appreciate.  
Sandy Creek has a promising future in Jabari Smith
There were moments of watching freshman Jabari Smith that I would catch glimpses of someone that has a chance to shine his light at some point in his career. He's long, active, and didn't shy away from contact as a freshman. But talking to his coach after the game is where things got really good..... Coach Nickerson said that Jabari has dominated his JV and 9th-grade games this season.  His dad, Jabari Smith played at LSU and had an NBA career with the Sacremento Kings.
The cherry on top was finding out that he is the cousin of Jamari Smith(Jonesboro, GA) that is committed to Queens. Looks like a player to keep up with.
The best is yet to come
Xavier showed off his smooth jump shot to all of us sitting in the stands to finish yesterdays game with 16 points. He's not a high usage player which is great because he's a player that makes the most out of every possession he gets. Several times yesterday he found the soft spot in the zone and kicked it out to open shooter in the corner. When the defense took that away then he showed off his range by knocking in a few open jumpers from 15 feet out to the 3. Give him a year or two in the right program and watch him develop into a player that many know he can become. 
19-5
Sandy Creek plays an unselfish style of basketball and has an impressive record for the season. Out of their 5 losses, 3 games have been decided by 7 points. They have several next level ready players but no one on the team appears to play with an ego.