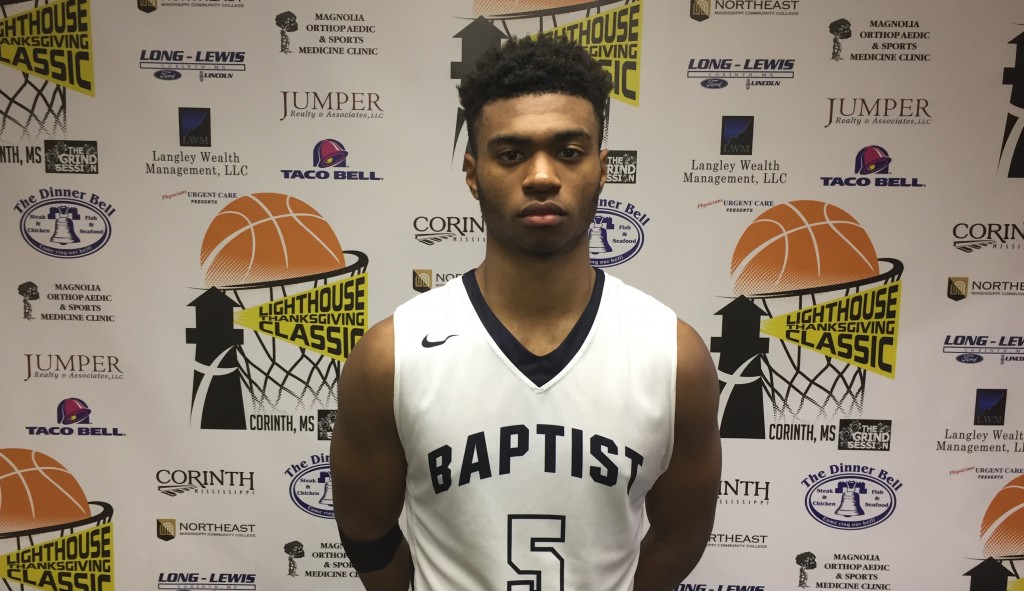 CORINTH, MS -- The fifth annual Lighthouse Classic continued on Saturday, and, as expected, more talented teams and players showcased their skills at Corinth High School.
Guard play was at a premium on Saturday. A previous scoring record fell, while some underclassmen guards made their mark.
Here are Saturday's top storylines from the Lighthouse Classic…
ISSAC MCBRIDE SETS NEW SCORING RECORD
The Lighthouse Classic organizers will have to re-write the record books for a second year in a row. 2019 Baptist Prep (AR) point guard Issac McBride (pictured above) was the talk of the event on Saturday, as he went for 46 points en route to defeating Ensworth (TN) and breaking the previous scoring record of 40 points.
McBride, a 6-foot-1 floor general, hit seven 3's and shot 16-of-24 from the floor to drop an efficient and cool 46 points. Obviously, he impressed with his efficient shooting ability, but the junior also showed a high basketball IQ and the ability to run a team. He operated at a smooth pace and never allowed Ensworth's defense to change his demeanor on the floor.
"My teammates and my coaches believed in me today, and they put me in the position to have a big day and break the [Lighthouse Classic] scoring record," McBride told HoopSeen.com following his record-breaking performance.
Despite being one of the top prospects in Arkansas' 2019 class, McBride isn't a known commodity outside of the region. He currently holds scholarship offers from Abilene Christian, Arkansas-Little Rock, and Arkansas State. LSU, Kansas State, Oklahoma, and Ole Miss are showing interest.
After a big performance in Mississippi, McBride should see a spike in his recruitment, as mid-major and high-major programs should have him on their radar going forward.
N'FALY DANTE SHOWS DOMINANCE IN SUNRISE CHRISTIAN VICTORY
2020 Wichita (KS) Sunrise Christian Academy center N'Faly Dante emerged during the spring with the Mississippi Express. In a number of viewings up until now, the sophomore has shown flashes of being an elite prospect in the 2020 class.
However, in a high-profile matchup against Prolific Prep, Dante asserted his dominance on the frontline. He only finished with 10 points and four blocks, but the 7-footer looked like a future lottery pick. Dante showcased some post moves around the goal and even put the ball on the floor. He played with a high motor and was a headache for Prolific Prep with his shot-blocking ability.
Dante's recruitment is still developing, but dozens of high-major programs are already keeping close tabs on him. Expect blue-blood programs to be all over him and for Dante to have a who's who of college choices.
CORINTH (MS) TOPS HAZEL GREEN (AL) IN THRILLER
Event host Corinth had tough luck on the opening day of the fifth annual Lighthouse Classic, as they just couldn't get anything to fall on Friday. However, the Warriors came out with energy and passion in the finale on Saturday against Hazel Green.
Morehead State signee Tada Stricklen sparked a resurgent Corinth squad on Saturday, as he finished with 29 points and eight rebounds, including a last second shot to put the Warriors over the top. Stricklen, a 6-foot-1 guard, is one of the most competitive guards in the country and should have the opportunity to come in and compete for the Eagles.
Despite the loss, 2019 point guard Kira Lewis, Jr. out together an impressive game and an even better tournament, as he scored a game-high 32 points. The junior put on a passing clinic in his two games for the Trojans.  
HELLO, MY NAME IS…
Memphis (TN) Whitehaven also hit a last-second buzzer-beater to take down Forest Hill (MS), but don't forget about one of the main pieces that allowed the Tigers to get back into the game.
Meet sophomore guard Matthew Murrell, who was named MVP of the game after putting together an all-around game with 15 points, six rebounds, and three assists. Murrell, a 6-foot-3 guard, was sensational for Whitehaven, as he countered Forest Hill's talented guard play.
A strong and powerful combo guard, Murrell played within himself throughout the game and helped put the Tigers in a winning position. Despite being a sophomore, he brings an old-school feel to the floor with his composure and feel for the game. Murrell has a crafty and smooth flow to his game, along with some deceptive flashes of speed and athleticism.
Iowa State and Jacksonville State have extended early offers to Murrell. He looks like he could be one of the top 2020 prospects in the city of Memphis.