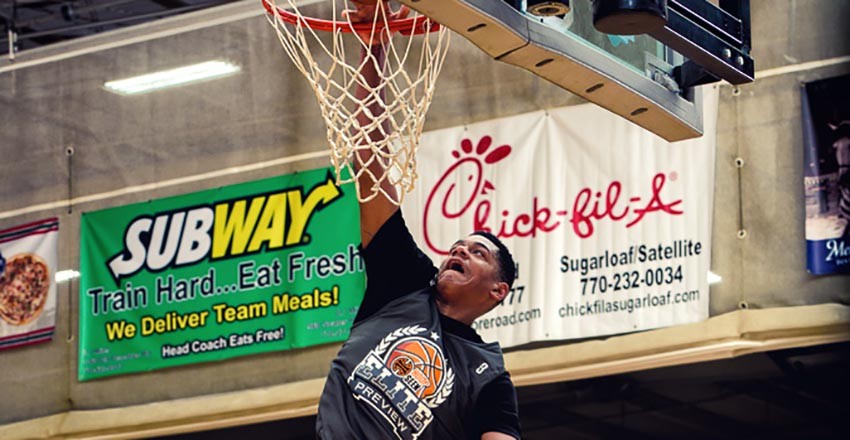 The 2017-2018 season is nearly here. So, with the games right around the corner, we wanted to take a look at the storylines. Which class of 2020 players are on the cusp of a breakout season? Here are five of our favorites. 
Quincy Ademokoya, Dacula: If there is a breakout guy in the state of Georgia to watch this season, watch Ademokoya. The 6-foot-6 wing moved to Atlanta during the summer and spent his time in Georgia getting better. He was the unofficial MVP of our Elite Preview and has the tools to become a nationally recruited prospect. Ademokoya should have a big role on a team that won 20 games last season. He's a top six player in the state for the class of 2020.
Dylan Cardwell, Evans (pictured above): Big men come at a premium these days so when a big hoss like Cardwell comes around, you tend to take notice. The 6-foot-8 forward from Augusta had a terrific travel season with the Upward Stars and shined at our Elite Preview in October. He was one of the eye-openers of the event. Cardwell can score in a variety of ways and big enough to be a load to score against in the paint. Cardwell could help put the Augusta area school back into the picture this season. 

Brandon Harris, Beach: The 6-foot-5 wing caught our eye at the Elite Preview as a player to watch this season. Every year, a player from Georgia's coastline pops up and plays his way into the conversation. Beach hasn't had a stud player in quite some time. Harris has the tools to change that. 
Ja'Queze Kirby, Jeff Davis: If you've read this site, Kirby isn't a surprise name in the state of Georgia. He was named our AA Freshman of the Year last season. After his dazzling showing at the Elite Preview, we think he could be a first team all-state selection in Class AA. Kirby is a load to guard as a wing. He averaged 14.8 points, 11.7 rebounds, 3.3 assists, 3.2 blocks and 2.1 steals as a freshman. 
Jaden Walker, Discovery: Players make a significant jump in their development between their freshmen and sophomore years. For Walker, he could be making t the jump from young role player to immediate impact starter for a that is hungry to make the state tournament. Walker is a big point guard at 6-foot-4 and plays with a great pace to his game.