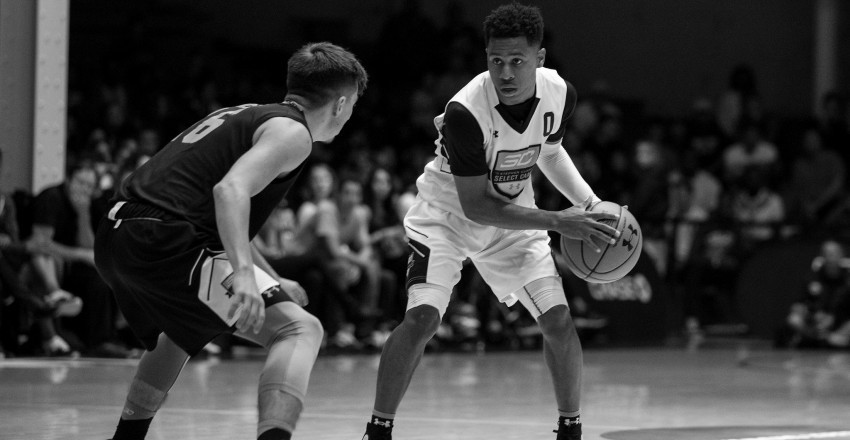 When thinking back to the July evaluation periods, it is hard to think of a player that had a more impressive month than 2018 Memphis (TN) Cordova point guard Tyler Harris. 
Harris, a sparkplug at 5-foot-9, had an impressive week at the Under Armour Finals, where he put up big numbers en route to leading Team Thad to the semi-finals of the circuit. Over the course of five games, he averaged 23 points and 6 assists per game. 
Harris followed that up with another big weekend in Las Vegas, as Team Thad won the prestigious Fab 48 to close out the evaluation periods.
Up until July, the hometown Memphis Tigers was showing minimal interest to Harris. However, after a dazzling month, Tubby Smith and the Tigers are now firmly in his recruitment.
With that being said, Harris is the visitor of the weekend, as he makes the short trip to campus to see what Memphis has to offer. The Tigers may even be the leader at this point in his recruitment. Smith and assistant coach Joe Esposito conducted an in-home visit with Harris and his family a few weeks ago. Since then, the Memphis rumblings have grown louder and louder.
While the Tigers may have been a little late to the party, a successful weekend with Harris on campus could give Memphis the upper-hand over schools such as Colorado State and Iowa State.
Memphis is in need of a point guard in the 2018 class. Smith and his staff are also looking for their local prospect to sign with the Tigers. 
If Memphis can land a pledge from Harris, it could be the most important domino for Tubby Smith at the school - and reiterate the idea that it is cool for hometown players to represent the city of Memphis and play in front of the city and fans they grew up with.