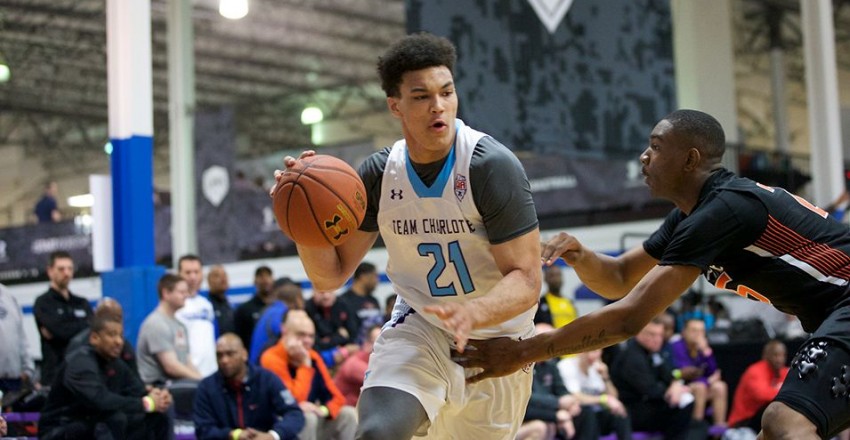 The NC State fanbase was resurrected during the spring when athletic director Debbie Yow went out and made the first big hire of the coaching carousel, as the Wolfpack picked up Kevin Keatts, one of the most popular mid-major coaches in the country.
The past few years haven't been kind to Wolfpack fans. They have seen their program become a revolving door, with players transferring in and out of the program at a constant rate. NC State has always had challenges of recruiting against blue-bloods Duke and North Carolina, too.
Nevertheless, Keatts is already on the right track and he has yet to coach a game for the Wolfpack. 
Why?
Because he's winning on the recruiting trail. And, in particular, he's adding much-needed depth in the post with a couple of in-state commitments.
In mid-September, NC State received a verbal pledge from high upside big man Immanuel Bates, who had a strong summer with Team Felton in the Under Armour league. Keatts and his staff were able to beat out some high-major suitors to keep the top 10 prospect home. 
As if that wasn't enough, the Wolfpack received more good news over the weekend, as 2018 Fayetteville (NC) Northwood Temple Academy center Ian Steere, Bates' high school teammate, announced his intentions to suit up in red and white next season.
Steere's commitment comes roughly a week after de-committing from Creighton. The 6-foot-9 big man had made his pledge to the Blue Jays on July 6th, but after thinking through things, he decided he wanted to remain closer to home for his college career. 
Credit to Keatts and his staff for moving quickly on Steere, as they took advantage of the relationship that was previously forged during his recruitment. Steere made an official visit to campus last weekend.
Keatts also deserves credit for going out and reeling in two top-100 prospects at the position NC State needed most: the post. Since his days at UNC-Wilmington, the head coach has proven he can rebuild a roster -- and he has already taken advantage of the premium talent inside North Carolina's borders. 
Bates and Steere are notable pledges for the Wolfpack and should give fans a promising outlook on what could be an impressive 2018 recruiting cycle under first-year head coach Kevin Keatts.