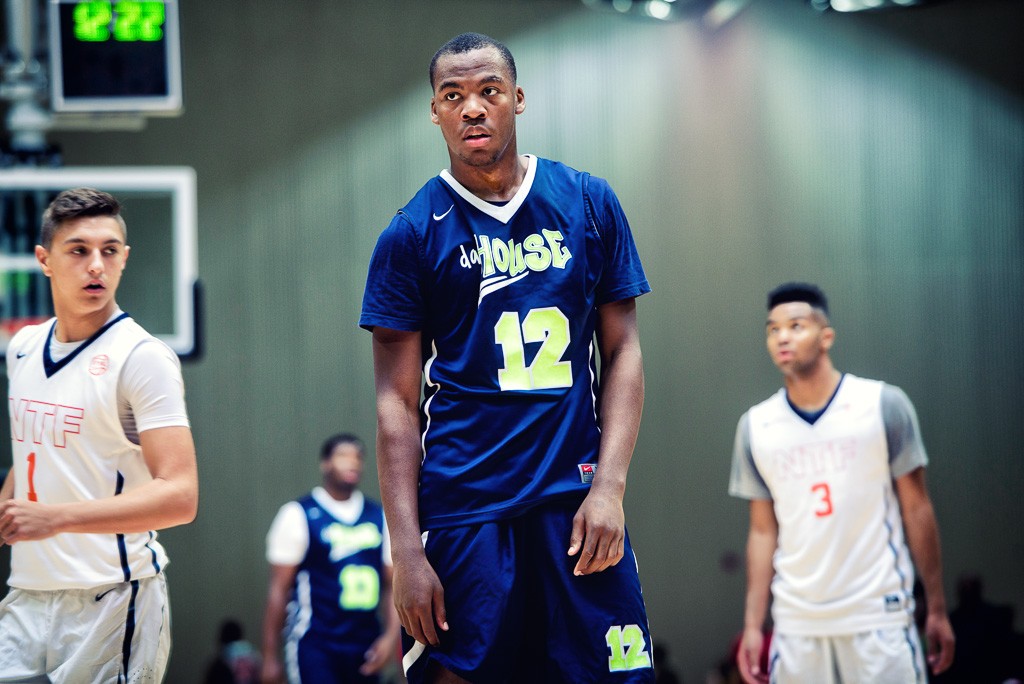 By Laval Johnson

As we get ready for the kids to go back to school, let's look at five players who really enhanced their stock during the July open period.
Kamarion (KJ) Williams (2018)
6'7"  Power Forward   
Da House/Cleveland Central HS (pictured) 
Coming off of a quiet spring in which he only played in one tournament in May, Williams took full advantage of the July open period to raise his profile.  This long lean but solid four man can hurt you in the paint or out on the floor and plays with a high motor. A strong rebounder who routinely puts up double-doubles, Williams also possesses range on his jumper out past the three point line and is a strong shot blocker to boot. His July performance really raised his profile has he has garnered offers from UAB, Southern Miss, VCU, Illinois State, Murray State and interest from Ole Miss along with others. After leading Cleveland Eastside to the 3A state championship game last season Williams will doing battle in the much more competitive 5A ranks this season with newly formed Cleveland Central which should further increase his visibility and profile. It will be really interesting to see how his recruitment plays out.
Galen Smith, III (2018)
6'9"  Post
MS Express/ HS to be determined
Coming off of a high school season which gave him some buzz, Smith struggled in the spring as he adapted to not being the focal point of his team and the level of play on the EYBL circuit.  July however was another story as he bounced back with strong play for the Express in Augusta and Atlanta and continued his solid play in Orlando with the Alabama Fusion.  A skilled post who is a solid rebounder Smith has the look of a solid MM prospect. His play has already resulted in offers from Southern Mississippi, Jackson State, UNO, Southeastern Louisiana, North Alabama, and Southern Utah with his list expected to increase. After coming up playing at Bay St. Louis HS his family has moved to Meridian but his eligibility has been held up there and his family is exploring options for this coming season. This one bears keeping an eye on.    
Tada Strickland (2018)
6'0"  Point Guard
Da House/Corinth HS
Strickland really caught some eyes during the July open period. An aggressive athletic point guard who can score, distribute and defend, the 6'0" Strickland was one of the main clogs for a "Da House" team that showed it could hold its own with the shoe circuit teams. Strickland went from a very below the radar player to a highly coveted MM/LM recruit, garnering offers from Southeastern Louisiana and Morehead State, and interest from Arkansas Little Rock and others. A starter on a state championship team his sophomore year, Strickland finds himself as the senior team leader this season and leading Corinth on another deep playoff run would only enhance his value to the recruiters.
Earl Smith (2019)
6'3"  Point Guard 
SR1 All-Stars 16u/Jackson Lanier HS
This long armed shifty scorer really caught the eyes of the scouts during July.  A strong ball-handler who can get to the rim and finish or dish and a very good shooter with range out to the three point line, Smith can score at all three levels. Smith had an outstanding season last year at Jackson Lanier but flew under the radar because of the lack of success of the team, but taking full advantage of the summer, Smith is now on the radar of a number of mid-major programs and receiving looks from a few high majors. If he can follow up this summer's performance with a strong high school season and lead Lanier, which will drop from 5A to 4A this season, on a deep playoff run, he could be a very hot commodity come next summer.
Arturro Bingham (2018)
6'4"  Wing Forward
SR1 All-Stars/Terry HS
Probably the player that has made the biggest climb on this list, Bingham really came from nowhere to an interesting prospect during the July open period. This long armed athletic wing forward played well enough that he now is on the radar of a number of programs. Bingham is a high rising athletic finisher who finishes well in traffic, he's a solid ball-handler and can really stick the midrange jumper. He defends 4 positions and is a terrific rebounder, and just plays hard. Now that he has caught the eye of recruiters it's up to him to build on this summer with a strong high school season and close the deal.