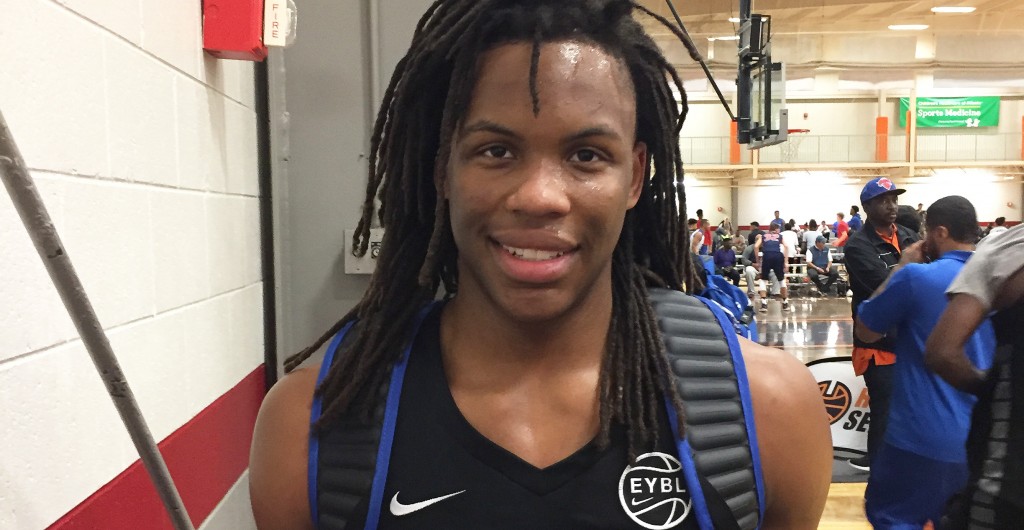 By Joe Chapman
STARS 16U SHINE
Despite playing in an age group up, the Georgia Stars 16U team is arguably one of the best teams here at the Norman Parker Showcase. AS talented as this team is, Christian Brown (pictured) just stands out from the rest. The 6-6 wing never wears down and always plays at a high level, dropping 21 in a game today.
He can kill you by driving the lane but is also so smooth from the outside as he hit several long-balls. The blue-chip prospect has offers from just about everywhere and while he's from South Carolina, Georgia high school basketball junkies are getting a taste of what he can do while he plays for the Stars.
Accompanying Brown on the Stars is super sophomore point guard, Ashton Hagans. The Newton High School product did what he does best all day by attacking the lane and finding the open man.
HOLDEN IS GOLDEN
Another prospect that caught my eye today was Cameron Holden of Team Georgia Magic. He scored 35 points in a win over Active Elite Black. Some schools he mentioned that were contacting him were George Mason and Georgia Southern, but don't be surprised if that lists grows with the potential of him having a big spring and summer. As he looks ahead at his senior season, he told me that his only goal is to get Coach Greg Nix to his first Final Four.
HI, MY NAME IS...
Stantravius Smith of the Smyrna Stars had a smooth 28 points in a win over EOTO today. The junior guard from Sherwood Christian Academy played well off of the ball and was hitting jumpers inside and out. He says he's hearing from Tennessee Tech early.
With these Spring tournaments, there are some unsigned seniors trying to get some last minute looks before heading to college and two stood out to me today, Matt Chism and Xzavier Reid. Chism poured in 20 points in a game early today and controlled the offense all game. The Dawson Christian product followed up a strong showing at the Senior Showcase with a solid showing today. At 6'4", Reid plays at the rim by attacking the basket and snatching down rebounds. In his two games today, he poured in 19 and 15 points and was obviously his team's go to guy. Hopefully, these two guys can pick up some D2 looks coming soon.