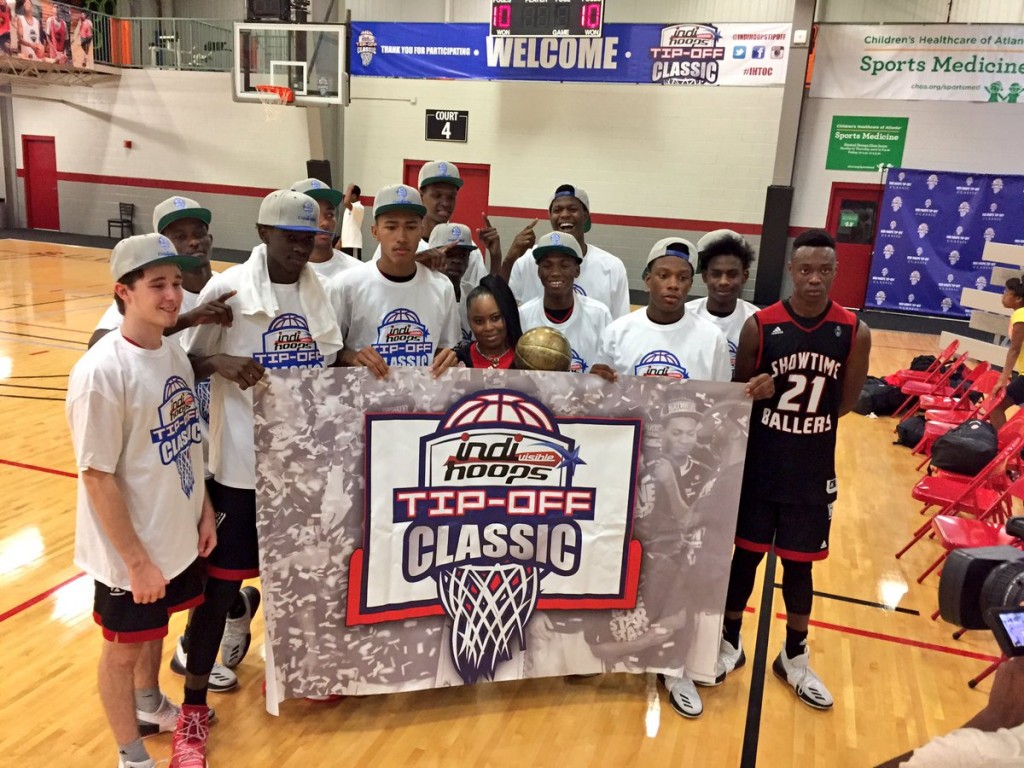 Bonjour, je m'appelle Frenchie
The best player at the Indihoops Tip-Off Classic was rewarded with the Tournament MVP. Sylvain Francisco of West Oaks Academy in Orlando, Florida was sensational all weekend long. The 2017 6-foot point guard hails from France and speaks the language of love: getting buckets. Francisco is quick on quick, an electric guard that can take over games. He is a major threat from deep when he gets hot and once defenses have to extend out on him, he can blow right by. Case in point was when he exploded towards the basket for a vicious slam on A.O.T.'s Isaac Okoro. Frenchie hung 21 points, 6 rebounds, 2 assists, 4 steals and 1 block on A.O.T. and in the championship game, a 74-72 overtime victory against the Southern Stampede, Francisco shined in the clutch with 18 points, 7 rebounds, 9 assists and 3 steals. Kansas State, Texas, Louisville and Rhode Island have all offered. Whoever lands the unsigned senior will be getting a late jolt to their backcourt.
Stampede in good shape
The 17U Southern Stampede lost in overtime in the title game, but saw strong efforts from Jordan Walker, Clarence Jackson, Josh Roberts and Kamani Johnson. Walker, a 5-foot-11 point guard from The Patrick School in New York, was the catalyst for the Stampede. In their Friday night win over the Atlanta Celtics, Walker poured in 12 of his game-high 16 points in the second half and also collected 7 rebounds and 6 assists. Walker excelled at creating separation with side steps and step backs off the dribble, freeing him for open jumpers. He struggled to keep pace with Sylvain Francisco in the championship game, but he still managed to dish out four assists and made plays down the stretch as the Stampede came storming back.
Clarence Jackson wasn't as flashy as Walker was, but he did the little things and the dirty work as a multi-positional wing. He had 13 points and 9 rebounds in the championship game and contributed in all facets of the game. Charles Henderson (AL) High School's Josh Roberts played well around the basket and rebounded the ball. He is a 6-foot-9 unsigned senior with athleticism. Kamani Johnson didn't quite play as above the rim as Roberts did, but he did show footwork in the low post and some toughness with his back to the basket. He had 18 points and 7 rebounds in the title game before fouling out.
The 16U version of the Southern Stampede won the championship. Elias King was smooth. The 6-foot-6 swingman was comfortable leading fast breaks and dropping off dimes to teammates. His passing is what stood out most to me. Mahamadou Diawara from Hamilton Heights (TN) opened some eyes. At 6-foot-10, Diawara is very mobile and can even handle the ball in spurts. He alters shots around the rim on defense, and on offense he has nimble moves when facing up at the high post. I am still a firm believer that Jalyn McCreary will be one of the best 2019 players in Georgia when all is said and done. At 6-foot-6, McCreary can do everything with his smooth left-handed stroke. He is long and gangly and a handful to stop when he is going full bore.
Stock Rising
17U Atlanta Celtics' Rashod Bateman is quickly becoming one of the best shooters in Georgia. A state champion hooper at Tift County and a high level wide receiver on the football team, Bateman is a two-sport star that could be in line for a breakthrough senior season with the departure of some of the Blue Devils' top scoring options. Bateman can take over games in the blink of an eye with the three-point shot. He buried three quick ones against the Southern Stampede in the second half and against A.O.T., he took over with 19 of his 22 points in the final 16 minutes. The 6-foot-3 guard isn't a one trick pony either. He will get after it on defense and can get to the rim in a hurry.
The 16U Celtics have a nice backcourt trio of Brandon Barron, Hunter McIntosh and Maurice Harvey. Harvey had some highlight dunks this weekend and he promises that Miller Grove will be back in the hunt for their eighth state title this upcoming season. Lee (AL)'s Mason Ellison really balances out the Celtics. At 6-foot-6, Ellison can play the role as a thumper inside or he can use his skillset to handle his way to the rim.
Bright Future
Southwest DeKalb's quality program is not going away anytime soon. 15U Game Elite Carnal boasted Eugene Brown III and KD Johnson. Brown already has great size for a guard at 6-foot-2 and can stretch the defense with his shooting. Kadarius "KD" Johnson was fantastic this week with his body control. He is 5-foot-11 but plays bigger than he is with his burst of speed and agility. He is a physical guard that likes to throw his body around and finishes really well. Both Brown and Johnson saw good minutes on the Southwest DeKalb varsity as freshmen and are two to keep tabs on moving forward.
Thunderstruck
Thunderstruck blew past Game Elite Carnal in the 15U championship after trailing at the half 19-12. Scottie Barnes and Gervon Dexter anchored the defense at 6-foot-8. Jordan Smith and Lance Erving were dynamic in the backcourt. Erving stroked two threes in the first half and then went downhill assaulting the rim as the game wore on, finishing with 14 points and a loud jam. Smith opened up the flood gates in the second half. He nailed back-to-back threes and from there, the rout was on. He had 16 points and 9 rebounds.