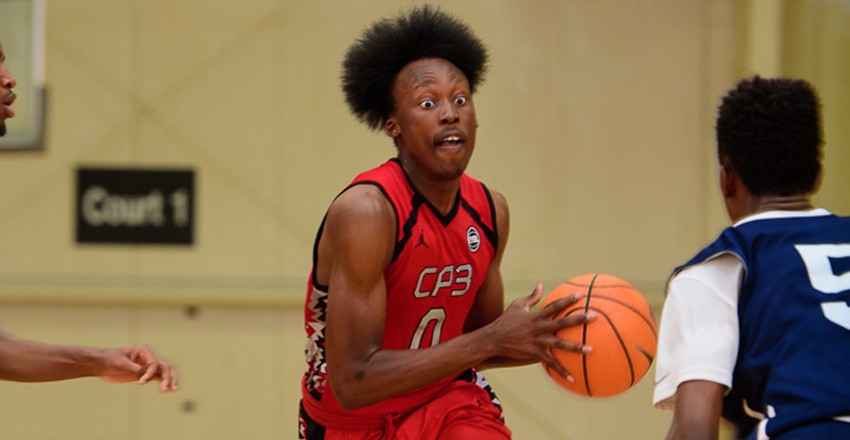 This is an important time of the cycle for many hoopers around the state it's the beginning of travel ball which provides a stage to perform and attract college suitors.
Talent is always of the essence in the Hoop State year end and year out they send prospects to colleges of all levels nationwide. April will be a time where the best will be matched up and tested only the strong will survive,
A handful of players have capitalized off momentum from solid high school campaigns and carried it into the early spring period. We'll examine five stars on the rise so far these guys have done well to grab the attention of college coaches.
Kody Shubert
High School: Lincoln Charter
Travel team:Team Charlotte
The floor general is fresh off a championship run in the state tournament he leads a talented roster that claimed Lincoln Charter's first ever ship in the sport. Shubert is six feet on a good day but this kid can jump out the gym! He can toss the dime or be on the receiving end of an alley Shubert's athleticism catches you by surprise when you first see him play.
As a starting lead guard he can do it all  push pace and control the offense, or get a bucket whenever you need. This is the type of player who makes others around him better by knowing their strengths and setting them up to succeed. Outside of precise passing he can call shoot the rock efficiently and finishes strong at the rack. Shubert averaged 20 ppg during the school season and he will look to keep his play up on the Under Armour scene with Team Charlotte in a very competitive travel season. As of now Brown, Mount St Mary's, and USF are in the running for his services this list will continue to grow the more exposure he gets.
John Newman (pictured above)
High School: Greensboro Day
Travel team: CP3 All Stars
Newman is a long and athletic slasher he has a chance to make an immediate impact at the collegiate level wherever he winds up. Wake Forest, Clemson, and Cincinnati have offered the shooting guard that's the tip of the iceberg. He's one of the top performers on the best team in the hoop state, after a solid performance on the national stage at the Dicks Invitational NC's biggest secret may be out the bag officially.
At 6'6 Newman has great size for the two position and he uses it well finishing through contact and shooting over shorter defenders. The junior plays within the flow of the game a good passer and he doesn't force the action but continuously makes the right basketball play. With Team CP3 on the Nike  EYBL circuit Newman will be matched up with some of the top players in the nation. This will be a big opportunity for Newman to continue his climb in the NC rankings and to make some noise nationally.
Daivien Williamson
High School: Winston Salem Prep
Travel Team: Team Winston
Daivien is the next star in line for WSPA one of the most decorated programs in the entire state. Past alumni have found tremendous success at all levels of college hoops including this year's NCAA tournament. The Phoenix came up short on their state title hunt but it was of no fault of Williamson, the Junior lead his team in scoring and was named POY in his conference.
He recently balled out at the NC Preps elite guards camp and was named best passer at the event. Team Winston will play a competitive schedule this travel season and the talented combo guard will be on full display.  Williamson can score with the best when he's on the young star is a tough matchup and defensively he's usually strapped up on the opponent's top perimeter threat. Some solid programs are tracking him already the likes of Miami, Tulsa, and Unc Wilmington, are a few. Wake Forest is also watching the Tre 4 product closely as current Deac Greg Mcclinton was also a star at WSPA. As he continues to develop his lead guards skills the Junior will garner more and more hype. 
Isaiah Wilkins
High School: Mt Tabor
Travel team: CP3 All Stars
A late riser this time last year Wilkins didn't have any offers from any level collegiately but he stayed humble and kept working. While playing for one of the best coaches in the state Wilkins has blossomed into a stud, this past school season he led his team in scoring and was one of the best perimeter defenders on the team. His calling card is scoring the basketball on the catch and shoot Wilkins is deadly. Off the dribble, it's easy for him to create space for good looks at the basket, but his most overlooked skill is movement without the ball. Wilkins is constantly cutting and coming off screens to free himself.
Blessed with good feet and even better body control Wilkins is good in the paint and finishing around the rim. He's a strong guard who gives maximum effort on both sides of the ball, this year he'll be debuting for the prestigious Team CP3 no better opportunity than the EYBL stage to prove yourself. At the NC Phenom Top80 camp Wilkins starred and quickly established himself in the top echelon of guards at the camp. Up to this point High Point, Army, and Charlotte, and atop of the list but don't be surprised to see some bigger suitors come knocking after travel ball.
Immanuel Bates
High School: Northwood Temple
Travel team: Team Felton
Bates was a late bloomer which is hard to believe about a player who's almost seven feet but in this case he's an exception. After transferring from Jack Britt to Northwood Temple the big man added weight to a skinny frame and polished up his game to boot. With offers from Virginia Tech, Depaul, and VCU, his rep has continued to grow. This year he had a good school season sharpening post moves and improving on defensive instincts.
Playing with Team Felton will only help Bates continue to blossom into a force on both ends of the floor. This season he's improved on finishing deep in the paint with both hands and with the added weight he's been able to hold his own better with bigger competition. There is still room for more muscle to be added on and this will only increase his chances to dominate. For a post player Bates runs the floor well and utilizes those long arms to be an animal on the boards. Ultimately Bates ceiling is in his hands he can be as good as any player in this 2019 class if he chooses to be.
If you don't know these five by now you definitely should hoops heads NC is loaded with talent in the 2018 class,  some are already household names and more are coming. Keep an eye out for these guys to do some serious damage on the AAU circuit and beyond this travel season.