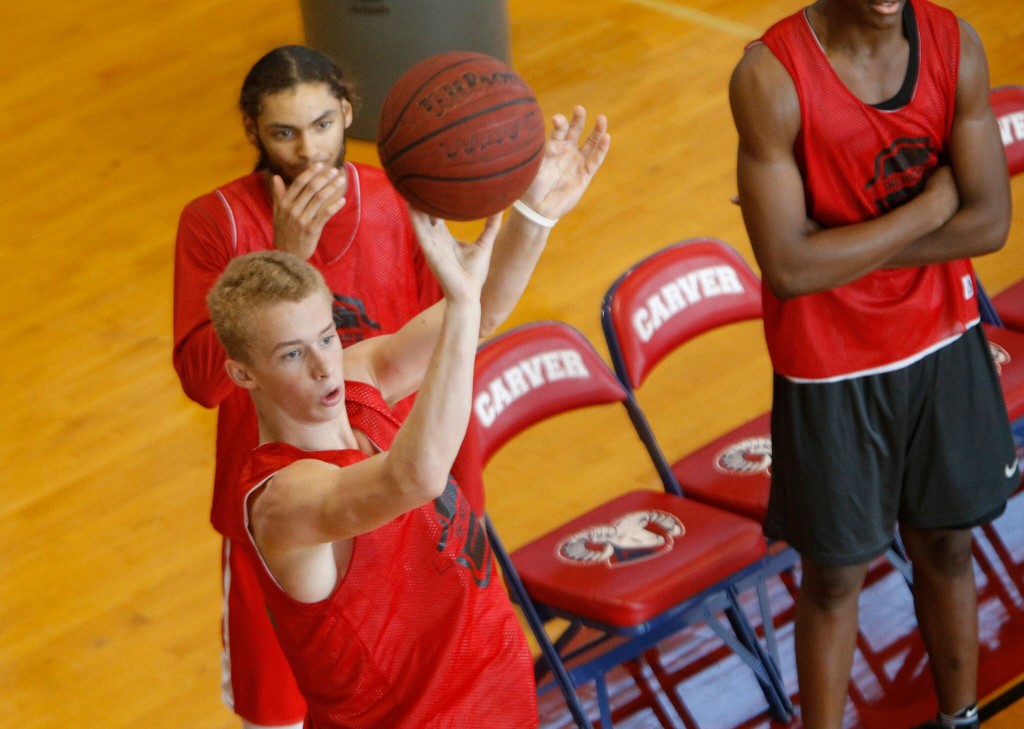 With the NCAA Live Period right around the corner, we wanted to look at five players from Alabama that could be on the brink of an April surge. 
Xavier Williams (2018)
Team Carroll Premier / Parker High School
PF
Williams is one of the most intriguing big men in the Southeast with his skill-set and upside. The 6-foot-8 stretch 4 man is mobile and an extremely gifted passer, as he has shown over the past few years on the high school and travel ball scene. However, it looks like the light is beginning to flicker on for the junior. Williams was the unanimous selection as the top player at the Alabama Elite Preview last month and he has used that stage to jump into the travel season with Team Carroll Premier.
Offers: Middle Tennessee State and Samford
Dalton Dodd (2018)
Pro One Select Navy / Alexandria High School
PF/SF
Dodd spent a good portion of the high school season nursing an ankle injury, but with the April evaluation periods upon us, it looks like the 6-foot-7 forward is ready to go. Capable of playing both forward spots, Dodd brings a cerebral feel to the game with his versatility and IQ. The junior can score from all 3 levels. With his ability to stretch the floor, Dodd becomes a valuable piece to any program looking for a 4 man that can shoot the ball. He has also displayed some grit and toughness in rebounding in the paint. Dodd is one to watch take off this spring.
Offers: Alabama-Huntsville
Jared Sherfield (2018)
Team Carroll Premier / Paul Bryant High School
PG
No player in the state of Alabama has a better track record than Sherfield. After leading Paul Bryant to a 6A championship and earning his first scholarship offer, the 6-foot-4 guard had a phenomenal showing at the Southern Spring Invitational in Birmingham a few weeks ago. With that being said, Sherfield is ready for the spring evaluation periods. At his size, Sherfield brings value with the ability to play both guard spots, but it looks like he is making the move to the point. He is a guy mid-majors will be highly involved with throughout the summer.
Offers: Tennessee Tech
Emmanuel Littles (2018)
CP25 Alabama / Lanett High School
PF
Littles has displayed his get-it-done attitude since making the move to Lanett a few years ago. The 6-foot-7 forward has no problem doing the dirty work around the basket and getting things done. Couple that in with a 4.0 GPA and you have a guy that many coaches are very interested in. Littles brings a sense of toughness and leadership to a team and will automatically produce. Low and mid-major programs can't argue with that. With a handful of scholarship offers already in-hand, expect for him to earn some more this month.
Offers: Samford, New Mexico State, Florida Gulf Coast, Stetson, Towson, Alcorn State, Mercer, Campbell, North Alabama
Jaykwon Walton (2019)
Alabama Fusion / Carver-Montgomery High School
SG
Trendon Watford and Kira Lewis, Jr. have received a lot of attention in Alabama's 2019 class, and, rightfully so. However, don't sleep on Carver-Montgomery's Jaykwon Walton. The 6-foot-5 wing man has all the makings of a high-major prospect with his size, length, and scoring ability. Suiting up with the Alabama Fusion 16U group, Walton is a player that will raise some eyebrows and could ultimately be a big spring riser.
Offers: UAB