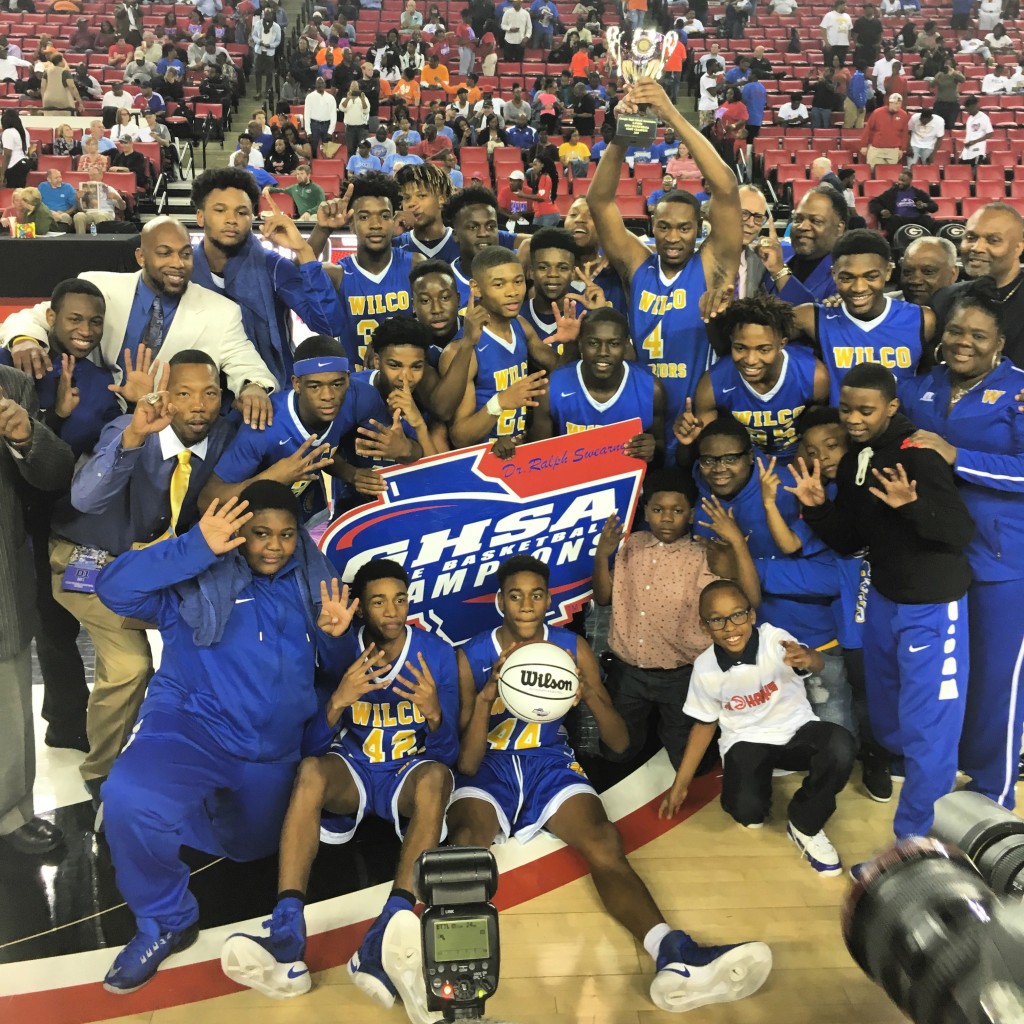 ATHENS, GA — As the final buzzer sounded on Wednesday night and Wilkinson County celebrated their 66-53 win over Calhoun County to claim the Class A Public state championship, a small group of players decked out in blue and gold walked to center court. 
The six seniors of Wilkinson County went to pick up their third championship trophy during their career at the Middle Georgia powerhouse. They also picked up the school's nine state championship trophy since 1999.  
How do you spell dynasty? Wilkinson County knows how to do it. 
There was a roster of the next wave that watched Aaron Geter III, Larry Jones, Deandre Fordham, Jadaveon Jones, Gary Burns and Derrick Wilcher hold the trophy high above their heads as they stood midcourt on the Georgia G. The celebration was on but so was the passing of the torch to the next wave. 
That's how things are done at WilCo. One group of champions begets another group of champions. 
Junior forward Tylan Grable has lived in Wilkinson County his entire life. He's watched the championships his entire life. Literally his entire life. Now he's part of it. That anecdote hit him hard in the catacombs of Stegeman Coliseum on Wednesday night after the game was over. 
"It's a great feeling. I've got my name in the books now," Grable said. "We have to go back and keep working hard." 
Of course he'd say that. That mindset is built in. 
The Warriors had to fight tooth and nail to get this one, though. The score may not say it but it was close throughout the game and Calhoun County was not going to go away easily. 
Junior RaShun Williams scored a game-high 25 points (8-21 FG) and grabbed eight rebounds. He also blocked five shots in the loss. 
Wilkinson County jumped out early thanks to the team's success on the glass. The Warriors won three of the quarters in the rebounding column. They won out 45-31. One shot possession hurt Calhoun County in the end. 
"They are a physical team and they are a real athletic team. I thought that if we could control the boards, we could dominate the game," Grable said. 
Junior forward Clarence Jackson scored 15 points and grabbed 11 rebounds in the win. Larry Jones scored 11 points while Derrick Wilcher scored 10. 
Every time Calhoun County would make a run, Wilkinson County seemed to have an answer. 
"We did what Coach Jeter tells us to do," Jackson said. "When we did that, we had it." 
Spoken like a guy who's won a title or two. 
Now, another chapter of history awaits. Number Ten is the goal now.