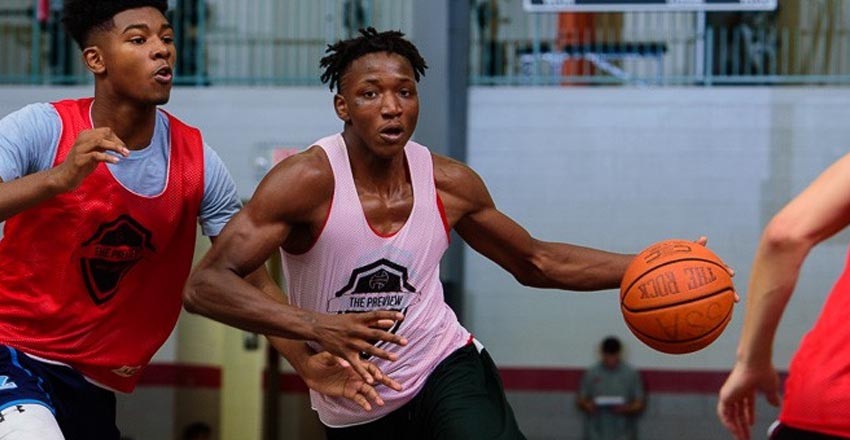 Our annual Senior Showcase was a great stage for some of Georgia's top available 2017 players. Our staff of coaches and evaluators broke down every player from camp. Today we examine Team 3. 

Deon Berrien, 6-6, F, Lakeside Evans (pictured above): A multifaceted player that did just about everything. He can play the one through the four positions and was one of the most versatile players in the camp. Berrien showed off his shooting touch and did a good job of crashing the boards. The Augusta area player was one of the top 10 players from the camp and was an intriguing player to the coaches who were in attendance. 
Zion Fluellen, 6-5, SF, Greenforest Christian: The all-position hooper is a long athlete that can be effective at multiple spots on the floor. He seemed to always be in the right place at the right time. He was a positive play maker throughout the event. Physically, Fluellen is one of the most intriguing guys in the class that is still available. He has great college length and a frame to develop into a strong next level athlete. 
Trey Foster, 6-2, CG, Westside Macon: The Middle Georgia stud was one of the most athletic guards in the camp. He was fast from end to end was an effective three level scorer. We believe he's one of the better Division II/low-major options left in Georgia's 2017 class. 
Darius Giles, 6-2, SG, Arabia Mountain: A tough combo scorer that can shoot it and score at the rim. Giles was a smart player and limited his turnovers to a minimum.

Dillian Hall, 6-5, PF, Druid Hills: One of the best vocal leaders in the camp, Hall did exactly what we asked the players to do - communicate with purpose. He's a long athlete that did a great job of blocking shots and playing above the rim. He can be a quality combo forward at the next level, particularly for a NAIA school.  
Kameron Hickey, 6-5, SF, Etowah: The combo forward shot the ball well in the camp setting and was a threat on the wing. He showed that he knows how to score the rock. 
Michael Johnson, 5-10, PG, Allatoona: A tough leader, Johnson was actively engaged in making those around him better. He makes shots and never forced things. His coach said he was one of the most coachable players in the camp.
Tyreke Johnson, 6-4, SG Woodstock: One of the top 10 players at the camp, Johnson was a scorer at all three levels. He proved himself as a guy that puts the rock in the basket in a variety of ways. Already possessing good college size and a frame that can compete at the next level, there were a number of schools that were interested in him. Johnson will need to show improvement on defense moving forward. Overall, though, it was a very good day of work for Johnson. 
Brent Latham, 6-2, SG, South Gwinnett: Wired to score, Latham showed that he can make shots. He was good at getting to the rim and wanted to be the guy that kept the score keeper busy throughout the event. Latham made an impression from start to finish with the college coaches as one of the best point-producers. 

CJ Smith, 6-2, SG, Forsyth Central: Easily one of the best shooters in the camp, if not the best shooter in camp. Leave him open and it is going in. Smith is a specialist and a mighty good one at that. NAIA schools looking for a shot-maker should put him high on their list. Smith has game-winning ability as a shooter. 
Dawson Wehunt, 6-3, SG, Buford: The lefty hit threes all event long and was a positive playmaker in the team setting. He is tough and smart and was always engaged in the game. Wehunt was easy to coach and accepted coaching well.