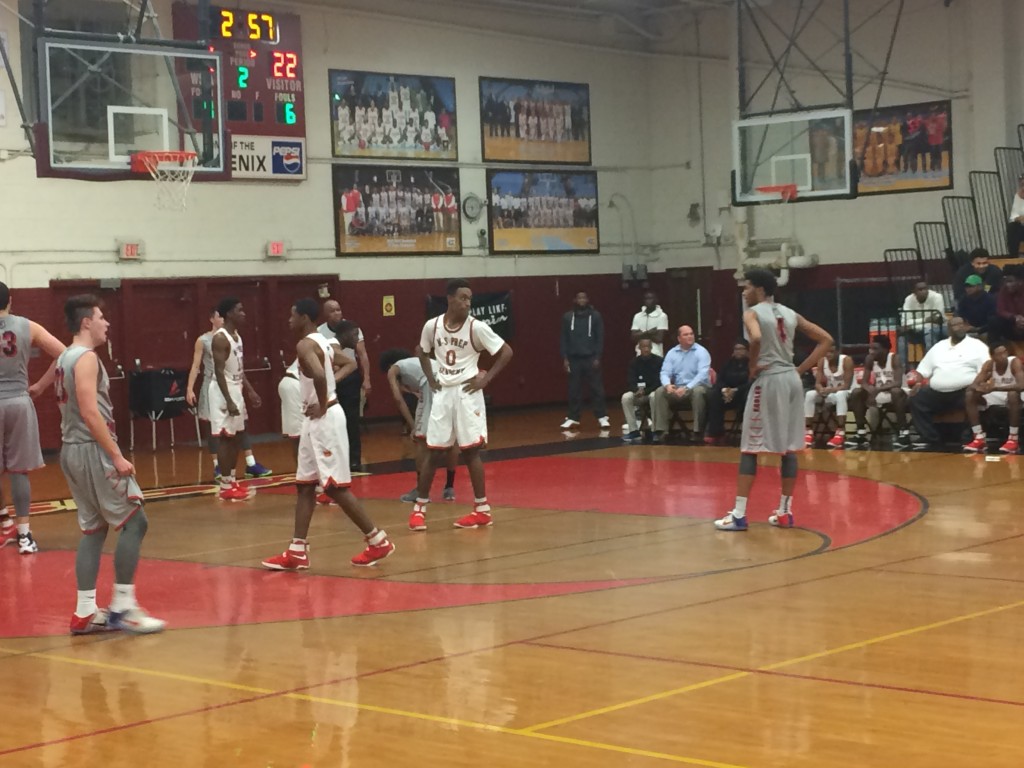 By Brandon Blakney
HoopSeen North Carolina correspondent 
A long hoops season is winding down here in the talent-rich Tar Heel state all these squads have played hard and left it all on the floor. 
This week we'll look at three major conferences including the 1A and 4A public division 
Which featured both spotlight games of the night on Tuesday. Also, we'll look at the prospect heavy 3A private school division which crowned a state Champion this past weekend.
HEAVYWEIGHT FIGHT IN 3A
In the 3A NCHISSA final two powerhouses Wesleyan Christian (28-5), out of High Point, NC, came into the contest ranked 3rd in the state against The Greensboro Day School (33-3), who entered the title bout ranked 1st in the state and 11th in the Rivals Xcellent 25 poll. Both these teams are familiar with one another having met two previous times this season but the third contest would be for all the marbles in the state final. 
Coach Freddy Johnson and his team were able to hold on late with some big shots to collect their ninth state title. The Bengals completed a season sweep (3-0) against the Trojans which is no easy task. 
Greensboro day relied heavily on a talented three-man senior class this year and throughout the playoffs. J.P. Morman (Temple Commit) a versatile forward who can play inside and out at 6'7 came up big all-tournament when his team needed a bucket. 
Guard play was also a crucial part the senior backcourt duo of Jordan Perkins (NCCU Commit) and Pearce Landry (Uncommitted) were lights out. Perkins the floor general who orchestrates a high octane offense and Landry a true sniper from long range keeps defenders constantly on their heels. This trio has conquered a state and they look like a strong candidate for another run at The Dicks Invitational. 
Looking forward the Trojans will return a talented roster next season they only lose two and bring back ten. Top 2018 NC prospects Jaylen Hoard and Aaron Wiggins return, Hoard currently holds offers from Kansas and Wake Forest among others. Wiggins who is also a Junior holds offers from Arizona and Virginia Tech among others. With these two Coach Keith Gatlin and his squad should be poised for another run come 2017-18. 
LINCOLN CHARTER ENDS WINSTON-SALEM PREP SEASON
In the 1A division the game of the night was in Winston-Salem, NC, as top seed Winston-Salem Prep (25-4), faced off against a talented and youthful Lincoln Charter Squad,(28-4). 
Coach Andre Gould of WSPA has had a tremendous run with his program collecting three state titles in the last six years. This postseason they have blown out all the competition by a 20+ point margin but Tuesday night they met their match. Both sides were well represented in the stands it felt more like a neutral site game. Recruiters from Brown University, UNCG, Georgia Southern, and Fayetteville State were on hand to see players from both teams. 
In a game with strong emotions for Coach Gabriel and his team as this time last year WSPA ended their season in a crushing defeat. With revenge on their minds the Eagles came in and set the tone for this one early.
From the tip LCS  played with more urgency they were tough on defense, hustled for the 50/50 balls, and got good looks at the basket all night. The visitors led by double digits for a majority of the contest.
After a close first quarter LCS began to catch fire from deep and pull away they took a 10 point lead into half leading 28-18. Guards Jackson Gabriel (2019), and (2018),  Cody Shubert played huge for Coach Gabriels squad. Gabriel finished with 23 on the night this kid has a next level shooting stroke. When he is chased off the line he can put it on the floor and finish strong through contact at the rim. Gabriel will definitely be a prospect to watch this summer with Team Charlotte and moving forward as he continues to grow and refine his craft. 
Lead Guard Cody Shubert was poised and continued to make big plays when his team needed whether it be setting up teammates or getting his own shot. He's not the biggest PG in the state but he is tough and sneaky athletic this guy can really get up! 
Prep attempted to climb back into the contest throughout the 2nd half do it all 2018 guard Davien Williams lead the Phoenix with 16 points. After a slow start due to foul trouble he really found a rhythm. The matchup between he and Gabriel was one to watch as both young guards earned tough buckets all night going at it. I'm sure these two will matchup again this summer if Team Winston meets Team Charlotte. 
Senior Forward Zaire Williams also turned in a solid effort for WSPA finishing with 14 points to end his prep career. Still unsigned Williams holds offers from a handful of mid-majors including Radford, Old Dominion, and Georgia Southern. 
In the 3rd, prep cut a 15 point deficit to nine but Shubert nailed a buzzer beater from deep that stole all momentum and sucked the life out of the home crowd. 
Coming into the 4th you could sense the urgency coach Gould barked orders at his team attempting to get them to create more ball pressure. The strategy to speed up the Eagles offense and forced turnovers helped spark a 9-0 run that cut the contest to single digits 63-54. 
That's as close as it would get though LCS held strong and continued to take and make big shots. Shubert was sent to the line late two consecutive times and nailed 3/4 seal the deal and send his team on. 
Next up for the Eagles they will have a final four matchup with a feisty  Mt Airy team. (26-5) 
Moving forward to the offseason WSPA returns a lot of talent for the 2017-18 season. Leading scorer and Conference Player of the year Davien Williamson comes back along with,  Justice Goodloe (2018) and Chaz Gwyn (2019) Gwyn an intriguing PG prospect will be looking to have a big summer to up the recruitment heat after a productive sophomore season. 
BUTLER REMAINS PERFECT AGAINST WEST FORSYTH 
David W. Butler (30-0) came into this contest unblemished and it stayed that way as they went on the road to defeat West Forsyth (27-3) 61-52.
In this heavyweight matchup both teams came in throwing haymakers West took the lead early in the first with some hot shooting. The Titans coached by Rusty Larue have a very talented roster lead by five star football recruit KJ Henry and senior guard Cooper Larue. Both have had great seasons this year and have carried this team through adversity. 
The Bulldogs didn't have an answer for Henry early and trailed heading into the 2nd, but they turned up the intensity and really found a rhythm over the next three quarters. Coach Myron Lowery's team held the Titans to just six points in the 2nd period. 
On offense Butler moved the ball well and got their scorers good looks at the basket. Senior Zane Rankin (Lander Commit) scored a team high 16 points to lead his team as he's done all year. The 6'4 wing can score in an array of ways and proved to be a mismatch problem for West. 2018 forward Gerrale Gates (Team Charlotte) also turned in a strong effort and displayed a soft shooting touch with 12 points. 
Gates and Henry went at it most of the game in a major low post battle for position. Through crucial moments of the game Coach Lowrey's squad remained poised and persistent. This group relied on their upperclassman for leadership and these guys delivered like they have all season. 
Down the stretch West began building some momentum but Butler knocked down clutch free throws and kept the pesky home team at bay.
Next season West does lose four seniors but they have more than enough coming back to be excited for. Along with Henry they return 6'5 wing Maverick Larue (2018), skilled PG JaQuan McMillan (2019), and big man Ben Uloko (2018). This group features a rare talent mix of top football recruits and emerging hoops prospects.
In the Final Four Butler will have their hands full with a very talented Southwest Guilford(26-3)  team lead by a talented three guard lineup. The Cowboys also beat West Forsyth in a earlier regular season contest so this should be a dog fight.