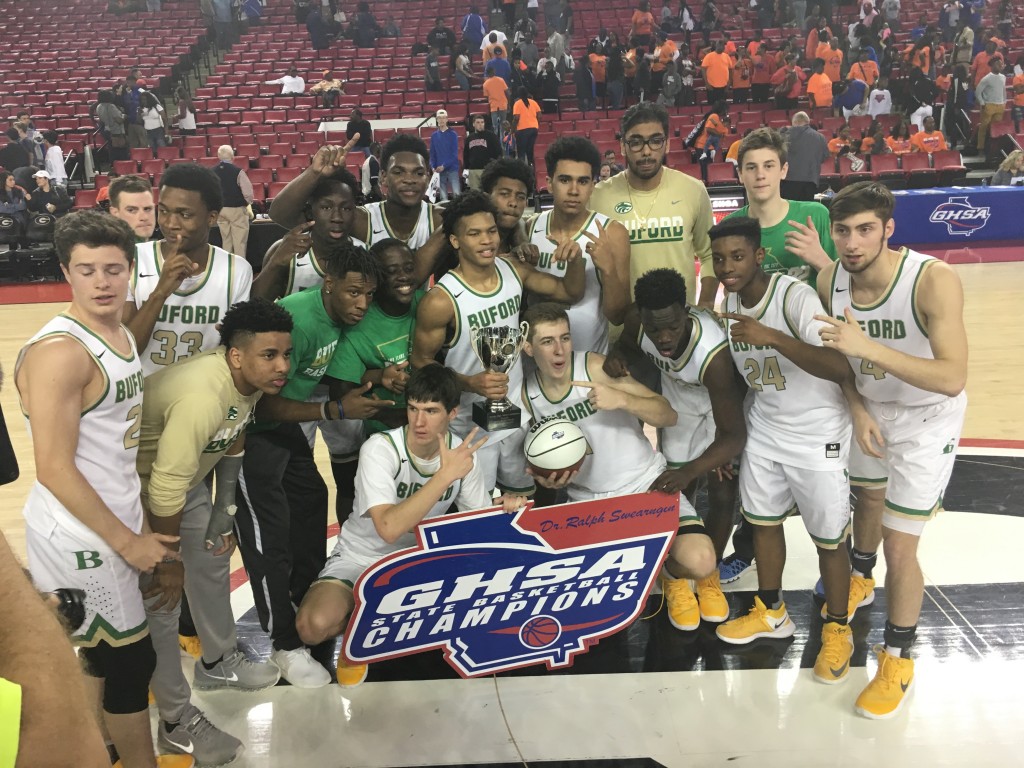 ATHENS, GA — Buford has won many of titles in basketball over the years. Five actually. But they have all come on the girls side of things. 
It happened again on Wednesday night. And it also happened for the first time on Wednesday night at a loud Stegeman Coliseum. 
The boys will bring home a trophy on Thursday for the first time in school history with a 75-61 win over Cedar Shoals. The Wolves did it by beating their region foe for the fourth time this season. 
The Wolves did it with three starters that didn't attend Buford last season. In a year of the transfer, few schools with that kind of starter influx ended the season in the state's biggest game. Buford did and they did it with a title. 
In the process, Eddie Martin won his eighth state championship during his career. This is his first at Buford. Getting there was a test of building chemistry. 
"Bottom line is, if they know you love 'em, they're gonna give you everything they got because i'm going to give them everything I got for their best interest," Martin said. 
Marcus Watson, a sophomore move-in from North Carolina, scored a team-high 27 points (8-16 FG, 2-5 from 3, 9-13 FT), grabbed seven rebounds and had two huge blocks. David Viti, a transfer, had a double-double 10 points and 10 rebounds. Donnell Nixon, a sophomore move-in, scored 13 points and hit three three-pointers. 
Martin said the team's trip to Bristol, TN for the Arby's Classic was "a big bonding experience for us right there. At the end of the year we started going out to dinner more as a team. We went and watched Georgia Tech play NC State as a team during the state playoffs just to do some fun things like that together. I think that's how you build that trust." 
Alex Jones, a returning starter from last year, scored 16 points and showed some big-time toughness in the second half with drives to the rim. He was challenged by Martin at the beginning of the season to be the leader and key figure in blending the team together. 
"Coach put it on me to come together and be a leader," Jones said. "I don't know about these other super teams or whatever you want to call it but they didn't get it done like we did. We came together. We hang out outside of school. We are a really tight group." 
Watson agreed. 
"We hung out every single day," he said. "The whole starting five hung out a lot. We built a chemistry outside of basketball together. We play together after practice and it starts there." 
It showed on the big stage. The Wolves were great on defense and held Cedar Shoals to 2-21 from three-point land. 
Phlandrous Flemming scored a game-high 30 points (11-24 FG, 1-7 from 3, 7-8 FT) and grabbed 14 rebounds in the defeat. Arthur Jones was the only other Jaguar to score in double figures, putting up 10 points in the game.