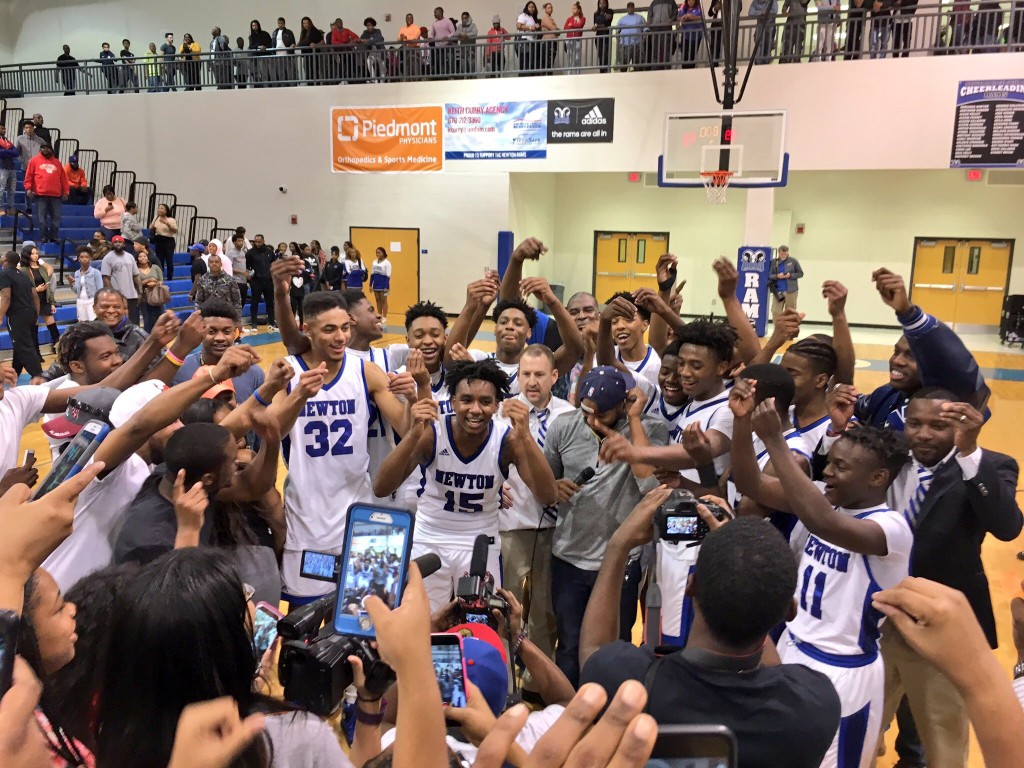 COVINGTON, GA — It seemed that every car that travelled east bound during rush hour on Interstate 20 out of Atlanta was going to the same place. 
Westlake was playing Newton in the best game of the second round of the AAAAAAA state basketball tournament. Atlanta's hoop heads weren't going to miss this one. 
People began to take their seats around 5:30. This was the game that people wanted to see. No, this was the game the people needed to see.
As the game tipped off at 7 p.m., it was standing room only. For those who made it in, they earned a treat. They saw one of the best games of the season, perhaps one of the best games of the last decade. 
And it took three overtimes to finish it. 
Newton moved on to the Elite Eight with a 89-83 win on Thursday night. 
Getting to the victor's stand? Well, that's a story we will be telling for the next decade. Newton looked to be in control for the majority of the game and went into halftime with a 14-point lead. It looked like the Rams were going to put things into cruise control all the way to the Elite Eight.
But Westlake, last year's state champions in Georgia's biggest classification, wasn't going anywhere. And Chuma Okeke wasn't going out easy in his final game in a Westlake jersey. The future Auburn Tiger was absolutely brilliant on the way out. Okeke finished with 34 points and 21 rebounds. He did just about everything for his team, including playing every minute of the triple overtime game. His future head coach Bruce Pearl was on hand for the action.
There were times when Okeke slid over to the point guard position and eventually brought the Lions back during his time as the pilot of the offense. Westlake took their first lead of the game with 1:18 to play when Danny Lewis sunk a pair of free throws, going up 67-66. 
Darvin Jones tied it up, hitting the first of two free throws. Neither team could convert in regulation. 

Then the overtimes came. Newton would hold a six point lead with 1:35 to play on a JD Note layp-up but Westlake battled back, eventually banking home a prayer three-pointer from Danny Lewis with 32 seconds to play. Westlake would convert just enough free throws to extend play.
Fast forward to the final overtime period and Newton held on thanks to great defensive stops in the final four minutes of play. The Rams didn't yield a point to the spent Lions. 
Ball game. 
Newton fought and defended and prayed just enough for the victory. Notae led the way with 26 points while Isaiah Miller scored 19. Jones added 17. Sophomore Ashton Hagans scored 10 points and handed out 11 assists. 
Newton will play Tift County in the Elite Eight next week.