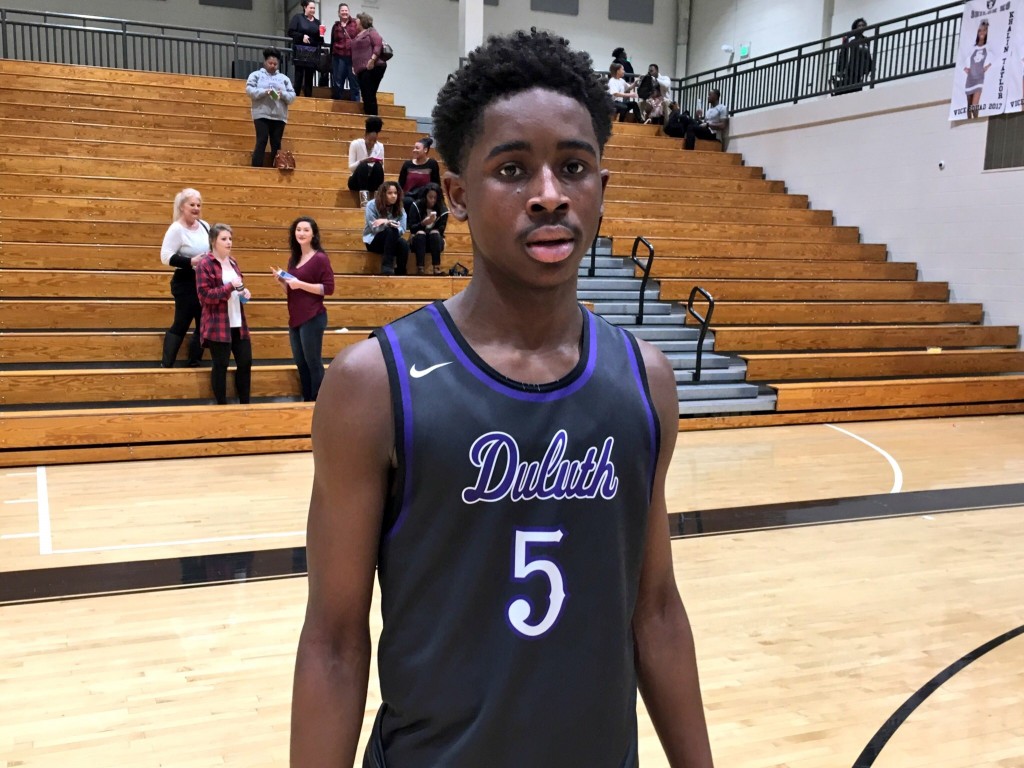 SNELLVILLE, GA — For three decades, Duluth basketball kinda knew when it was time to put the jerseys away for until the fall. The season used to never get past the first round of the state playoffs. 
Until now.
The Wildcats traveled to Shiloh and picked up a historic 67-57 win on Friday evening. According to head coach Cabral Huff, this is the first time Duluth has made it to the Sweet 16 of the state playoffs since 1985.
Adam Flagler (pictured above) came out firing in the first quarter, banging home the first two threes he shot in the first two minutes of the game. But he didn't stop there. No, the junior just kept firing away. And kept hitting. 
Flagler scored a game-high 28 points (7-13 FG, 6-9 from 3, 8-9 FT), grabbed five rebounds and handed out four assists in the win.
"He's been doing it all year," Huff said. "I think people have slept on him because they say he's not the most athletic guard but I know at the next level they need shooters. And he can shoot. And he can handle the basketball. He makes the right basketball plays." 
TJ Massenburg had his way in the first half, grabbing offensive rebound after offensive rebound. The future Middle Tennessee State big man was not going to be denied around the rim. He rattled off 12 points and six rebounds in the first half. He set the tone for the home team Generals. 
"We wanted to dump down on him because we didn't think he was a great passer out of the post and we did a great job on that. Adam, Lamont, Christian and DJ - they all did a great job with that." 
Massenburg finished with 14 points and 12 rebounds. Greg James led Shiloh with 19 points in the defeat, hitting five three-pointers in the game. 
Duluth had big minutes from junior Will Huzzie, particularly in the second half and deep into the fourth quarter. 
"He impacted it on both ends. He got a steal at the end, he got it done on the boards. He had one rebound where he was our only guy on the line and he goes and get it," Huff said. "But he's been doing that all season for us. People think he's just an all-region, all-county football player but he's a great basketball player." 
Jalen Hodges scored 11, ripped down seven rebounds and had four assists from the power forward position. Christian Kelly shot well from the wing in the win, too. 
Duluth will now play Pebblebrook on the road in the second round of the tournament. The Falcons are considered a favorite to win the AAAAAA bracket.