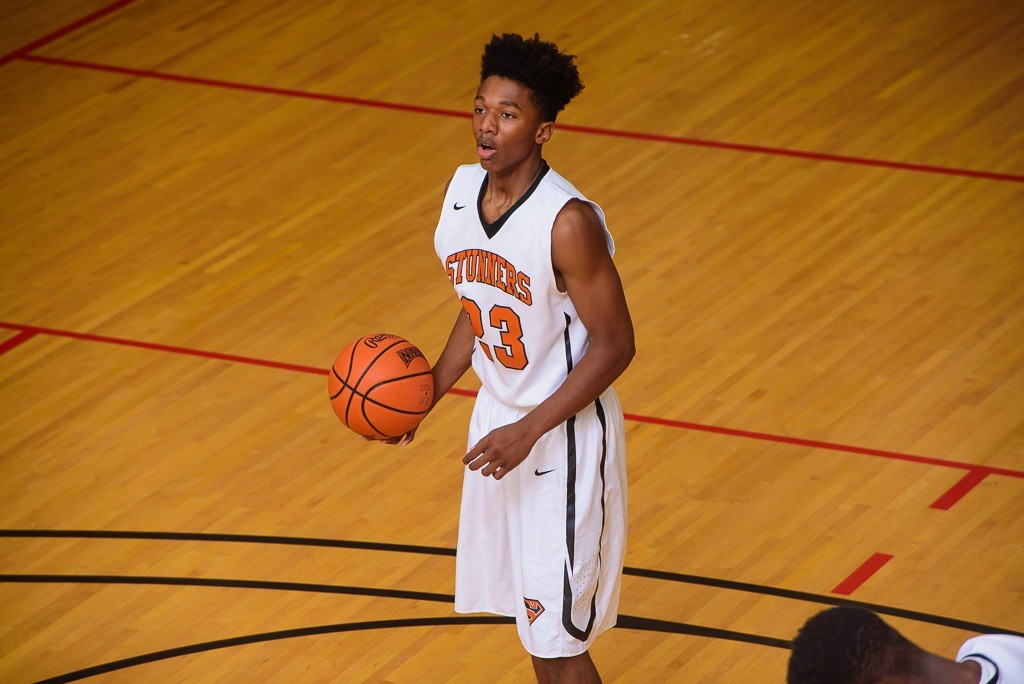 Get ready for some heavy-hitters in the Class AAAAAA bracket. Some of Georgia's most successful programs over the last four years are battling in a royal rumble to claim the championship trophy in March. 
This will be a battle of attrition. This will be a battle of experience. This will be a battle of really good basketball. There are several teams that could run the table and hoist the trophy in just under a month's time. 
There are plenty of teams with a history of post-season success. Just take a look at how good this classification really is from a historical perspective. 
Jonesboro is 109-21 over the last four years. The Cardinals have a pair of state titles along the way. Jamari Smith rejoining the team after an early season injury has injected more athleticism in the frontcourt. And let's not forget MJ Walker, the McDonald's All-American, wants to leave with another state championship ring. 
South Paulding's senior class is 95-20 over the last four years. The core of the team has played together from the beginning. Six seniors are team captains if that gives any indication of just how this team operates. 
Allatoona has been outstanding during this four year run, racking up a 107-15 record. The Buccaneers are one of the best defensive programs in the Southeast. 
There are a host of other programs with similar success rates over the last four years - Brunswick (89-25), Gainesville (88-25), Pope (82-35) and Alpharetta (82-35). 
This isn't an easy path to title town. And we barely scratched the surface for all of the teams in the bracket. 
KYLE SANDY'S FINAL REGULAR SEASON RANKINGS 
South Paulding (26-1)
Gainesville (26-1)
Jonesboro (22-5)
Lakeside-Evans (21-4)
Stephenson (18-9)
Brunswick (19-8)
Allatoona (18-8)
Dacula (19-8)
Langston Hughes (20-8)
Richmond Hill (20-6)
MUST-SEE FIRST ROUND MATCH-UPS
Cambridge (19-9) at South Paulding (26-1)
Tucker (17-10) at Effingham County (18-10)
Richmond Hill (20-6) at Jonesboro (22-5)
Alpharetta (25-3) at Tri-Cities (16-13) 
NOTABLE BRACKET NOTES 
The AAAAAA semifinals will be held at Fort Valley State on March 4. 
There are nine teams with over 20 wins in this bracket. There are nine teams with losing records in the field, too. 
Here's a sleeper team to consider in AAAAAA: Heritage Conyers. A potential second-round game at South Paulding is a scary match-up for both teams. 
If Lakeside-Evans makes it to the Final Four (or even the title game), don't be surprised. The Augusta-area team is loaded with talent. Sophomore guard Kalen Williams is no joke. Seniors Deon Berrien and Kre'Sean Hall play as hard as anyone in the bracket, too. 
Underclassman to watch in the first round: Kamar Roberson of Cambridge. The sophomore had a monster season for the North Fulton school. 
Langston Hughes is a No. 3 seed coming out of a very strong Region 5. The senior-strong team will have to go on the road to start the tournament, playing Dunwoody (13-15) on Saturday. And, if they win, a match-up against the winner of Alcovy (6-21) and Lee County (14-15) awaits. A trip to the Elite Eight isn't out of the picture at all. 
KEEP AN EYE ON ME
Trevin Wade of South Cobb is having a heck of a season for coach Greg Moultrie. After averaging 18.3 points, 4.1 rebounds, 3.2 steals and 3.1 assists a game as a junior, Wade was named Region 6 Player of the Year. The 5-foot-10 is a guard that we have our eyes on for a potential Elite Preview invite. 
Alex Watson of Pope was Region 7 Player of the Year and one of the most underrated players in Georgia's 2017 class. The 6-foot-3 guard and his Greyhounds have a chance to potentially make a run to the Final Four. And why not? Watson is good enough to help anchor a good team for such a run. 
DIVISION I BOUND  
Derrick Cook, Langston Hughes (Northeastern)
Kane Williams, South Paulding (Georgia State)
Khalil Cuffee, Langston Hughes (SEMO)
Kymani Dunham, Brunswick (Charleston) 
EARNED AN ELITE PREVIEW INVITE ALREADY 
Mekhail Bethea, Dacula
Trey Doomes, Allatoona
Bailey Minor, Gainesville
Landers Nolley, Langston Hughes
Kalen Williams, Lakeside Evans 
JUSTIN YOUNG'S PREDICTIONS 
Final Four: South Paulding, Dacula, Gainesville, Jonesboro 
Championship: South Paulding, Jonesboro 
Winner: South Paulding