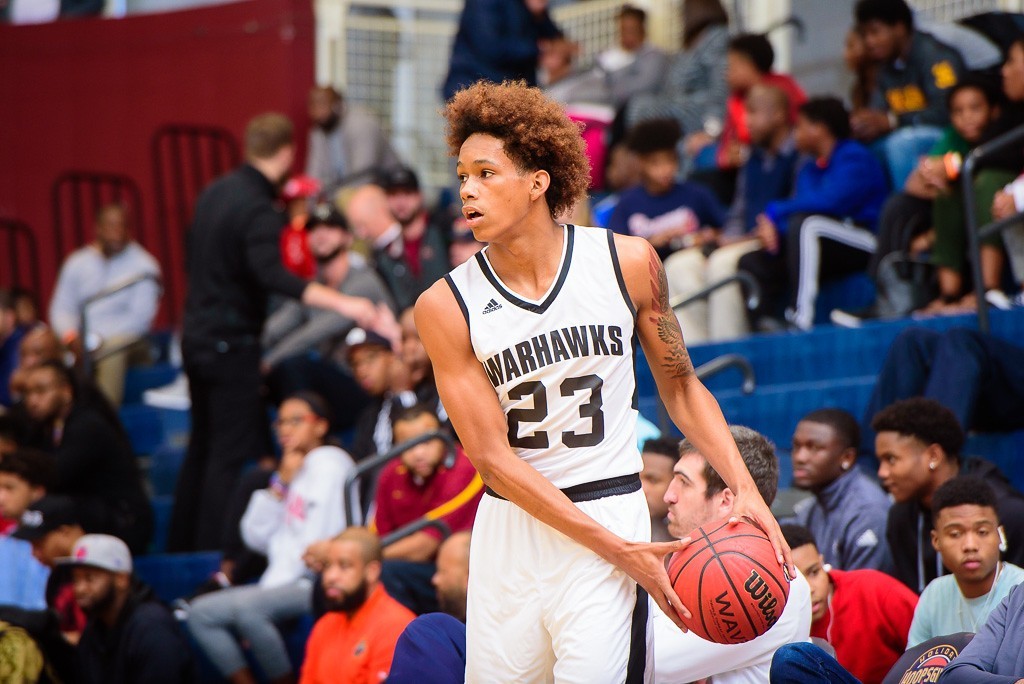 We continue our breakdown of the GHSA state playoffs and dive deeper into Class AAAA. There is a lot of depth in the playoffs and a number of teams are good enough to take it all home. Can Upson Lee remain perfect on the season? There are 31 teams that hope the answer is no. 
FIVE BEST GAMES IN FIRST ROUND 
Heritage Catoosa (20-8) at Stephens County (20-7)
White County (17-10) at Sandy Creek (20-7)
Westover (17-10) at Baldwin (18-8)
Burke County (15-9) at Carver Columbus (19-6) 
Eastside (18-9) at Mary Persons (17-9) 
GOOD LUCK STOPPING HIM
Javon Greene of Henry County may be the most dangerous player in the AAAA bracket. We've seen him explode for 57 in a game this season against Langston Hughes. He's helped push Henry County over the top several times this year. The future George Mason guard just continues to get better and better.
In our next round of rankings Ty Fagan of Upson Lee will be inside our top 20 for the class of 2018 and maybe higher. The junior is having a magical season and has helped Upson Lee stay undefeated throughout the year. Is he the next Lewis Clinch? He may very well be. 
LOW SEED, HIGH CEILING
Because of the depth of this bracket, there are a handful of teams that could make a run as a first round road team (lower seed). 
No. 3 seed Perry (20-8) comes in from a very good Region 2 and could realistically make a run to the Final Four in their quad of the bracket. Region 5 was equally tough and the result is Cartersville (20-6) as a No. 3 seed. The Purple Hurricanes can score points in a hurry from the wing. Heritage Catoosa (20-8) could also make a run but a first round game against Stephens County will be a test. 
Eastside (see above as one of the five best games) and below (as a senior sleeper) is a No. 3 seed because they lost in the region semifinals. The Covington school is the only team from the top 10 rankings to go on the road in the AAAA state playoffs. 
NOTABLE BRACKET NOTES
There are 13 teams that have won 20 games or more this season. On the flip side, there are seven teams with a losing record.
Sandy Creek is a scary offensive team. With size at all of the positions, speed in the backcourt and length on the wings and the paint, the No. 2 seed out of Region 5 will be a handful in bracket play. Senior Evan Jester leads the way but there are four other players that are capable of scoring 17 or more a game. The Patriots lead AAAA in scoring at nearly 75 points a game.
KEEP AN EYE ON ME
Eastside senior Keiodre Perry stood out to us on the travel circuit this past year on the Georgia Cup stage and proved himself as a strong, slashing wing. That has carried over to this high school season. He averaged 22.7 points a game this year. An Eastside trip to Mary Persons will be a good one in the first round. Perry and Cameron Holden, a talented junior, should lock horns for the majority of the game. That's one of the best individual match-ups in the AAAA first round.
Speaking of Holden, he's our No. 23 rated player in Georgia's 2018 class. Yet, he's still a sleeper by most counts here in the Peach. Very few have seen him in action. He's as good as his production says he is. Holden is the leading scorer in AAAA at 26.2 points a contest and over 11 rebounds a game.  
KYLE SANDY'S FINAL REGULAR SEASON RANKINGS
Upson-Lee (27-0)
Henry County (21-5)
LaGrange (24-3)
Carver-Columbus (19-6)
Sandy Creek (20-7)
St. Pius X (20-7)
Baldwin (18-8)
Richmond Academy (22-5)
Americus-Sumter (21-6)
Eastside (18-9) 
DIVISION I BOUND  
Javon Greene, Henry County (George Mason)
Damion Rosser, Henry County (New Orleans)
EARNED AN ELITE PREVIEW INVITE ALREADY

TJ Bickerstaff, Sandy Creek 
Ty Fagan, Upson Lee
Cameron Holden, Mary Persons
Jaylon Pugh, Cartersville 
JUSTIN YOUNG'S PREDICTIONS 
Final Four: Henry County, Upson Lee, Cartersville, Sandy Creek
Championship: Upson Lee, Sandy Creek
Winner: Upson Lee