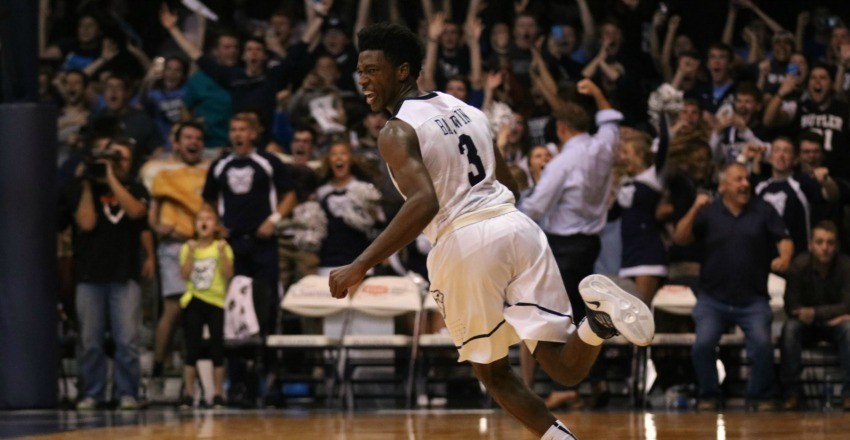 Now that we are in the meat of the college basketball season, it is time to take a look back at our 2016 class rankings and see what we got wrong and who has made us look pretty smart. Tomorrow, we will lay out five that have made us look close to stupid thanks to their early play on the college platform. However, it is time to pat ourselves on the back as we compare the composite rankings to ours, figuring out five that we ranked a bit higher compared to our contemporaries within the business and are off to excellent starts to their collegiate playing careers.
KAMAR BALDWIN – BUTLER – HOOPSEEN: 100 - COMPOSITE: 157
This one goes to our Editor-in-Chief as Justin Young as he planted his flag firmly on the Kamar Baldwin bandwagon early on and what the Peach State has done during his early college playing career is nothing short of impressive. While his average of just eight points and three rebounds might not jump off the page, one look at the 6-foot-2 guard is enough to see that the high level scorer can and should become a go-to option for years to come for the Bulldogs. Butler relies on a variety of players to get the job done but the scoring prowess out of Baldwin is second to none. Making over half of his shots from the field and nearly 40-percent from beyond the arc, Baldwin is a dynamic spark off the bench and was able to start off his BU career scoring in double digits five times within his first six games.
BRUCE BROWN – MIAMI – HOOPSEEN: 19 - COMPOSITE: 30
Sure, an eleven spot jump from the composite to our own rankings doesn't seem like much but when it comes to the more highly touted prospects, just a few spots of separation says a lot. While many others had Brown as a four star, the Massachusetts native was squarely seen as a five-star at HoopSeen. A 6-foot-3 guard that can practically play all three spots out on the perimeter and one of the most competitive kids that you're going to get the chance to watch, Bruce Brown has taken nicely to his new Miami abode. He didn't start off super great but he has come into his own of late where, on Wednesday, he notched a triple double, just nine games into his college career. Probably best used on the ball, Brown's versatility, toughness, and zero ego approach makes him a special one for Jim Larranaga and the type of guy that can accumulate a ton of wins at the U.
CARSEN EDWARDS – PURDUE – HOOPSEEN: 86 - COMPOSITE: 117
While Carsen Edwards was a bit hindered some on the travel circuit as he played alongside Kentucky guard De'Aaron Fox and five-star 2017 forward Jarred Vanderbilt, we looked past his lack of touches and saw an immense scoring punch with a competitive edge to him. While some had nitpicked him in the past for standing as a 6-foot-1 scoring guard, what stood out to us most about Edwards was his scoring skills from off of the perimeter and added explosiveness at the basket. Primarily ranked outside of many top-125 rankings, Edwards landed at the eighty-sixth overall spot within our final 2016 class rankings. That may not have been high enough as the Purdue freshman has been on a tear of late as he now starts for the Boilermakers averaging over 11 points, two boards, and two assists per game as he had a career high of 21 points against Bruce Pearl's Auburn Tigers squad earlier this year.
SAM HAUSER – MARQUETTE – HOOPSEEN: 38 - COMPOSITE: 83
While it was difficult to find Sam Hauser within most top-100 rankings, what we saw with the Wisconsin native during his high school playing career as good enough to place the 6-foot-7 wing into the top-40 of our final rankings. Playing for a non-shoe sponsored travel program and at one time, many believed taking Hauser would lead to an easier path to his five-star brother Joey, the Marquette freshman has come out of the gates swinging. His skillset is already advanced as he can play multiple spots in the backcourt, make shots from each level on the floor, and has a feel for the game that is more organic than taught. Averaging over 10 points and five boards in less than 24 minutes of action, Hauser will continue to get more and more responsibility and sooner rather than later, become the face of the Marquette basketball program.
CHARLIE MOORE – CALIFORNIA – HOOPSEEN: 35 - COMPOSITE: 71
Ranked seventy-first with the composite, Charlie Moore got the nod within the top-40 of our rankings and ever since, has seen his stock soar on the college playing floor. While there have been some injuries and an out-transfer of Jordan Matthews that surprised some, Moore has taken the opportunity by storm in Berkeley and created a dynamic, 1-2 punch alongside future NBA lottery pick Ivan Rabb. Exploding for 38 points in his team's win over UC Irvine in just his second game of his college career, the Windy City native has not stopped putting up giant numbers on the scoreboard. He is the leading scorer on a 7-2 California team that will be in the hunt for an NCAA Tournament bid in March. While his baby face look and smaller standing stature scared a few off, our  placement of Moore as the thirty-fifth best prospect from his loaded 2016 class has already been backed up and in a major way by the Cal freshman.
Photo by Jimmy Lafakis.